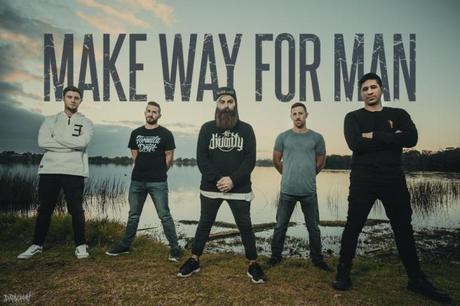 If you've ever wanted to front a metal or heavy band, here could be your one shot, your one opportunity... Perth's Make Way for Man are opening up their ranks (and this pit!) to MAKE WAY FOR MAN - or woman or non-binary to join the band. All you need to do is make an audition tape!
Make Way for Man have always had two vocalists - and Sean Hendry has recently departed the band. If you're chosen, you will join remaining vocalist John Kelly on Vocals as well as Adam Mather - Bass Guitar, James Glover - Guitar, Jordan Mather - Drums and Drew Shepherd - Guitar in Make Way for Man.
Established in 2014 and having released their Evolve & Repair EP in 2016, MWFM have toured nationally, about to support Miss May I (Just Announced!) and have supported Meshuggah, Fear Factory, Periphery, Drowning Pool, Protest the Hero, Polaris, In Hearts Wake, Hands Like Houses and more.
The Perth act is opening up the auditions to anyone in Australia (perhaps beyond?) who is keen to give the audition a crack. All you need to do is....
1. Download track from soundcloud at https://soundcloud.com/makewayforman-1/wwsd-vocal-auditions or HERE
2. Lyrics are in the soundcloud track description or DOWNLOAD THEM HERE
3. Upload a video of your vocal submission to either Youtube or Facebook.
4. Email the link to [email protected] and also tag the band in any post to facebook/instagram once live.
5. Any video submission may be uploaded to our youtube or facebook/instagram page as promotion.
6. Vocal auditions will run for 1 month as of today 2nd November 2017.
7. Make Way For Man will be in contact to arrange a meeting/skype call with you if they like what they hear!
8. An Announcement will be made later in 2017!
Check out Make Way for Man's Facebook page to find out more!