Make this super easy Minestrone Soup in just 30 minutes. The soup reheats well, so is a quick meal to make in advance, and as an added bonus it can also be frozen.
Total Time Investment: 30 Minutes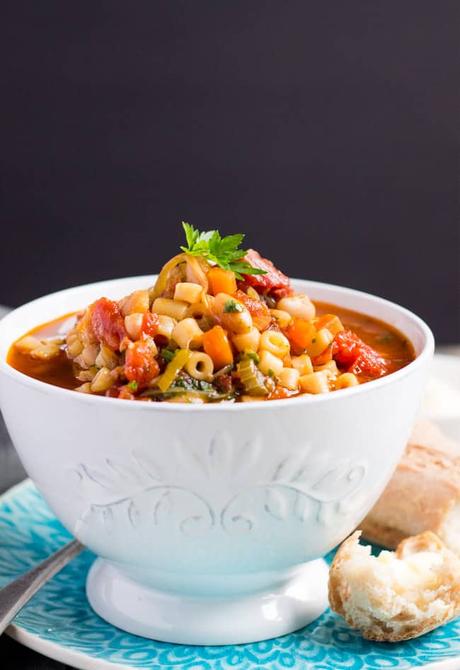 *This post was originally published in 2013. It has been substantially updated and improved since then.
Go away for three weeks and suddenly it's winter. Which to me means soup! Mr Grumpy and I are very happy to have soup for our evening meal. The Princess not so much. I can pretty much guarantee complaints if soup is on the menu, but the complaints can be muffled somewhat if I serve up soup 'with bits'.
I think soup is a brilliant meal for those really busy days. The majority of soups can easily be made in advance and reheated, which means that I can make a pot of soup early in the day or even the night before, and walk in right on dinnertime to a nourishing meal. And as most soups also freeze well, I always have some on hand in the freezer for quick lunches or dinners during the colder months.
Make this super #easy Minestrone #Soup in just 30 minutes. The soup reheats well, so is a quick meal to make in advance, and as an added bonus it can also be #frozen. #freezermeals #dinner #pasta Click To Tweet
The other thing I love about soup is that it really needs nothing more than a nice loaf of fresh bread to turn it into a complete meal.
In my house, I find the best way to get any soup past The Princess is to turn it into a liquid pasta dish. As such this easy minestrone soup appears regularly on our dinner table during the winter, and is even sometimes requested by The Princess. I think I've got her fooled.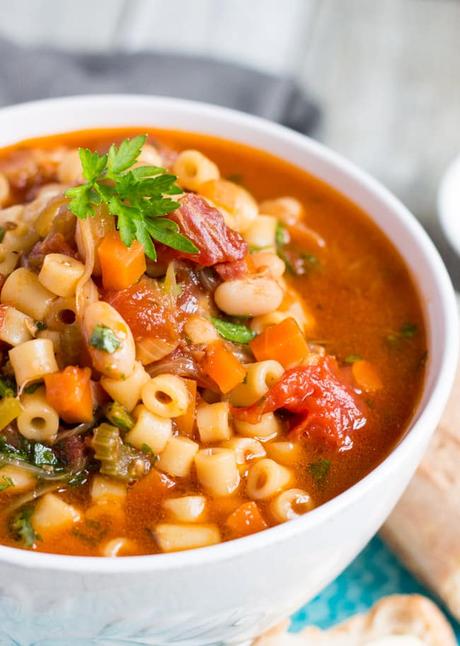 Ingredient Substitutions for Easy Minestrone Soup
I have used smoked pancetta in place of the bacon with great success. I have also used ham in a pinch.
You can use any vegetables you like in this soup. It would be great with spinach or silverbeet leaves (chard) stirred in at the end. Silverbeet stems can be sliced and sauteed off with the other vegetables.
Use borlotti or pinto beans in place of the cannellini beans. And freshly cooked beans can be readily replaced for the tinned variety of you happen to have some on hand.
To make this easy minestrone soup vegetarian, omit the bacon and use vegetable stock in place of the chicken stock.
The soup will be gluten free if you use a good gluten free pasta.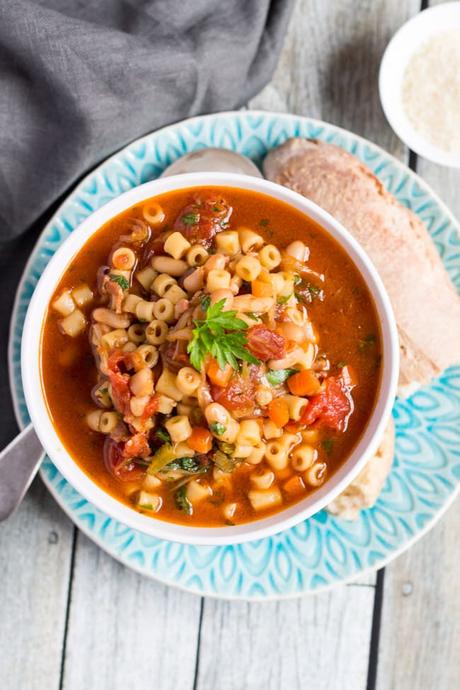 Tips & Tricks for Making the Best Easy Minestrone Soup
I prefer to use a small pasta shape for my easy minestrone soup. Smaller shapes seem to work better in soup (in my opinion). If you have a favourite pasta shape, use that.
You can actually add as much or as little pasta to the recipe as you like. Just bear in mind that the more pasta you add, the less liquid there will be in the final dish.
The soup will thicken on standing, as the pasta will continue to absorb the stock. Add a little extra stock or water when reheating to thin the soup out.
This easy minestrone soup both freezes and reheats well, and the recipe is easily doubled if you are feeding a crowd or want extras for another meal. I usually make a huge batch, then divide the leftovers into smaller lunch-size portions that I stash in the freezer.
Leftovers are fine in the fridge for a few days, and the flavour will only continue to improve.
Serve this easy minestrone soup in warm bowls with grated Parmesan to sprinkle over. Grated cheddar would probably work just as well. And tell your Princess your having pasta for dinner.
Enjoy!
Made this recipe? Tell me how it went in the comments below.
And if you loved it, please don't forget to rate it.
​Find Mealtimes A Burden?
​TAKE MY FREE ​CHALLENGE. ​
9 Days. 9 Tips. ​A Lifetime of Stress-Free Meals​.

Easy Minestrone Soup
Make this super easy Minestrone Soup in just 30 minutes. The soup reheats well, so is a quick meal to make in advance, and as an added bonus it can also be frozen.
Author Tania @ The Cook's Pyjamas
In a large pot, gently fry the bacon until the fat starts to render.

Add the olive oil and onion. Fry the onion until it starts to soften.

Add the garlic, carrot and celery.

Continue to fry until the vegetables start to soften.

Add the chicken stock and bay leaf.

Bring the stock to the boil, then reduce to a simmer.

Add the beans, tomatoes and pasta.

Crush the tomatoes into the soup with the back of a spoon.

Continue to simmer until the pasta is cooked.

Season to taste with salt and pepper.

Serve in warm bowls with grated Parmesan.
If your bacon rashers are large then use three instead of the six specified above.
* Percent Daily Values are based on a 2000 calorie diet.
P.S. Looking for more soup recipes? Try my Red Lentil & Bacon Soup, Quick & Easy Carrot Soup, Lentil & Brown Rice Soup or Hearty Winter Vegetable Soup.