Are you a musician or local business owner living in Chicago?

Make Music Chicago is a free music festival hosted by the International Music Foundation, and they're back for their seventh year! The International Music Foundation presents free, classical music performances and education in the Chicago metropolitan area. They're accepting applications through June 1 from musicians of all genres and venues to participate and bring music to Chicagoland neighborhoods and suburbs. The celebration will take place on June 21 in Chicago, but it's also celebrated in over 750 cities around the world. The festival is inspired by Fete de la Musique, a national music holiday in France, which has become an international phenomenon taking place every June 21.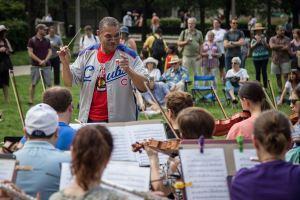 Make Music Chicago gives everyone the opportunity to perform and listen to music. Performers of all ages and backgrounds gather throughout Chicago to play and enjoy live music of all genres. Last year, Make Music Chicago featured 200 performances across 100 locations in over 40 Chicago neighborhoods and suburbs. Locations included Millenium Park's Wrigley Square, Maggie Daley Park, Chicago Riverwalk, Lincoln Park Zoo and more. Past festivals included performances by Chicago Symphony Orchestra, Grant Park Orchestra, Grammy-award-winning violinist Augustin Hadelich and more.
If you're interested in performing or offering up your business as a location, there's an informational meeting about the registration process on Tuesday, March 28 from 5:30 – 6:30pm at Roosevelt University. Once you're signed up as a musician or location, you'll be able to message other participants and create performances in available spaces. Performances that are approved through the website will have their program included on the schedule that's listed on the Make Music Chicago website and app. To RSVP, visit http://makemusicchicago.org. 
Participating in Make Music Chicago is a great way to offer up your talent or your location to celebrate music and bring people together. Musicians and location owners may sign up for Make Music Chicago at http://makemusicchicago.org