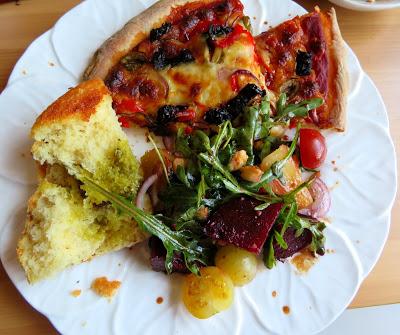 We are living in such strange times at the moment.  Things are easing up a bit now, but I can't help but wonder if it is not a bit too soon.  Perhaps I am just being extra cautious. But I would rather be that then the opposite.  I do feel for the many businesses which have been feeling the crunch with loss of income, etc. I was recently contacted by PizzaSi and asked if I would like to try one of their 4-seerving size  Pizza Quarantine boxes! They didn't need to ask me twice!   I adore Pizza!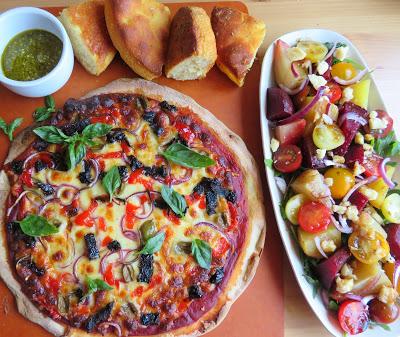 They are a young Italian company based in London that normally operates  business to business, but due to this Covid-19 situation they decided to open their products on a home delivery service, offering Pizza Boxes to people like you and myself, rather than risk going out of business altogether! What a brilliant idea and concept and a wonderful example of making lemonade out of lemons!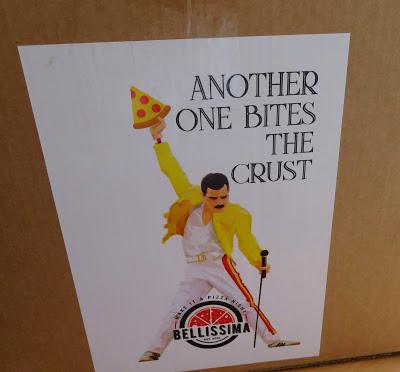 This new range is a  Make Your Own Pizza Kit.  In a nutshell, it is a proper 4 serving food quarantine box, which is available to be delivered all over the UK.  And for each box purchased they donate £5 to the NHS! (FABULOUS!)  Making an authentic Italian Pizza at home has never been easier or more fun!  All you need to do is to open the box and follow a few steps!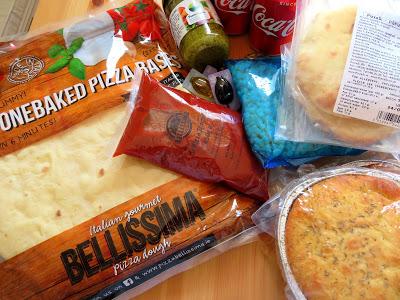 This box is jam packed with everything you need to do to feed your family and entertain them to a fun Pizza Night in!  Every box contains: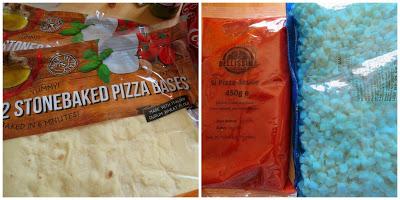 4 X Hand-stretched 10-inch Pizza bases500g of diced Mozzarella cheese450g of Tomato Sauce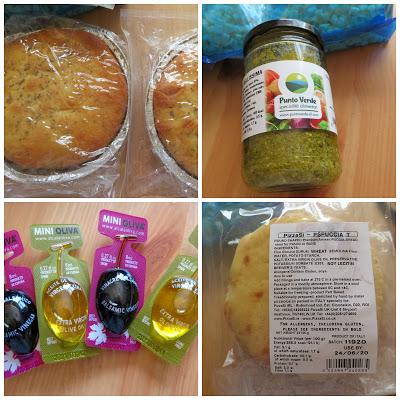 2 X Rosemary Foccacias
2 X portions of extra virgin olive oil
2 X portions of Balsamic vinegar
1 X jar of Green Pesto
2 X Puccia Breads
4 X soft drinks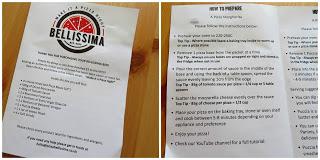 Every product is well labeled so that you can carefully check them for ingredients and any allergens.  Also included is this pamphet giving you detailed instructions on how to prepare everything included, as well as a recipe for a Pizza Margherita, heating and serving the Puccia Bread and how to prepare the Foccacia.  Simple!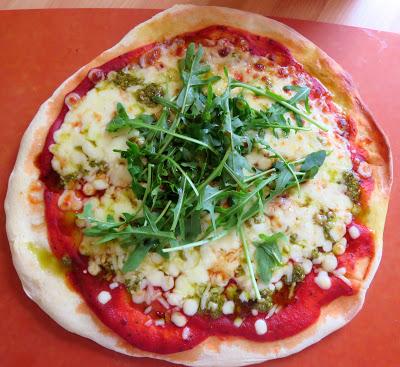 I went old school with one of the crusts, and prepared a Pizza Margherita according to the pamphet insructions. I drizzled the finished pizza with some of the pesto and added a handful of rocket with a drizzle of balsamic. YUMMO!  Those hand stretched crusts are amazing and the cheese and sauce are exemplary.  Excellent. I recommend using a pizza stone if you have one and getting it really hot so that you can achieve a nice crisp crust.  I am in love!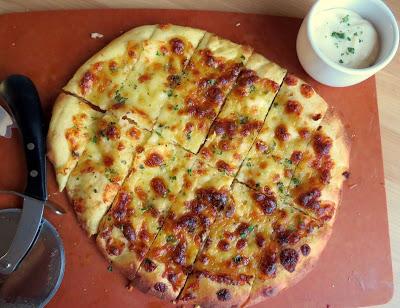 I used another one of those beautiful hand-stretched crusts to make some easy Cheese Garlic Fingers which I served with a Sweet Garlic Dipping Sauce, very similar to the sauce that you can get with your Donairs back home in Halifax, Nova Scotia, Canada.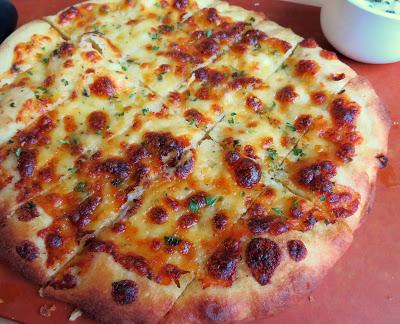 This was as simple as brushing the crust with some garlic butter and sprinkling it with cheese then popping it into the oven, again on a pizza stone.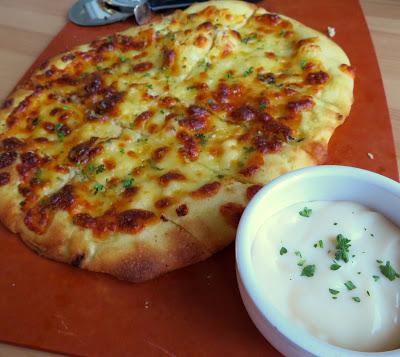 While it is baking you can quickly whisk together the dipping sauce.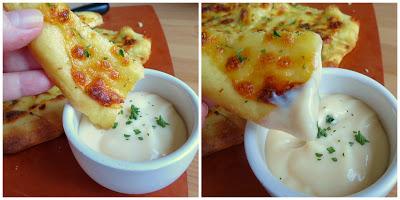 The two together are totally amazing!  I really felt like I was having a yummy Pizzaria experience!!
Yield:
4
Author:
Marie Rayner
Print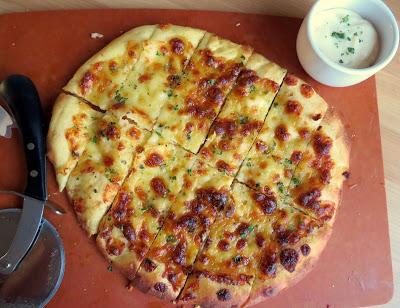 Cheese Garlic Fingers with Sweet Garlic Dipping Sauce
Rich and garlicky and the dipping sauce is to die for.
Ingredients:
For the garlic fingers:
1 (10-inch) hand stretched pizza base
2 TBS melted butter
2 cloves garlic, peeled and  minced
pinch salt
8 ounces mozzarella cheese, shredded or chopped
small bunch chopped fresh parsley
For the sauce:
160ml sweetened condensed milk (2/3 cup)
60ml white vinegar (1/4 cup)
1/2 tsp garlic powder
Instructions:
Preheat a pizza stone in your oven which has been preheated to 220*C/425*F. 
While they are preheating, melt the butter in a small saucepan. Add the garlic and cook for several minutes.  Whisk in the salt. 
Brush your pizza base all over with the garlic butter.  Sprinkle with the cheese and parsley.
Transfer to the pizza stone and bake for 8 to 10 minutes until golden brown in spots and bubbly.  
While the pizza is cooking, whisk together the sweetened condensed milk with the vinegar and garlic powder until smooth.
Cut the baked pizza into fingers and serve hot along with the sauce for dipping.
Did you make this recipe?
Tag @marierayner5530 on instagram and hashtag it #EnglishKitchenCreated using
The Recipes Generator
I did a type of Vegetarian All Dressed Pizza with another one of the crusts.  I added the sauce and cheese and then topped with some sundried tomatoes, thin slices of red onion, green garlic olives and chopped sweet cherry peppers.  Again I baked it on the pizza stone to pizza perfection.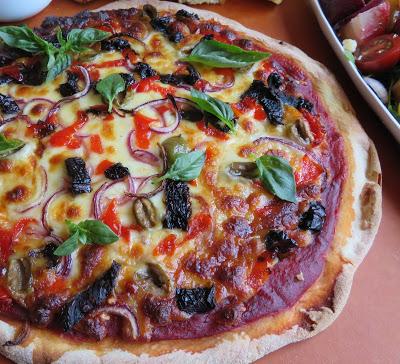 I scattered the top of it with some fresh basil leaves from the garden when it came out of the oven. Oh-so-tasty!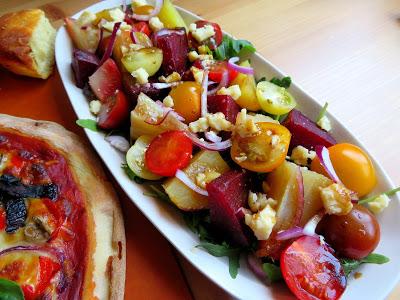 I accompanied everything with a delicious Heirloom Beetroot and Tomato Salad on the side and some of the foccaccia warmed up and ready to dip in some of the basil pest.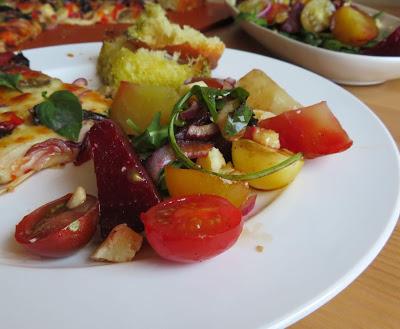 The salad was amazing also, roasted heirloom beetroots with sliced heirloom tomatoes, a maple balsamic dressing and of course that cheddar.  An artisinal cheddar I happened to have in the fridge. It went so very well with the smokiness of that maple balsamic dressing.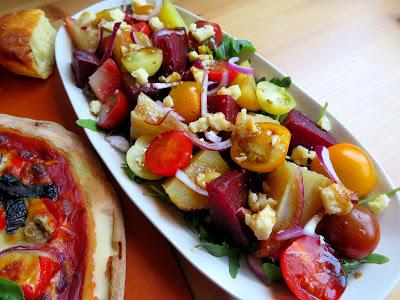 Print
Heirloom Beet & Tomato Salad
Yield:
4
Author:
Marie Rayner
A beautiful summery salad that goes with just about anything.  Bright, colourful and tasty!
Ingredients:
2 pounds of heirloom or summer tomatoes
1 1/2 pounds of heirloom beetroot, roasted and then peeled
1 -2 cups of rocket (baby arugula)
pinch flaked sea salt
1/4 tsp cracked black pepper
2 TBS good olive oil
1 TBS good balsamic vinegar
1 TBS pure Maple Syrup
2 ounces crumbled strong cheddar cheese
Instructions:
Cut the beetroot and tomatoes into wedges.  Arrange the rocket on a serving platter.  Scatter the roasted beetroot and tomatoes over top. Season with some salt and black pepper.  Whisk together the oil, vinegar and maple syrup until well combined.  Drizzle over the salad.  Crumble the cheese over top and serve.
Did you make this recipe?
Tag @marierayner5530 on instagram and hashtag it #EnglishKitchenCreated using The Recipes Generator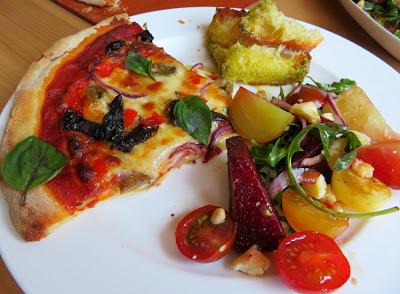 Altogether this was a fabulous meal!  I was very impressed with the service of this company. Everything was delivered intact and contactless to my door, well packaged and still cold, ready for me to regrigerate until I was ready to get stuck into my Pizza Night.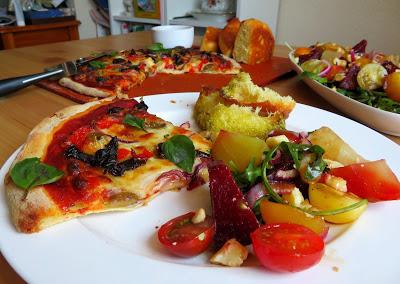 I have to admire their ability to derive something positive out of something which could have been very negative.  They did not put their head between their legs and quit.  They moved forward with positivity and determination to succeed and I think that they did.  I also love the fact that they are also donating some of this to the NHS, which is our National Health Service here in the UK.  They need all the help they can get at the moment!  I am very impressed with their product, their service and their ethos!  If you would like to know more and perhaps arrange a Pizza Night Delivery for yourself do check out the following links!
Website: www.pizzabellissima.co.uk
FB: https://www.facebook.com/pizza.bellissimauk/
INSTA: https://www.instagram.com/pizza.bellissimauk/
Twitter: https://twitter.com/Bellissima_Uk
Youtube tutorials (how to make it a Pizza Night)
https://www.youtube.com/channel/UCPdtXme3N45_3ynDnHBUwpw
Many Thanks to PizzaSi for affording us this delightful opportunity to try something new.  We loved it! 

Follow my blog with Bloglovin