As a parent, we always want our children to excel and make sure that they get the best of everything – Be it health, love, home or education.
Learning and awareness about a wide range of topics are the most vital things in life as they lay the foundation for a bright future. So, it is important as a parent, that your child gets the best of education, learning and awareness about different things but without making it tough and boring.
Each year, we see multiple changes and evolution in the education system, and with digitalization, it is happening even more rapidly. Keeping it light today's pace of life, smart learning is the need of the hour.
So, it's best to make the most of this digital world as we all know how kids are attracted to it. Let's make their screen time valuable by making children learn and develop their skills in a fun way.
How? By Making Learning Fun with FOONA!
FOONA is a FUN current affair and general awareness app for children. It is a unique app that helps children learn about relevant current affairs and enhance their knowledge of the world around them in a fun manner.
FOONA provides exposure and learning-beyond- a curriculum for children. Currently, they curate content for children in Classes 1st to 6th and are looking to soon add content for other classes as well.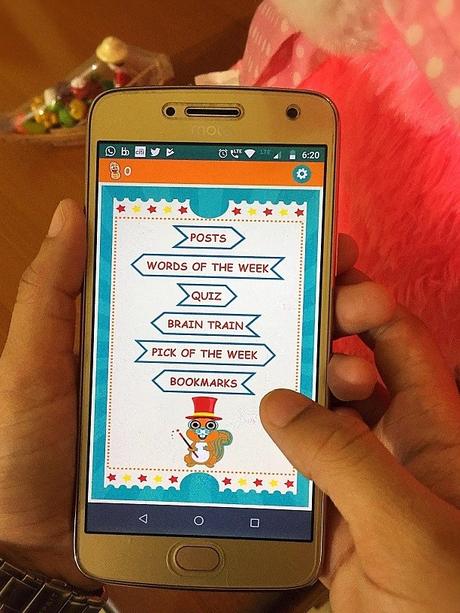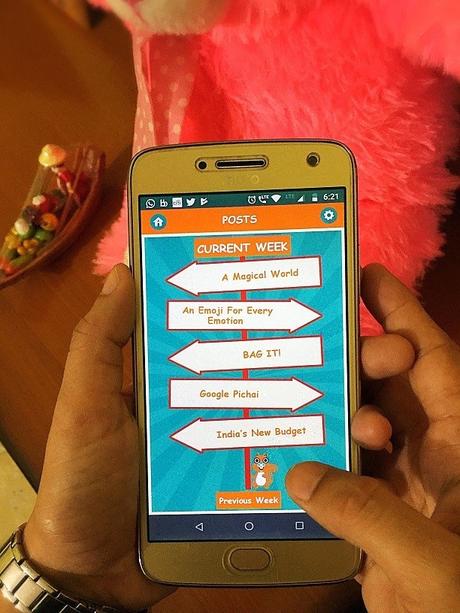 Make your child's learning experience simple yet engaging.
As a parent, we want our children to be smart, well-aware leaders of tomorrow so it is appropriate to make your child learn and grow with FOONA's well-crafted colourful STORIES and a host of other exciting features like QUIZZES, BRAIN TRAINING games, reading and writing CHALLENGES, etc…
Most importantly FOONA is completely safe to use for a child with filtered, age-appropriate and relevant content. Another interesting feature of FOONA is their method of child engagement through rewards.
By conducting regular fun contests, learning games, quizzes, writing challenges and giving rewards based on their performance, FOONA helps a child to remain interested and focused as well as continuously learn interesting things.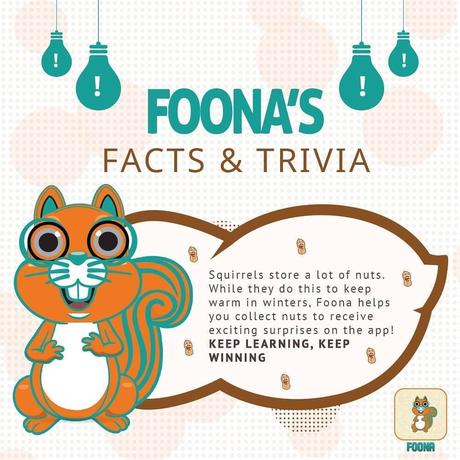 What makes FOONA unique?
It is a SAFE, INTERESTING and INTEGRAL tool for a child's learning and development.
Read on to know the reasons why FOONA is unique and different from other apps:
1.  It is completely safe and child-friendly.
2. It makes learning fun using technology rather than forcing children to memorize information through drab GK books.
3. Its weekly updates are crisp, relevant and interesting which will make your child always learn something new.
4. The information provided is chosen on two important criteria – safety and relevance for the particular age group. After that, it is tested and approved by educators and parents.
5. The content is simple and ranges across categories like India and World, Science and Discovery, Technology, Sports and Entertainment, Fun and Learn, Health and Lifestyle, Weird and Wacky, Education and Career.
6. It inspires young minds and encourages curiosity. It engages children with interesting information and they earn nuts for every challenge completed. Children also get to know their rank amongst all users.
7. Parents or children can bookmark the topics they love for future reference.
8. Most importantly, currently the app is free for both Android and iOS users. Sources say that with the overwhelming response they have received across the country they will very soon migrate to a subscription-based model. But the early subscribers will still be allowed to continue on the free subscription model as a goodwill gesture.
So, what are you waiting for? Equip your child with the best of learning and awareness tools available on FOONA and make him/her a smarter individual.
KEEP LEARNING! KEEP WINNING!