Nectarines in red wine are the perfect make-ahead dessert for summer entertaining. The red wine melds with the juices of the fruit and the spices, producing a delicious syrup that is best licked straight off the spoon. Serve with thick cream or ice cream for the perfect end to dinner.
Total Time Investment: 45 Minutes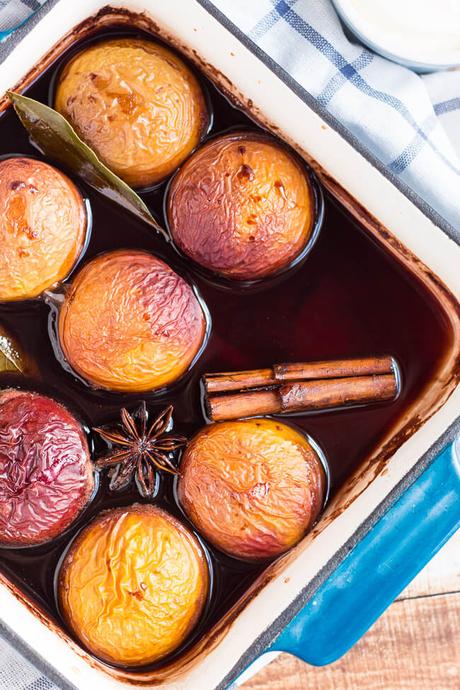 Berries aside, I'm not a huge fan of fresh fruit. I put this down to the fact that fruit was difficult to source in the country when I was a child, unless you had your own tree, and a lot of the fruit I remember eating as I grew up was from a tin.
These days, I still prefer to eat fruit that has been cooked in some manner. My favourite way to treat almost any fruit is to add a little sugar, some spices and a slosh of alcohol, and throw the whole lot in the oven: a technique that works particularly well for strawberries, berries and all stone fruit.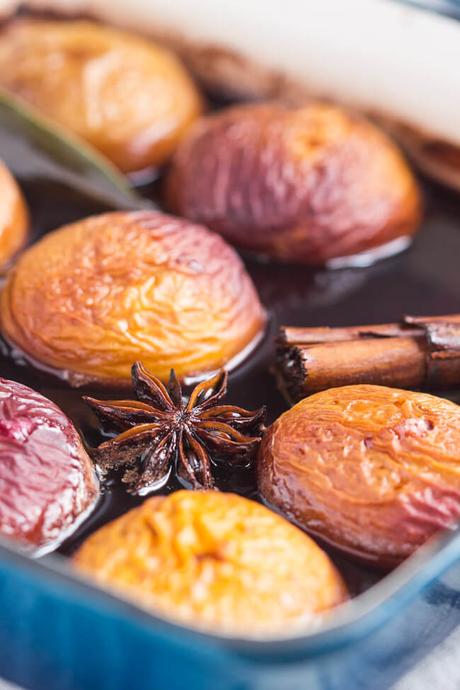 I was first introduced to the idea of roasting nectarines in red wine many years ago when we lived in England. Our good friend Sue, a truly amazing cook, served this glorious dish to Mr Grumpy and I as the perfect end to a superb meal. The juices from the fruit seeped into the red wine as they cooked, melding together with the sugar and the spices to produce a delicious syrup.
A tray of these nectarines in red wine have appeared in my kitchen every summer since that first meal, almost twenty years ago now. I use either peaches or nectarines depending on the quality of the fruit available; some years the nectarines are better, in others the peaches shine.
This recipe is ripe for experimentation, and I have played with it a quite bit over the years by switching up the spices and the poaching liquid. My tinkering always produces edible results, yet I invariably return to this version. What can I say, it truly is the best. And I am aware that whilst bay leaves are an unusual inclusion in dessert, the leaves have a green, spicy aroma that pairs beautifully with the fresh fruit.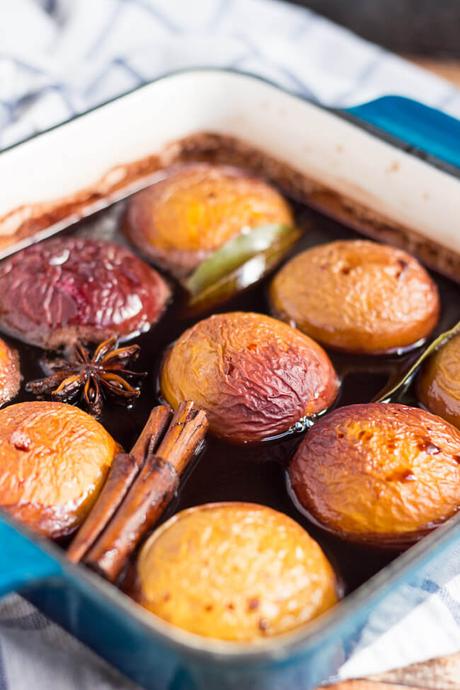 As these nectarines in red wine are so easy to make ahead (see my tips below), it is the perfect dessert to end a relaxed summer meal. It needs little more than either thick cream or ice cream as an accompaniment (or both if you are feeling particularly greedy). The nectarines taste delicious both warm or at room temperature, and leftovers have even been know to make an appearance at breakfast in my house.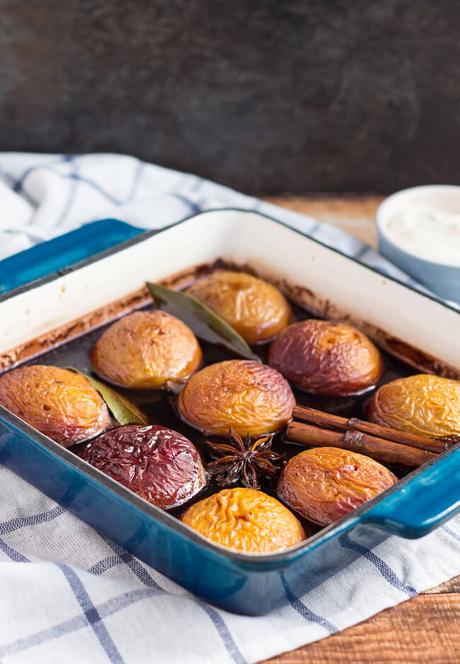 Ingredient Substitutions
Tinker with this recipe to your heart's content, and experiment according to what is in your pantry. I use either nectarines or peaches, depending on what is available.
If you cannot source fresh bay leaves, use dried leaves instead. I will say that fresh leaves work better here though, and freeze well, so if you manage to find a supply then stock up the freezer.
Replace the dark muscovado sugar with dark brown sugar, or rapadura sugar. You could also use maple syrup in place of the sugar.
Cloves, allspice berries and even a few black peppercorns can be used in the syrup. If you cannot source cinnamon quills, you could add 1/2 teaspoon of ground cinnamon to the red wine. I haven't tried this myself but cannot see why it wouldn't work. Slit a vanilla pod and slip it into the red wine before the tray goes in the oven for additional flavour.
Red wine produces the best syrup here, however you can also use white wine, or even apple juice if preferred. The alcohol in the wine evaporates during the cooking process, so I have no qualms about serving this dish to children. The Princess loves them.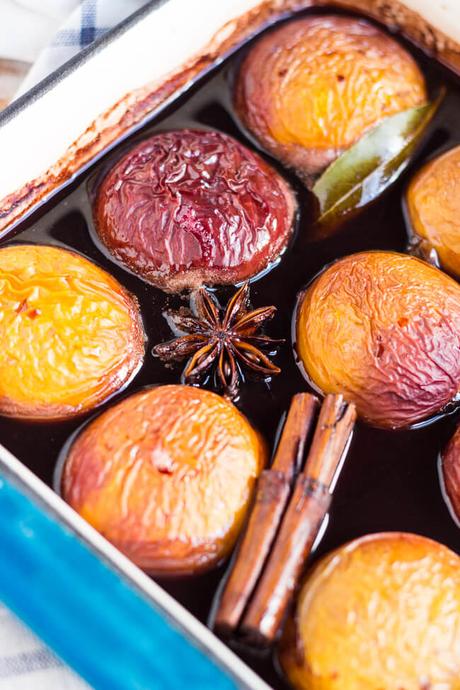 Tips to Get Ahead with Nectarines in Red Wine
This dish is delightful served warm or at room temperature, so is perfect for making ahead. I do this in two ways:
Prepare the dish to the end of Stage 5 in the recipe, then set aside. If you wish to serve the nectarines warm, slide the tray into the oven just before you serve the main meal.
Bake the dish before your guests arrival, and allow it to sit at room temperature until required. The dish will sit happily for a few hours out of the fridge.
The nectarines can also be baked the day before required. Refrigerate overnight, and allow to come back to room temperature before serving.

Oven Roasted Nectarines in Red Wine
* This post was originally published in March 2013. I have substantially updated and revised the information here to make it more useful.