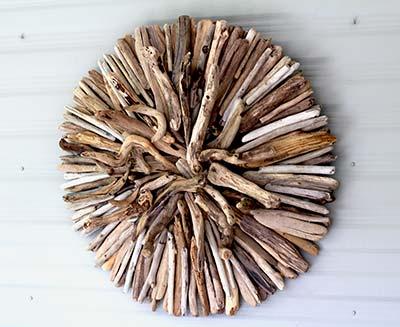 This Simple Tutorial to Make a Driftwood Wall Sculpture will show you how easy it is to create a stunningly beautiful piece of sculptural art using nothing but weathered driftwood pieces with all its nuances and textures.
This Driftwood Wall hanging brings all the colors and textures into one striking art piece that can be hung indoors or out and in a variety of room decors from beachy to modern.
Supplies Needed:
Heat Gun such as HiPur Former Adhesive Applicator by Franklin International or Professional Glue Gun
Titebond WW30 or WW60 (for use with HiPur Adhesive Applicator) or Ad-Tech Wood Glue Sticks or All Temperature Wood Stik (look for glue sticks that will hold up in all temperatures)
150-200  Driftwood pieces 6″ – 12″ (I used approx. 175 pieces for my 25 1/2″ round sculpture)
Paper Template (decide how big you want it and create a template from paper)
Round Wood Base 9-12″ (you will need this to be able to hang the sculpture on the wall)
Hardware for hanging sculpture
Picture hanging wire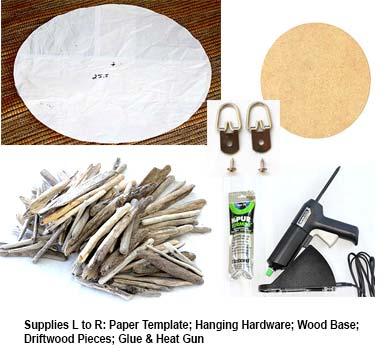 1.   Start with deciding how big you want your piece and create a paper template that will help you keep the shape in check. I also separated my driftwood into 3 different piles – long pieces, shorter pieces and odd curly pieces.
2.     Center the wood circle on the template.  This piece is what you will use as your base to attach your hardware for hanging and to also attach some longer pieces of driftwood to help stabilize the piece.  It can be anywhere from 9″ to 20″ around.
3   Glue longer pieces from the wood circle to the outer edges of the template.  This will help stabilize the piece.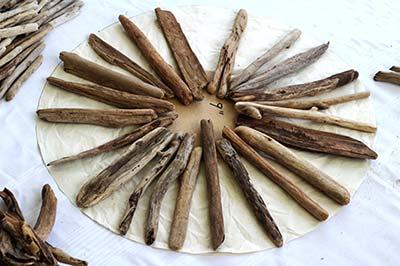 4.   Continue to fill in with shorter pieces – lining them up with the bottom edge of the paper template.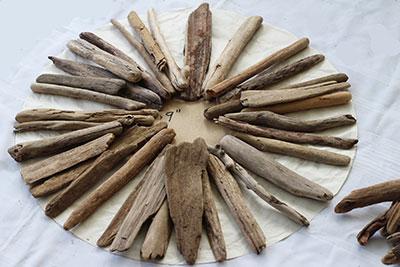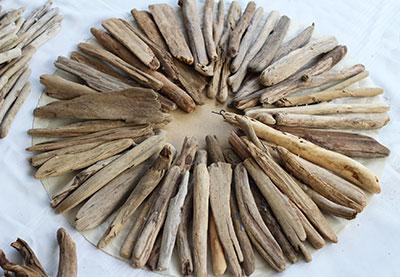 5.   For the next layer, I added shorter pieces and filled in sparser areas.  Then took my odd shaped pieces and used them for the middle to create more dimension – turning them so they pointed up and out.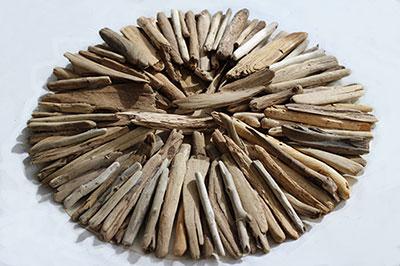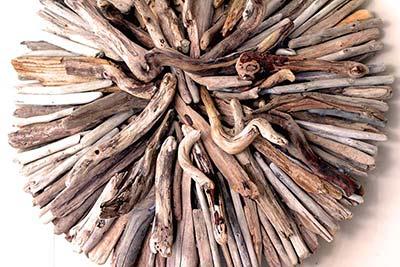 6.  The final step is to attach the hardware for hanging.