Fabrics can greatly enhance the look of a room, providing it with pattern, textures and color. Like wall paint, fabrics have a strong influence on the character and visual appeal of your room.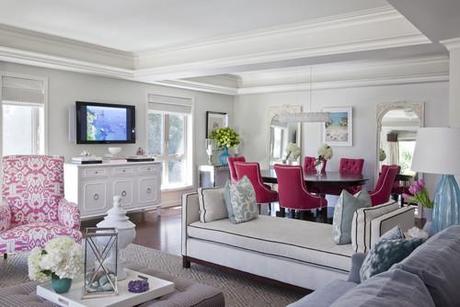 Choosing a fabric for your space requires considering what type and thickness of material to use and where it's best suited. For example, in an area that is exposed to wind you'll do best to use a durable fabric rather than a thin, lightweight material.
Today, fabrics have many colors and patterns and they can be used for much more than just pillow covers and curtains. In the room below, a fabric swatch was framed to make it a unique work of art.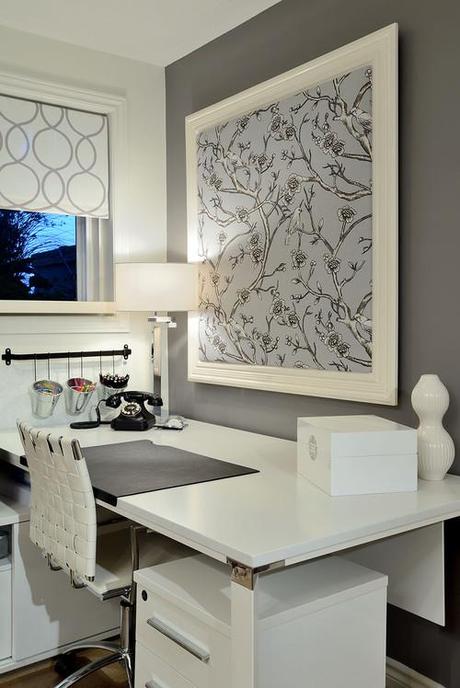 How to choose fabric for home design
Silk, cotton and rayon are popular fabric materials. Silk is very popular for cushions and window treatments. It may cost you a little bit more but the quality is unmatched when it comes to luxury and elegance. There are a few downsides to silk; for example, it wrinkles and stains very easily. An alternative to silk is rayon, which also has a luxurious look. It's less expensive and much easier to clean (because it's synthetic). Rayon can very easily be washed in your washing machine. Cotton is a wonderful choice because we all love its touch and feel. Cotton has a longer lifespan than silk and is machine washable. When dyed, cotton doesn't fade or get dull very quickly (like silk does).
Fabrics, like paints, are a personal choice. You want them to represent your design style and to make your home feel inviting and welcoming. Remember to use fabrics sparingly, as they can be overwhelming if too many of them are placed in a room. If you're daunted by all the choices of fabric design, you might do well to consult with a window treatment specialist who can help you choose the best fabric for your design needs and wants.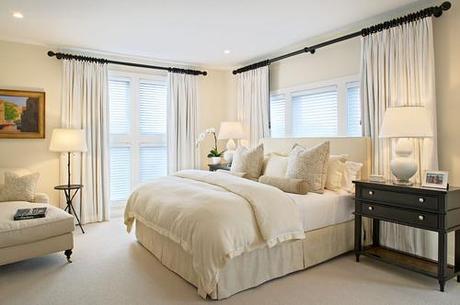 You can use colorful fabrics to complement the seat cushion covers in your kitchen; I suggest using a fabric that is designed to withstand stains, one that can be easily wiped clean. You can also add an indoor-outdoor rug with a color that matches that of the cushion covers.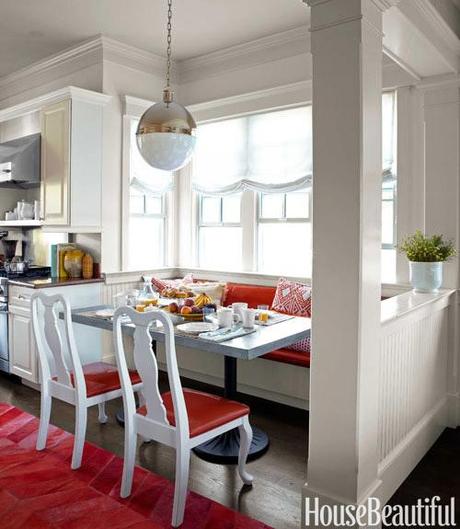 In a bedroom, don't neglect accessories such as bedside table lamps. Give them a fabric pattern makeover in colors that complement your bed linens.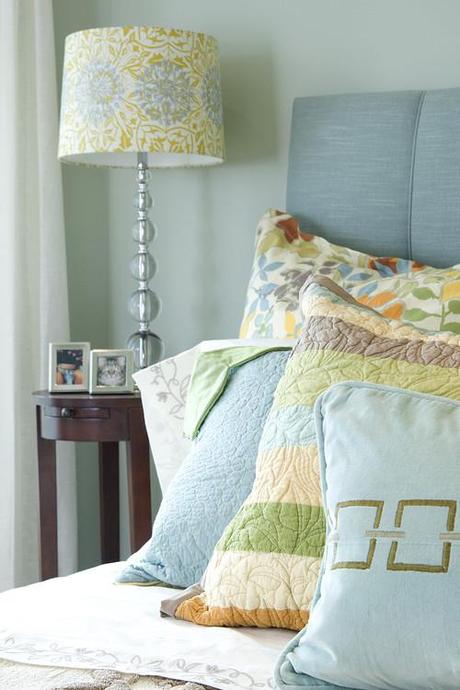 Slipcovers can give a room an instant makeover. They come in a myriad of colors, textures and designs and they're easy to clean because they are machine washable. A great feature of slipcovers is that you can very easily change them according to the seasons.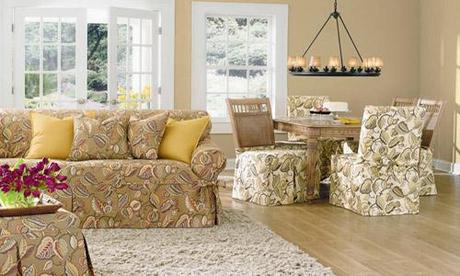 These coral linens and prints have a wonderful touch of summer to them. They are a great focal point in this neutral colored bedroom. Using a neutral palette in a room gives you many options for using fabrics to update its look.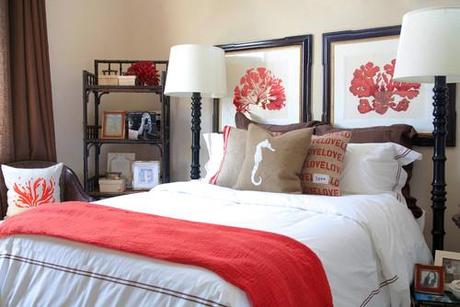 Here's a perfect example of how "less is more" when it comes to decorating. The focal point of this room is the green bed frame, which is complemented with a pair of paisley-patterned cushions and a soft green blanket. Simplicity at its best!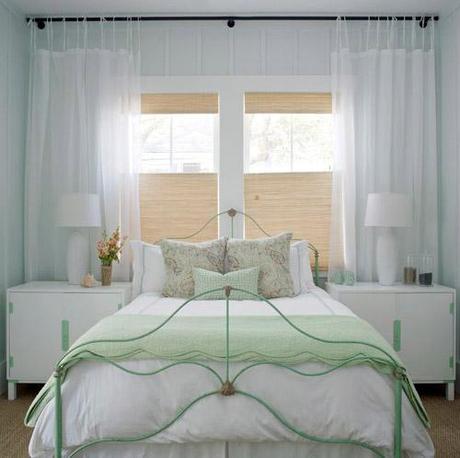 You can achieve a fun design by mixing and matching patterns such as floral, solids and stripes. Choose one color and layer in the various shades. It's a great way to create balance and harmony in your room.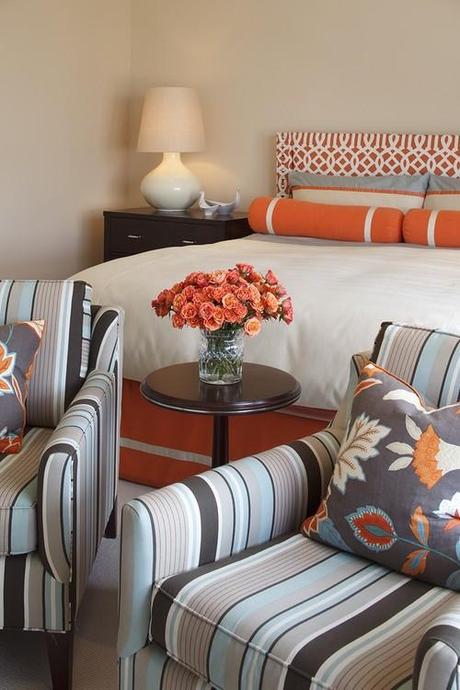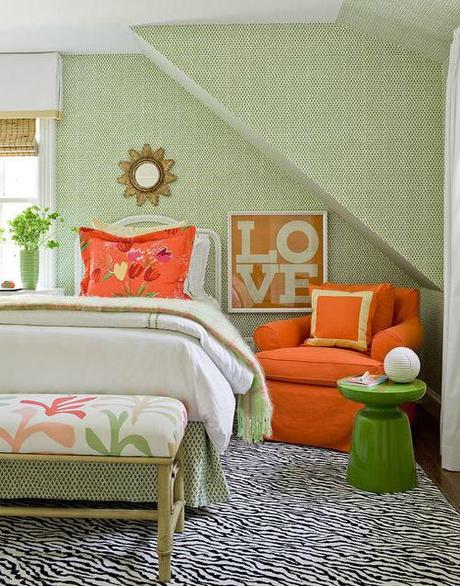 Update your window treatments with new fabrics. Your lining should not only beautify your room but also perform its intended function, protecting the room from the sun rays in summer and the chill breezes in winter.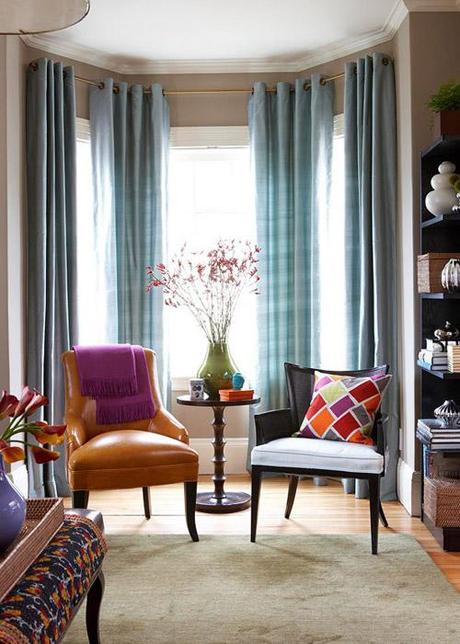 As you see, decorating with fabrics is fun, colorful and textural. You can change many fabric items to coordinate your home with the seasons. So go ahead, give your room a fabric makeover. Ask your local fabric store for swatches and experiment with mix colors and textures. Before you know it, you will have created a space that perfectly reflects your design style and personality!
Simone