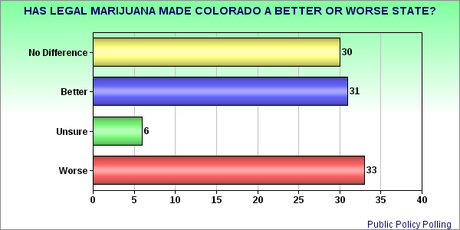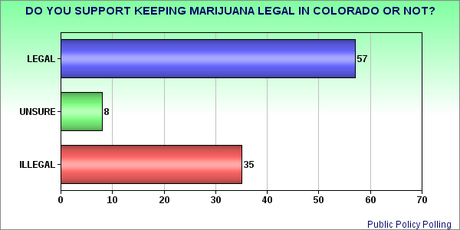 The charts in this post were made from a Public Policy Polling survey that was done between March 13th and 16th of 568 registered voters in Colorado, with a margin of error of 4.1 points.
Well, marijuana has been legal for possession and recreational use in Colorado for three months now. No one has died or gone crazy and anarchy has not spread throughout the state. In fact, life has gone on pretty much as it did before marijuana was legalized, with three exceptions -- millions in new taxes are being reaped by the state and city governments, honest & hard-working pot users are no longer being jailed, and police in that state can now turn their attention to serious crimes (crimes that actually have victims).
Public Policy Polling decided to find out just what the citizens of Colorado think of their new law, now that it is in effect. And they found the law has actually increased in popularity. It was passed with 55% of voters approving it and 44% voting against it. But now the law has the support of 57% of the population, and is opposed by only 38% (with 8% being unsure what to think). Add to that the fact that only 33% say legal marijuana has made the state a worse place, while 61% say it has not (and 31% saying it made Colorado a better place).
Here is a demographic breakdown of support for keeping pot legal in Colorado. Note that the majority of every group (except for conservatives, Republicans, and those over 65) supports the new law.