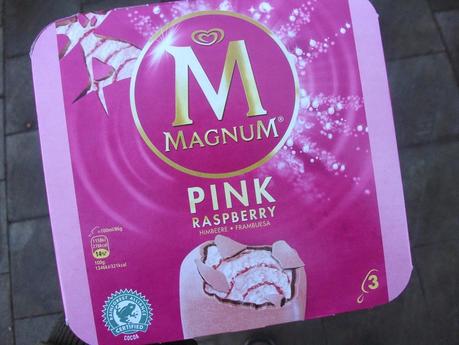 The Silver Marc De Champagne Magnum's brought out by Uniliver a year ago are consistently amongst the highest viewed posts on this blog - they must be really popular across the world - so I thought it about time I gave these new PINK ones a try since they're currently being highly promoted across most UK supermarkets.
Unilever obviously think the "coloured shell" idea is one that's catching, as they've already done a Gold?! variety which is also still on shelves. There's also a BLACK Espresso variety, but that's just dark chocolate and doesn't make for an exciting color like pink does...you can just tell these are going to be really popular this year, especially over the Summer months!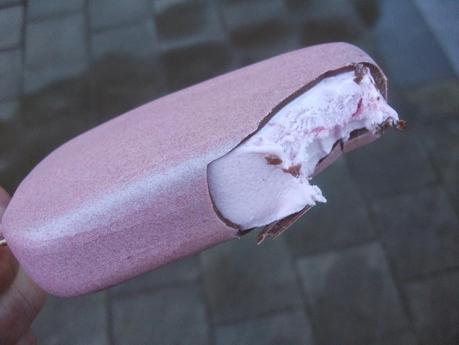 Whilst the pearly pink coating is very eye-catching, the flavor is a basic raspberry ice cream with strands of raspberry sauce. It's all coated in milk chocolate and then coated again with the outer pink glaze. The taste is very pleasant and fruity, although considering the novel color I thought they would have had a much stronger raspberry taste.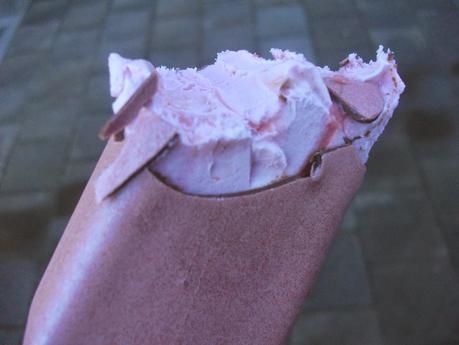 Overall, a nice ice cream for sure and one that no doubt many of us will be reaching for over Summer if just for the bright color...but these could have been better. I actually think a strawberry flavor (or even passionfruit!) would have been nicer, but hey that's just me!


RATING: 7.5 out of 10.


Nutrition Per Ice Cream: 276 Calories, 18g Fat, 26g Carbs, 24g Sugars.
Gluten Free, May contain nuts & sesame. 
Have you tried Magnum PINK Raspberry? If so what did you think?