Anthony's Restaurant Rating:
80/100 X
Welcoming:6/10 Menu Choices: 10/10 Food Presentation: 8/10
Food Temperature: 9/10 Food Taste: 15/20 Service: 7/10
Ambiance/Music: 8/10 Architecture/Interior: 9/10 Air Quality: 8/10
Total: 80/100

More about:
Magnolia Urban Cafe
There's a hype around the fact that a lot of restaurants are closing at Le Mall, while other more prominent places are opening instead. I thought why not pay this mall a visit and see who's closing, who's opening… Marion, Spot and now HD&B have closed while Shtrumpf's as well as Deek Duke made a new appearance, updating this mall with new culinary choices. Shawarmanji is also opening soon and there are talks that Ichiban might be landing in there as well. Yet looking for a place to have lunch around the mall was not an easy task… almost all restaurants serve Arguiles, burgers or sandwiches. But Magnolia Urban Cafe caught my attention specially for its decoration and variety of cuisines. I said why not give this place a try…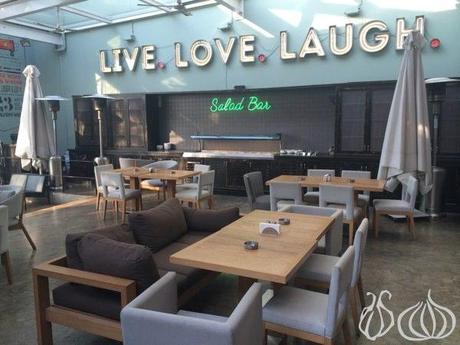 Located on the third floor of Le Mall, Magnolia's is an interesting place to discover inside out. The touch of Boubess group cannot be missed as the decoration is a close copy to Cozmo in Zaitunay Bay. Divided into several corners, Magnolia is really a piece of fine architecture with a lot of details to check out.Arrive to the corner facing the street on the third floor where Magnolia occupies a very large area. To the right, the first dining space with its yellow tiles, black cupboards and long wall crafted with the menu items and variety of graffiti style art work. In the middle, a long bar around a high ceiling space where the neon light catches your attention while walking around the mall. The Greenery, relaxing open space and well lit ambiance really soothes your senses.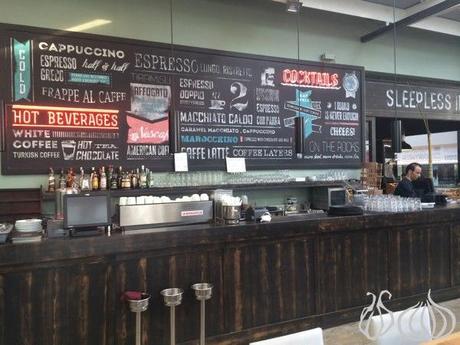 Magnolia literally translates itself within its surrounding as a blossoming flower emerging in the complexity of urbanism and the simplicity of nature. Overlooking the Mediterranean Sea; Magnolia offers its visitors an absolute prime location in addition to a culinary experience representing a blend of cultures and prepared to suit the local taste; whereas the setup combines an urban industrial feel pleasantly merged with a breathtaking garden crossing you all over the place. Magnolia marks itself as a unique concept fitted with comfy couches for the coffee loungers and dining tables for the hungry patrons looking for a satisfying food variety on an exclusive terrace that caters for a perfect hookah and dining experience.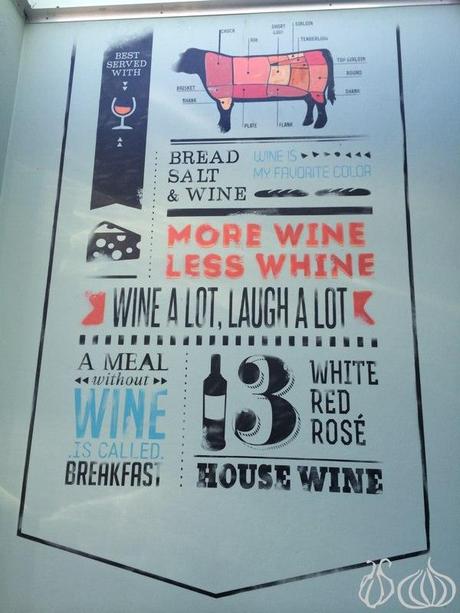 The place's funky little details:
Sofas and individual chairs decorate all the space, using brown, beige and grey fabrics
Large black lanterns individually light the balcony tables
Neon letters decorate the main wall with the tree words: live, love, laugh
All the tables are made of light wood
High ceiling covered in glass gives access to a lot of light
Greenery and freshness are best ways to describe this place
A nice background of music soothes your nerves while time passes
I loved the menu and its artistic touch, signs and styles built around three colors, red, blue and black, I think more than a dozen different typography styles are used. I think its a bit too chaotic and lacks some mouthwatering images, but it's definitely interesting and varied.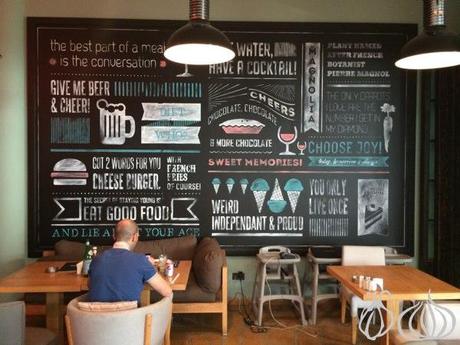 The menu: "live, love, laugh"
The menu has four signs: healthy, contains nuts and seeds, spicy, speciality… Euh! And what about garlic.
Breakfast, the deals
Starters, bites
Lebanese corner
Salads and salad bar
Sandwich platters
Pizza
Pasta
Platters
Desserts
Smoothies
Crepes
Ice cream
Juices
Coffee
Beverages
We ordered:
Salad bar: Since the place was not too crowded for lunch, the quantities in every bowl are tiny but the choices and fresh and good. I liked the salad bar especially the variety of dressing, but for the same price, here at Le Mall, I would honestly go down to Shtroumpf's, the salad bar specialist.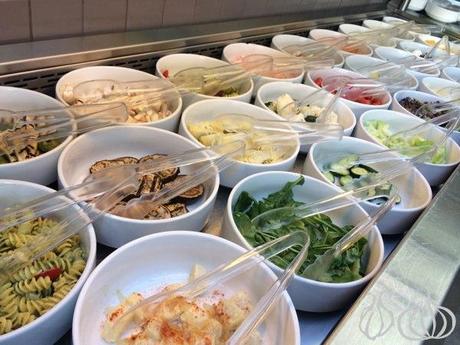 The Appetizer Combo: Calamari rings are crunchy but a bit oily. The mozzarella fingers are one of the best in town. Rich, thick and melting homogeneously, they are covered with herbs and don't taste oil; I liked them. Spring rolls have special Asian flavors; Extremely hot, super crunchy and taste very good. Wow, I'm impressed. The chicken strips are as good as all the rest. Surprisingly impressive. I really was not expecting to taste such a good appetizer platter. Rich, varied, well presented and delicious. Bravo.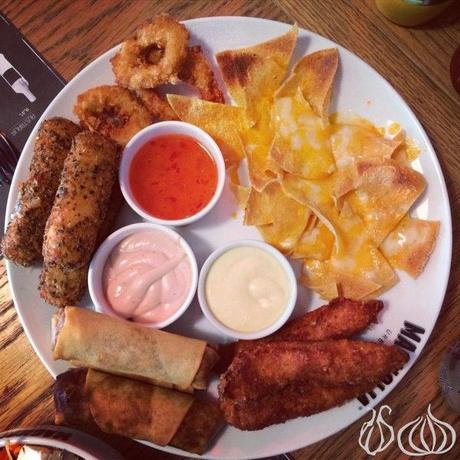 The Mexican Sandwich: (White bread, grilled chicken strips, sautéed onions, bell pepper, corn, grilled vegetables, edam cheese, jalapeños, special sauce served with side salad and fries). A fresh crunchy baguette filled with a generous portion of a Mexican mix. An interesting sandwich served with golden crunchy fries. That's a good one.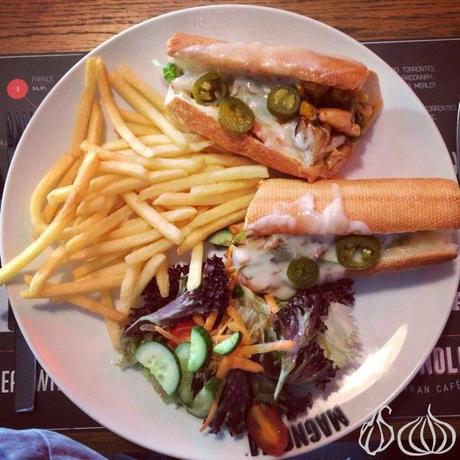 And here, the waiter suggests the Magnolia Burger: "This burger is our specialty, different from all the others in town. You have to taste it".I thought fine, so I asked him to tell me what is so special about it: "It is special and named Magnolia's burger." And that's all what he knows… No details about the meat weight, origin of the bun or sauce. Fine let's give him the benefit of a doubt and order it.
The Magnolia Burger: What is so special about it? It looks cheap especially the cheddar cheese that covers it. They obviously used the thin nylon wrapped cheddar slices bought at supermarkets. The burger bun is the only thing positive here. The rest: An over peppery commercial piece of chewy meat covered with a thick unpleasantly crunchy tomato, a roman lettuce slice, three pickled cucumbers and cocktail sauce. The meat is one of those pale blocks of grey meat that crunch and squeeze under your teeth. As for the coleslaw, cabbage is cut in large pieces, and doesn't fit in your mouth easily. It needs major improvement and the sooner the better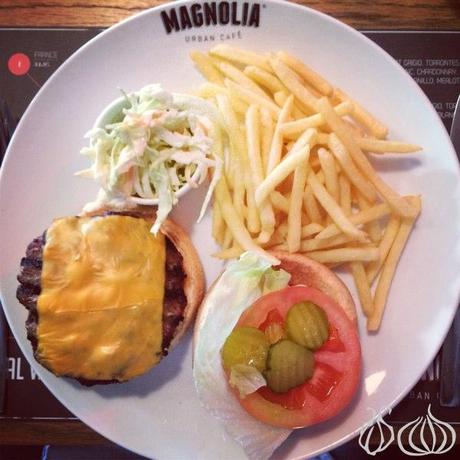 Food on average was good. Better than I had expected.
My only question: Why did they name the place Magnolia? Is it to copy the famous New York bakery and take advantage of its name and fame? It's the same mistake Boubess Group did by naming their sushi conveyor belt restaurant in Hamra exactly the same as a  restaurant in Paris.
PS: Only superman is able to reproduce this varied international menu perfectly. Pasta, pizza, French, Lebanese, Mexican, American, burgers, crepes… The choices are endless! Too much isn't it? Focusing on lesser items gives the chef a chance to perfect them even more.
The pluses: I liked the manager. He's a professional and hard work
The minuses: Waiters can be more welcoming
I enjoyed lunch, the food quality and the varieties of the menu. I would come again.
























Pages  [
1
]  [ 2 ]  [ 3 ]