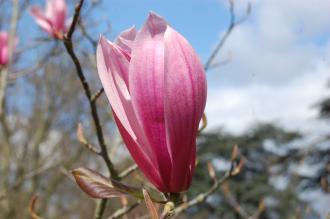 Magnolia 'Spectrum' Flower (23/04/2016, Kew Gardens, London)
Position: Full sun to partial shade
Flowering period: Mid to late spring
Soil: Moist, well drained
Eventual Height: 10m
Eventual Spread: 8m
Hardiness: 6b, 7a, 7b, 8a, 8b, 9a, 9b
Family: Magnoliaceae
Magnolia 'Spectrum' is a deciduous large shrub or small tree with an upright habit. Its glossy mid green leaves are elliptic with entire margins, up to 20cm long and 7cm broad. Its bark is quite smooth and gray. Its fragrant purple/ pink flowers emerge from large buds and open to a goblet shape and are up to 10cm across.
Magnolia 'Spectrum', commonly known as Magnolia Spectrum, is a cross between Magnolia sprengeri 'Diva' and Magnolia liliflora 'Nigra'. Magnolia 'Spectrum' is synonymous with Magnolia × soulangeana 'Spectrum'.
The etymological root of the binomial name Magnolia was named after Pierre Magnol, a 17th century French botanist.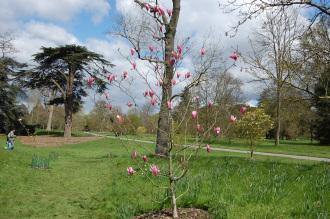 Magnolia 'Spectrum' (23/04/2016, Kew Gardens, London)
The landscape architect may find Magnolia 'Spectrum' useful as a spring flowering specimen upright small tree. It prefers a sheltered location.
Ecologically,  Magnolia 'Spectrum' flowers are attractive to some pollinating insects. Its fruit are attractive to some birds.
The Royal Horticultural Society has given Magnolia 'Spectrum' their prestigious Award of Garden Merit in 2012.
Magnolia 'Spectrum' prefers moist, humus rich, fertile, well-drained soils. It prefers a neutral to acidic pH of soil. It dislikes wet soils.
Magnolia 'Spectrum' requires little maintenance. Pruning, if required, should be carried out in midsummer.


Landscape Architecture