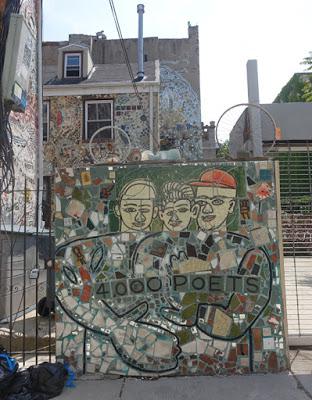 Mosaic by Isaiah Zagar, Philadelphia, PA
On a recent visit to Philadelphia, I discovered a long colorful wall facing the row houses along the narrow street where my friend lives. Decorated with thousands of ceramic tiles and pieces of mirrors, the designs swirled across the surface, brightening what would otherwise be a plain, narrow alley. I found out that the mural was one of hundreds of public art installations created by mosaic artist Isaiah Zagar.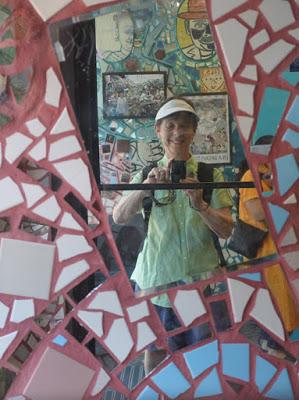 My reflection near the entrance to the Magic Gardens
The next day I headed to
Philadelphia's Magic Gardens
, the massive art project originally created by Isaiah Zagar on several vacant lots along South Street. Begun in 1994, Zagar  built walls and passageways and decorated them with found objects such as folk art statues, bicycle wheels, colorful glass bottles, hand-made tiles, and thousands of mirror fragments.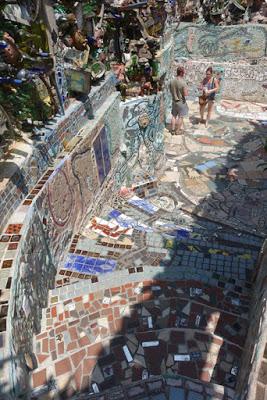 Stairway to sunken patio
In 2002, when the owner of the land decided to sell it and dismantle the art, the community rallied to save it. After a two year legal battle, Zagar's art became incorporated as a nonprofit organization. The Magic Gardens are now open to the public and are the heart of a community art center.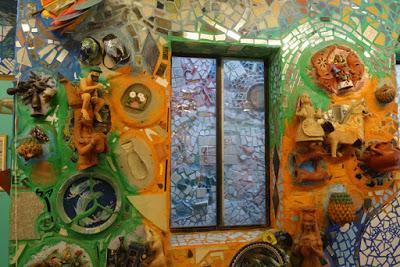 One of the walls in the Art Gallery inside the Magic Gardens
As I walked through the gallery and open air "rooms" it was impossible to know where to start taking pictures because the art was everywhere–on walls, in nooks and crannies, down stairways to sunken patios, behind plants, and completely covering the wall of the adjacent building. Every square inch was covered with some kind of object. Many of the tiles incorporated words, letters or poetry.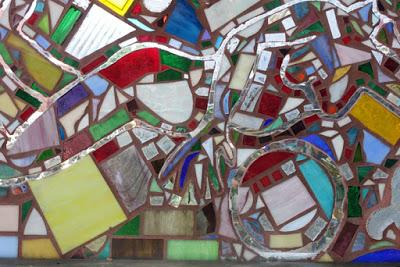 Close-up, some of the mosaics resemble stained glass
Numerous other installations of Zagar's work can be found in the immediate neighborhood–on walls, around doorways, down narrow passageways, on decks and terraces. On Saturdays and Sundays one can take guided tours. Or, if you want to tour the neighborhood on your own, as I did, you can follow the
map
on the Magic Garden website.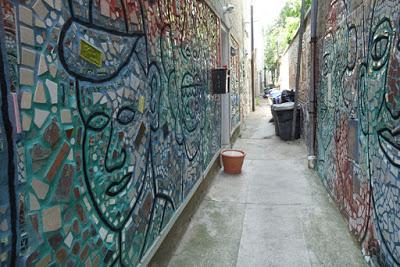 Alley with mosaics on both sides
With their rich surfaces and use of found objects, Zagar's art installations brought to mind the work of Antoni Gaudi in Barcelona and Simon Rodia's Watts Towers in Los Angeles. But what struck me most about Zagar's work was how well it is incorporated into city life, available to people as they go about their daily business and in doing so making their lives and their community richer.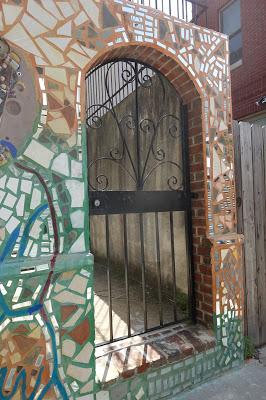 Decorated doorway
As I walked along South Street, I continued to be amazed.
Admission to the Magic Gardens is $10 for adults, $8 for Students with ID, Military and Seniors, $5 for ages 6-12 and FREE for children 5 and under
Click HERE for directions to Philadelphia's Magic Gardens.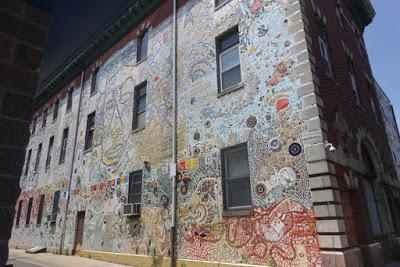 Building near South Street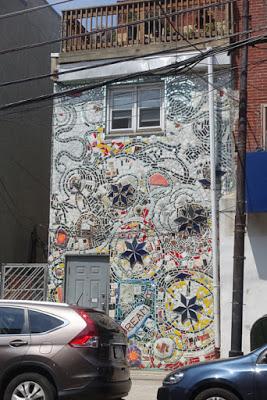 Building near South Street