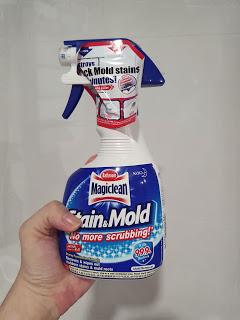 Ok, I admit we have been lazy. We didn't get the squeegee at first so for nearly 3 months, we did not clean the  glass shower screen of our bathroom. By the time, we were ready to clean it, there was already soap stains that could not be removed through normal soap and water. Honestly, I was really disappointed with myself because the house was new. I felt like I have failed my adulting journey. 
When Try and Review (Referral Code: 4506) offered a chance to try out Magiclean stain and mold remover, I was pretty excited. There just might be hope for my shower screen.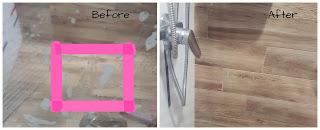 We are happy to announce that it works! However, you have to use it generously and you can wipe it off with a cloth. You don't have to use much strength too! Check out the before and after! I am stoked and I do see myself buying another bottle after I am done with this bottle to keep my shower screen clean. 
I have created some "mess" in my adulting journey, really quite a greenie. If I managed to resolve them, I will share them here so that you guys don't have to go through the same heartbreak as me!