The moment I saw the advert, I knew I had to get Sunsilk Co-Creations Perfect Straight Shampoo, though I have been a loyal customer of Sunsilk but this time it
 was something else that drew me towards it apart from my trust on the brand :)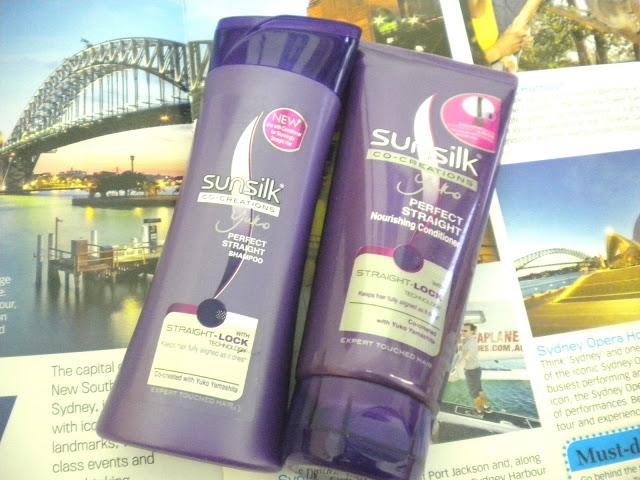 The Shampoo promised that it has a
breakthrough Straight-Lock technology to actively control and hold every strand perfectly aligned as it dries. Since It penetrates deep within the hair fiber, reducing frizz and straightening strands, keeping them fully aligned as they dry..
It was as if the shampoo was made for me, someone had heard my undying 
prayers for a miracle product for my hair problems

and

had given me
a magic potion for hair in a pretty purple bottle!!
I love every single thing about this range, right from the beautiful
packing. I love how simply yet elegantly this range has been packed! I find the shampoo fragrance something very soothing which lingers 
on and on. And if you talk about the texture of the shampoo and

conditioner, then I couldn't have been happier with it, it's of
perfect consistency and spreads like magic on my wet hair without even 
leaving a single strand of my hair!!
Now let me tell you how the shampoo and conditioner have worked for me over the past few weeks :)
Once upon a time there lived a pretty girl with long black horrendous

hair :( her mom & aunts tried every possible thing on her hair to make them better but nothing seemed to work for that poor girl, until  
one day sitting alone in her home she found her hair savior & 

without wasting any time she rushed to the market and brought in the
magic potion in 2 pretty purple containers!! After that day she 
never looked back <3
 My hair problems have gone completely; I do not worry anymore about the frizz and the unwanted ugly bounce...my hair remain straight, soft and happy even after drying
:)
I had rough, dry and brittle hair which never remained straight, settled and never ever shined

 but I am so glad for  Sunsilk Co-Creations Perfect Straight Shampoo and Conditioner for taking away all my sorrows and for 
converting my hair into beautiful healthy and shiny tresses <3
I would keep on using this range till the end!! Nothing can come
between me and my Sunsilk Co-Creations Perfect Straight Shampoo!!

This Post is a part of the ongoing Sunsilk Perfect Straight Contest on Indiblogger