There's something you need to know before you watch Magic Mike – this movie is kinda serious!
Sure, Magic Mike is fun film to watch for a girl's night in. If it's sexy dancing and hot bods you're after, you won't be disappointed. Some of the most drool-worthy men in Hollywood are on display for your viewing pleasure, including Channing Tatum, Alex Pettyfer, Matthew McConaughey, and Matt Bomer. Did I mention they're all playing male strippers? *Insert squeal here*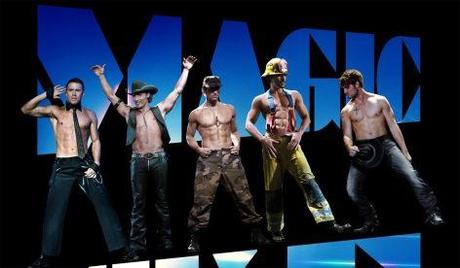 The men of Magic Mike
Alongside the man candy, though, Magic Mike also mixes in a more serious look at the (sometimes unpleasant) realities of what the stripper lifestyle entails. We witness as Mike (Tatum) and the other strippers try to enjoy the sex, drugs, and money that come with their profession without consequence, only to realize that for many of them, this will be an impossibility.
So, if you only wanted the candy, you may be like – what's up with this salad? But in our opinion, we think the blending of these light and dark elements makes Magic Mike one well-balanced meal of a film.
Magic Mike is our "You Gotta Check This Out" Pick of the Week!
What do you think???