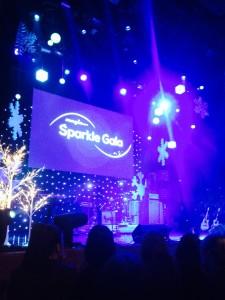 Magic FM Sparkle Gala – The Stage
Yesterday saw the first ever Magic FM's (more music – less talk) Sparkle Gala concert, held at London's Indigo2, hosted by DJ Neil Fox and Denise Van Outen. The whole evening began to feel a lot like Christmas with most of the bands themselves featuring one or two festive numbers. Festive music was played between sets, as the stage was being cleared and reequipped for the next act. Over the night over £2000 was raised for cash for kids, a London based charity helping disadvantage children aged 0-18. You can find out more about the charity Cash for Kids here.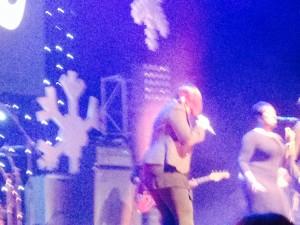 Gabrielle at MAGIC FM's Sparkle Gala
This was my first time at London's Indgo2 (a smaller music venue than the main arena but still part of the main O2 complex), what struck me was how intimate the atmosphere was. The standing area at the bottom of the venue felt like you could reach out and touch the artists by on the stage by the hand. Six bands played at the MAGIC FM Sparkle Gala concert. Firstly 90's pop sensation Gabrielle played some old time hits such as Dreams, Rise, Reach and a few new songs from a soon to be released new album. Gabrielle looked fresh and excited to be there. This was possibly her first public appearance in a while. A brilliant performance and such a familiar voice. You will know the songs!
Kim Wilde was second on stage accompanied by some of her family. She played classics including the song that launched her career, Kids from America in addition to some new Christmas songs that feature on her new Christmas Album. A song about a Happy snowman seemed jolly!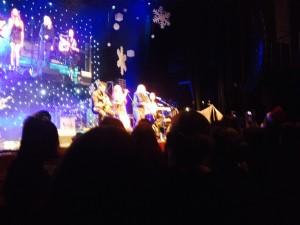 Last on stage before the interval was Shane Filan who is probably better known as one of the Westlife boys. This occasion marked his first solo debut – close your eyes and you could have imagined Garry Barlow. He held his own and impressed the audience with the five original songs (Everything to Me, Everytime, Once, Knee Deep in My Heart and All You Need To Know) from his first solo album. These songs were inspired from his recent time spent in Nashville. Shane seemed very connected to his time spent in Nashville.
After a short fifteen minutes interval Jamie Cullen ran onto stage like he was magnetically attracted to the piano waiting for him. This for me was the highlight. I have listened to a few of his albums and in my mind had envisaged Jamie sat at the piano playing and singing with his unique voice – generally making great songs jazzier with more meaning. Cullen however was all over the stage (completely engaging), jumping off his piano stool onto the piano (nearly toppling at one stage – he steadied himself), jumping off the piano onto the stage to play the drums and then jumping off the stage into the audience thrusting his hand held microphone for all to join in with 'Let it Snow'. Cullen loved his band and in great Jazz tradition thanked and introduced every band member several times.
The penultimate band, were ex painter and decorators, The Overtones playing starting with the classic 'Saturday Night at the Movies'. I knew little about this band but they impressed the audience with covers of familiar music made into Doo-Wop.
Lastly it was McFly who I must have missed somewhere on my music radar over the last ten years. I'm sure it was me but they were loud, not just loud but very loud. Looking around at some other members of the audience that were previously miming and bouncing along to the music now had fingers in their ears and were thinking where they had put their travel card as they could need it soon. I have to say at that point I checked my phone to see if the taxi booked was early. It arrived and we beat the crowds leaving many happy trying to work out what McFly were singing about. Avid and loyal McFly fans wouldn't have this opinion however. I'm sure they were excellent.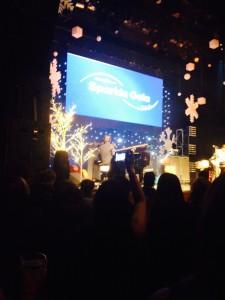 This MAGIC FM Sparkle Gala did indeed sparkle. The hosts, Neil Fox and Denise Van Outen held it together superbly and the Lonon Indigo2 venue was truly excellent – perfect for the Gala. I hope they hold it there again. The place was busy but still seemed spacious. The all-important bar was close and never had a deep queue. The bar and venue staff were friendly and attentive. Drinks prices were reasonable although served in the obligatory plastic vessels we have come to know and love. I would recommend this venue to anyone and if you have chance to go to the MAGIC FM's Sparkle Gala next year then I would definitely recommend. The standing area is just great and it would be hard to find such a big venue that you feel so close to the artists – and bar!