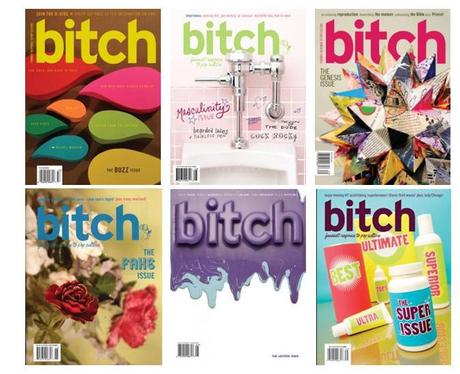 Bitch Magazine rocks!
I don't get intricately handwritten letters very often. So, I settle for the next best thing: a magazine addressed to yours truly every month! Awesome, right? I certainly thought it was and I was quite content with that arrangement until I noticed that, frankly, the mainstream magazines I was subscribing to were just big ol' pots of mindlessness. In fact, I made a list proving this.
Mindless Things Frequently Featured in Mindless Magazines:
- How to get a freakin' cute butt!
- REEL IN THE MAN OF YOUR DREAMS! (Ahem, not considering any women of color's dreams, plus other problems)
- Airbrushing galore
- Consumerism on every page.
So, I cancelled my subscriptions to said mindless magazines and felt utterly gloomy at the prospect of what these magazines are trying to tell young women. I continued reading feminist blogs and books because they often helpfully mention magazines that are more thoughtful. And then, miraculously, in the magazine section of my favourite organic store (the only organic store I've stepped in or heard about) I found the holy grail: feminist magazines! I bought copies of Shameless, Bitch and Bust. I made a list of all of the non-mindless things that can be found in these magazines:
- Music reviews for the music junkie in all of us
- Good book recommendations
- Healthy ideas about sex (None of that "don't be a 'slut', but don't be prude either!" nonsense)
- World issues
- Tips on activism
- Features LGBTQ perspectives
A bit better, no? I am much, much, much better off with these witty magz.
However, since many feminist magazines are independent as opposed to being commercially owned, there is a very real possibility that without support they'll go out of print. Such is the case for Bitch, which needs 1500 subscriptions by August 8th in order to stay in print. Read the magazine (or the blog online), see if you like it, and then subscribe (here) if you can!
P.S. If you, too, are looking for feminist magazines as I was, here are my official recommendations: Ms., Shameless, Bitch, Bust, and Marie Claire (although not totally feminist, it's kind of liberal). Leave your recommendations in the comments!