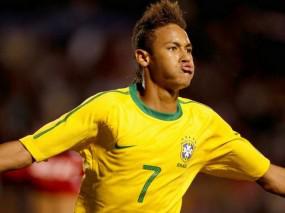 By FRANK TIGANI
Real Madrid Do Not Need Neymar, Sergio Aguero or Carlos Tevez
As it is with every summer, Real Madrid have been linked with a host of the world's top players. Sergio Aguero, Carlos Tevez and Neymar are three names that this summer have been rumoured to be on the way to the Santiago Bernabeu. After yet again falling short of their fiercest rivals Barcelona, both in La Liga and the Champions League, it is understandable that Real may be anxious to lure another world class attacker in order to help them reduce the gap between them and the Catalans.
While all three names mentioned are undoubtedly of world class calibre, it is debatable that Real need another striker, especially if Emmanuel Adebayor's stay in the capital is made permanent as it is fast appearing.
Despite coming second and despite all the praise that is lavished on the attacking play of Barcelona, it was Real Madrid who topped the La Liga chart for most goals scored. Driven by the phenomenal feats of Cristiano Ronaldo – who eclipsed Hugo Sanchez's Pichichi record by scoring 42 goals – Jose Mourinho's men tallied an incredible 102 goals in their 38 matches played. Barcelona managed only 95 goals.
Hence the question is begged, is more firepower needed at the Bernabeu? The answer is no.
Last term Karim Benzema, Emmanuel Adebayor, Gonzalo Higuain, Ronaldo, Di Maria and Ozil contributed eighty five goals in total in La Liga which should suggest that this group of players are more than competent of ensuring the goals will continue to flow next season.
Though Higuain comes in for much criticism mainly due to an apparent lack of ruthlessness in front of goal, the statistics suggest otherwise. In the 2009-10 season, Higuain claimed 27 goals from just twenty eight league starts and this followed an equally impressive campaign where he notched up a total of 22 goals from just thirty one starts. If there is any valid criticism that can be laid upon the Argentine is that he has failed to deliver in the Champions League with a measly 4 goals scored in his twenty two appearances in the competition.
Though he had a difficult start to life under Jose Mourinho, Karim Benzema, who contests with Higuain for the starting striker role, came good towards the end of the season. In his last sixteen appearances of the season, the Frenchman collected a notable tally of 15 goals while in the Champions League he succeeded where Higuain often fails by scoring an impressive 6 goals in just four starting appearances. Still only 23 years of age, Benzema still has yet to fulfil his potential which is a frightening prospect. Mourinho is a master of getting the best out of his players hence there is reason to believe that under his guidance the former Lyon starlet will realise his potential in time.
With Emmanuel Adebayor expected to return to Madrid on a permanent deal there is little need for the club to continue their search for another hit man. If and when the Togolese move to Real is made official, than at his disposal Mourinho will have three different and competent strikers to call upon.
Unless one of Benzema or Higuain leaves Madrid, there is little reason why Real need further reinforcements. Of course, this is an option too. Neymar may offer more potential than Benzema and Aguero may provide more goals than Higuain. But, there is little interest in either Higuain or Benzema so it seems difficult to see them leaving the club in the next month or so unless they are used as a makeweight.
More importantly, Real should pay some attention to the players they have available in defence. The signing of Fabio Coentrao has ensured that alongside Marcelo and Sergio Ramos Mourinho has quality options at full back. However, in central defence the addition of a quality player could help Real more than the signing of another attacker.
Currently, Ricardo Carvalho is a certain starter in the heart of defence alongside Pepe. But, last season Pepe was sometimes used, and to great effect, as a defensive midfielder. If Mourinho's intentions are to use him increasingly in this role, then another centre half is a must. But, even if not, Pepe is not exactly the most reliable centre half in the game. Often rash in the tackle and allows the heat of the moment to affect his decision making, the Portuguese can be a liability at the back at times. His twenty six yellow cards and five red cards in just four seasons at Real are testament to this.
Recently, the club secured the services of promising young French defender Raphael Varane, who before he signed was a virtual unknown. Recommended by Zinedine Zidane, Varane is already being hailed as the 'new Hierro'. However, the Frenchman is only eighteen years of age so will be used, presumably, only sparingly.
If Real are serious about eclipsing their Catalan rivals, such players like Raul Albiol or Ezequiel Garay will not suffice either. Though there is a general dearth of talented centre halves in the game today, there are the likes of Chelsea's Alex and AC Milan's Thiago Silva that could be tempted to move to Spain if an offer were to arrive.
All great teams are built upon solid foundations. Manchester United, Barcelona and Inter Milan have all claimed Europe's top prize in recent seasons and they have all achieved it by boasting two sound defensive centre halves, Rio Ferdinand and Nemanja Vidic for United, Walter Samuel and Lucio for Inter and Gerard Pique and Carles Puyol (later Javier Mascherano) for Barcelona. It is hard imagining Real achieving as much with a Carvalho-Albiol/Pepe central pairing.