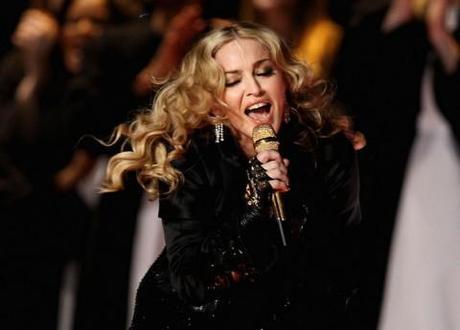 Madonna performs at the Super Bowl. Photo credit: Beacon Radio
A "highly psychotic" man who was convicted of stalking Madonna is on the loose after escaping from a psychiatric hospital. Robert Dewey Hoskins received a ten year prison sentence in 1996 for making threats against the singer; Madonna testified at the trial that "she feared for her life after Hoskins invaded her property several times in 1995 and gave her staff a note threatening to slit her throat", reported The Daily Mail. Hoskins was shot and wounded by Madonna's bodyguard after breaking into her Florida property.
Madonna is not the only celebrity to attract the wrong sort of attention. Here are seven other celebrity stalkers who have crossed the line from fan to Fatal Attraction.
John Hinckley: Jodie Foster. When Hinckley became obsessed with actress Jodie Foster after watching Taxi Driver, he first attempted to  impress her through poems and repeated phone calls. When this didn't work, Hinckley tried another method to attract the object of his fixation: assassinating then-President Ronald Reagan. The stalker fired six bullets at the US president, wounding Reagan, a secret service agent, a police officer and a press secretary. Hinckley was found not guilty by reason of insanity at his trial in 1982 and has spent the past 30 years in a psychiatric hospital. However, The Washington Post reported that Hinckley is currently appealing to be allowed to spend more time outside the facility on the grounds that he is no longer dangerous.
Dawnette Knight: Catherine Zeta Jones. In 2004, Knight was sentenced to three years in prison for sending threatening letters to actress Catherine Zeta Jones. But Zeta Jones was not in fact the object of Knight's obsession: Knight was infatuated with the actress's husband, Hollywood star Michael Douglas, and at the trial appeared to imply she had enjoyed a love affair with the Fatal Attraction actor.
William Lepeska: Anna Kournikova. Tennis star Anna Kournikova's stalker, homeless William Lepeska, apparently decided that the best way to woo the Russian sportswoman was to turn up naked and panting at her beachfront house, having swum 200 yards. He got the wrong house. Lepeska told police that he "decided to arrive naked because he was convinced that she had left her house unlocked and set out some dry clothes for him," reported The Telegraph.
Zack Sinclair: Mel Gibson. Zack Sinclair received a three-year jail sentence for stalking actor Mel Gibson. Sinclair turned up at Gibson's home despite a previous restraining order, later claiming he was on a mission from God to pray with the Passion of the Christ director.
Pradeep Manukonda: Mark Zuckerberg. Manukonda stalked Facebook founder Mark Zuckerberg via – what else? – Facebook, with a series of messages asking for money and declaring undying loyalty. Zuckerberg took out a restraining order after Manukonda turned up at his home and at Facebook offices.
Justin Massler: Ivanka Trump. "A self-described celebrity stalker admitted Thursday to harassing Ivanka Trump by barraging her and her husband with bizarre tweets, emails and online videos," reported The Wall Street Journal. Justin Massler said he wanted to marry daughter-of-Donald Trump, and threatened to commit suicide in one of her stores.
Margaret Mary Ray: David Letterman. Schizophrenic Margaret Mary Ray was arrested by police after being found driving in talk show host David Letterman's stolen Porsche – with her three-year-old son in the back. Ray was then repeatedly arrested for harassing Letterman, and eventually served prison time. In 1998, she committed suicide by kneeling in front of a train. "Her exploits became a staple of supermarket tabloids, a running gag of sorts… But behind the headlines and jokes was a life almost unimaginably sad, a harrowing portrait of the devastation that mental illness can wreak not just on an individual but on an entire family," wrote Frank Bruni in The New York Times.