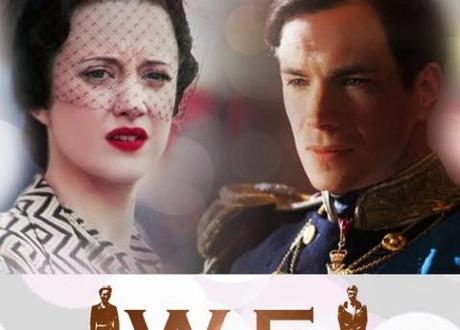 Movie poster for W.E.
Madonna's new film, her second directorial effort since the hardly-acclaimed Filth and Wisdom, is W.E.(which stands for the initials of the main characters). It's drawing a lot of attention from the critics, and is about Wallis Simpson and Edward VIII, weaved in with the story of a woman called Wally Winthrop, a research assistant at Sotheby's who becomes obsessed with Wallis after a sale. Directed by Hagen Bogdanski, Madonna wrote it with Alek Keshisian, and it stars James D'Arcy as Edward, Andrea Riseborough as Wallis and Abby Cornish as Wally Winthrop.  Early critical opinions have been forthright, to say the least.
"I view the success of that film as sort of laying the ground work for my movie." Madonna on The King's Speech.
Oscars? Nah. Deadline.com said that "not even the PR maestro Harvey Weinstein can downplay crushingly lousy reaction and reviews." OK, the movie cost less than $35 million, and it does look beautiful – but the story is "superficial." There's "no question", also, that the production of the film was "troubled" – producer David Parfitt, who worked on Shakespeare in Love, left the movie, as did the casting director, Nina Gold, and actors Ewan McGregor, Vera Farmiga and Margo Stilley. Weinstein probably won't be pushing this for the Oscars.
Have cake and eat it. The film, said Variety, is "[B]urdened with risible dialogue and weak performances." It doesn't have much else going for it, but at least "it's in focus, which is more than can be said for the script." "If W.E were prose, it would be italicized and in bold caps, so banally does it juxtapose events in Wally's and Wallis' lives." But the film feels too interested in getting details right, and less so about what it thinks about Wallis herself. The film wants to have its cake and eat it, ignoring Edward's Nazi sympathies, and trying to portray the affair between Wallis and the King as a great love story – whilst at the same time showing that marriage never made her happy. Ultimately, it "plays like something out of a how-to-make-a-musicvideo handbook from 1991."
MTV.  Bloomberg opined: "Madonna's second stab at filmmaking is stylish but sophomoric. From a purely emotional standpoint, it's barely more engaging than a fashion shoot, or a music video."
Like a robot, programmed for the very first time. Hollywood Reporter said it's "easy on the eyes and ears". The cast are "politely anguished but extremely well-dressed". The film "lacks any compelling selling points of its own, including that of the director herself". Madonna manages to bring out the humanity of Wallis's position as a pawn in a larger game, but the rest feels "artificial, programmed, rote."
Hang on – is it actually OK? Baz Bamigboye on The Daily Mail, however, said that audiences might feel "pleasantly surprised." Forget that Madonna directed it – she's brought a "compelling love story" to the silver screen. The costumes are great too – "designer Viagra". Rather than cumbersome, the modern day parallel is a "breath of fresh air" that will appeal to younger audiences. Madonna even uses a track by The Sex Pistols, highlighting the vacuousness of the royal couple's lives.
Nope. Xan Brooks on The Guardian was not so kind , saying that whatever Wallis Simpson did, she doesn't deserve Madonna. It's "a primped and simpering folly, the turkey that dreamed it was a peacock." Abbie Cornish "totters in and out of the drama like a doped pony". "What an extraordinarily silly, preening, fatally mishandled film this is."