Whenever starting your voyage of Digital Marketing, social media has a very important part to play in growing your audience, building trust, and increasing sales. But do you ever wonder, if there are tools that can help you in social media optimization? Of course, there are, Madgicx and Buffer are two of the best social media tools. Every business person will get into the dilemma of choosing the best tool for there business. So Madgicx Vs Buffer comparison will help you to find the most suitable tool.
On one hand, Madgicx helps you optimize your path the id advertisement on social media, and on the other hand, Buffer helps you grow your audience on social media organically. Let us talk about both these tools and come to a conclusion about which is the better social media tool in 2020.
Madgicx Vs Buffer : Overview
Madgicx : Overview
Madgicx makes use of Artificial Intelligence. It takes care of several social media platforms at once with its AI and ad buying ability to help you optimize your ads across social media and even Google.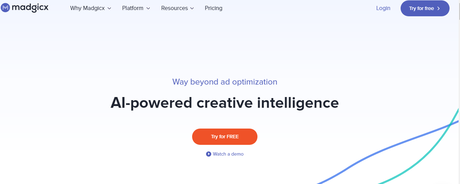 Madgicx AI ability analyses millions of ads in your domain and tell you what things are working for other ads and suggest those changes. All you need to do is click and sit back and see your ad is optimized automatically.
You can just plug in your KPIs and estimated targets for the ad you plan to pot, Madgicx's intelligent algorithm will automatically optimize the ads in your account so that you can leave the efforts of optimization of ads and focus on other important work for your brand establishment.
Some of the other times you would require your competitor's data. Everyone needs to have curtail insights of their competitor ads to see what works for them which your ad lacks. Madgicx provides you with these curtail insights and helps your revenue-wise decision-making ability. It points out hidden competitor metrics that help you grow your sales.
Madgicx is not just a tool, it has professional social media advertisers working on your social media ad campaigns, so it knows how the market works and what's best for your target audience. Instead of testing your ads by yourself, which could lead to a waste of money, let Madgicx handle it.
Buffer helps you increase your audience engagement on social media. Unlike Madgicx it does not help you with social media advertisement optimization but helps you grow and get quality traffic organically.
With the buffer, you can schedule your posts and let them be posted automatically via Buffer, which will save a lot of your time of constantly going on all the social media platforms and posting posts daily.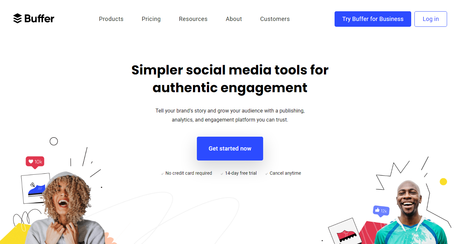 With the buffer, you also get important insights on your own business and suggestions by experts to grow your traffic, increase engagement, and get more sales.
Buffer has world-renowned experts that help you get insights on the pain points of your social media account, with the tips they give, you see and immediate increase in your social media following and post sharing. You can even schedule your stories on any social media platform via a buffer.
Madgicx
1) AI Audiences
Madgicx has 100+ audiences grouped into multiple segments depending on Average order value i.e. the money spent by them on one order. This helps you get an audience that fits in your product pricing range.
You can launch a maximum of 27 audience groups in one go by just clicking. Madgicx even lets your group similar or lookalike audiences and merge them and form a bigger group. This helps you increase your Return over ad spend (ROAS).
You can also select demographic information to whom you want to show your ads, it could be different for every ad you launch. Choosing it wisely will help you a lot in increasing your sales as you will be able to generate numerous potential leads.
With the help of Madgicx AI insights, select the countries which give you the most return over ad spend and optimize your advertisement for these countries to get even more sales.
2) One-click ad launcher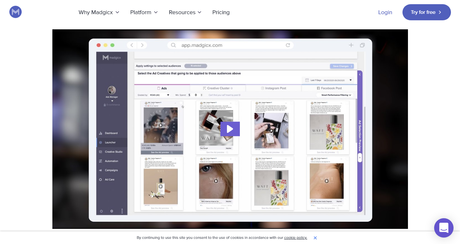 Create all your attractive posts with catchy caption into ads and generate sales. You do not need to worry about missing out on any of your ad insights as the ad performance tool in Madgicx has got it covered.
The Ad launcher of Madgicx has all your ads, posts, and stories sorted and collected in one place so that you can easily navigate through them and know insights of each of them.
Personalize your target audience based on age, demographics, funnel stages, and many more and show them the ad you want them to see.
The ad launcher has man readymade ad templates already so that you do not waste your time creating ad copy from scratch all the time.
3) Audience overview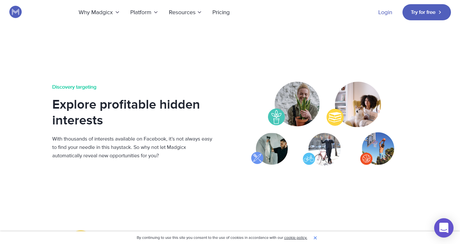 Be updated with the latest interest of your target audience via Madgicx and let it help you choose the latest interest of your target audience from thousands of interests on Facebook.
You even get the prediction to the next best interest of your target audience depending upon their performance. You can launch ads and A/B test them to know which works best for your audience.
4) Other features of Madgicx include Automation tricks, custom animation, bid optimization, and Ad Care.
Buffer as mentioned earlier helps you grow your audience organically and helps you build a brand.
1) You can plan and post optimized posts that will bring quality traffic to your website that converts into sales.
2) Instagram management
You can schedule every post and story to be posted on Instagram with the help of Buffer. When it is the time to post, the buffer will send you a notification which will have the content of your story, all you need to do is click on the notification and tap yes for posting the story/post on Instagram.
You can have a URL attached to each post on your Instagram page. This is the best way to save money which you plan to put in advertisements. You can grow your traffic organically via linking your post to your product page and generate sales.
With buffer, you can plan your stories even for a month, so it saves you a lot of time. You can just sit for a day make posts and schedule them via buffer, when the time comes just post them with one click.
When posting a post on Instagram, hashtags play a vital role to increase your traffic. Use the maximum limit if hashtags (29) on Instagram so that your posts are displayed on these hashtags. But where to add the hashtags? If you add hashtags in the caption, your post will look spammy and of low quality. It is preferred you add hashtags in the comment section.
Buffer makes sure that on every post your comment is the 1st one. So, add hashtags in the comment section and grow your traffic organically.
You will be able to create and save your old hashtags so that you can use those later on different posts. This saves a lot of your time and you can experiment with hashtags and see which once perform and which are the one you have to discard. Buffer's hashtag's manager will let you know how many likes did each hashtag brings to your website.
3) Work in Groups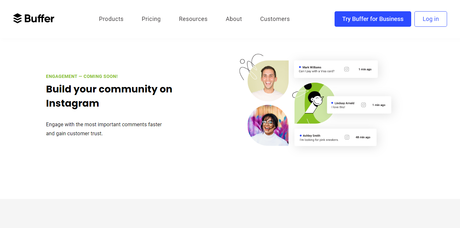 Buffer allows multiple people to make edits to your posts. This means you can work in teams to edit the posts.
You can assign a particular task related to post to everyone and make posts in just minutes. Ask for everyone's feedback and refine the post. And this feature is not only for Instagram but also for other social media platforms.
Madgicx
1) Madgicx analytical dashboard
Madgicx analytical dashboard provides you with hidden and useful information about your progress. It helps you make better decisions for your ads and to generate more revenue.
You can get a holistic view of every ad you put on social media. For every ad, you publish Madgicx will provide you the information of KPIs like the amount spent on the ad, return over ad spend, and the total revenue generated via the advertisement.
You can have a look at your analytical dashboard via mobile as well. It helps you save time and makes the usage of Madgicx even handier.
With the dashboard, you can prepare white-label reports and download them to have a better understanding of your ad campaigns. These reports will cover the essential traits of your business-like prospecting, re-targeting, re-marketing, and retention.
The dashboard would provide you with the data of your strengths and weaknesses so that you can devote your working time and energy accordingly. It also makes sure you do not miss out on any profitable target audience group.
2) Ad Copy Insights
When preparing ad copy, do not just haphazardly create anything. Use Madgicx to create ad copies that perform.
The ad copy insights provide you with all the keywords which are performing and others that are not. You could refine your keyword bank according to the requirement.
Inserting emojis into your ad copy has become an important trend in the past couple of years, it makes the ad more appealing. Madgicx even provides you with the emoji performance data and suggests you weather to use emojis for a particular ad or not.
The length of your ad copy matters a lot. Should it be crisp and short? Should it be elaborate and descriptive? How do you come to know? Do not worry, Madgicx will provide you insights into the content length as well.
3) Insights on creatives in your Ad copy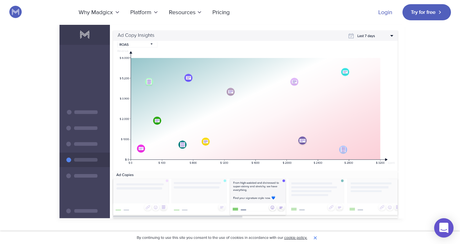 Get information about which ad is bringing you more sales due to creatives, which ad copy requires scaling, and what should be your budget for each ad copy, all depending on your creatives.
Get an in-depth analysis of your ad creatives in real-time and know-how each creative are performing. This will help you know when to replace or modify the display image in the ad copy.
The AI expression recognizer of Madgicx, help you find the reaction on your ad copy when a viewer saw it. This helps you create your future ad copies accordingly.
4) Smart Filters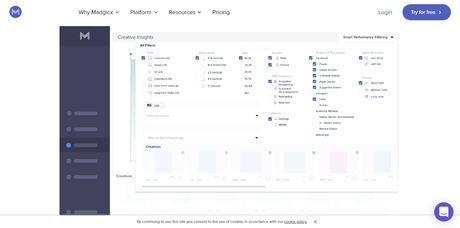 Let Madgicx smart filters help you know marketing funnel KPIs and their hierarchy as well.
Know what your customers exactly need on a specific platform by chatting with them.
Having posts that are diversified is one of the best things to have in a creative. But all the posts when diversified will not surely give you the output you planned for. With the smart filters of Madgicx, you can easily know in which country is your ad copy performing and in which country you need to change the same.
Personalize your ad content at a micro-level with the help of the BI tool and target a specific audience and get assured positive output.
Buffer
1) In-depth insights
With buffer, you get in-depth insights on every single post you publish on any social media platform. You have the option of downloading the reports in pdf as well as excel in some cases.
Buffer suggests quality chances for your posts to grow your reach, increase engagement, and sales.
The dashboard of the buffer is highly user-friendly and you will take no time to get used to it.
You can view and analyze all your posts in one single dashboard irrespective of the post being posted on Facebook, Instagram, Twitter, or on any other social media platform.
Have multiple accounts across multiple social channels? No problem, buffer lets you add any number of accounts from all the major social channels and lets you analyze all the posts on them. It also keeps you updated about all the latest trends and news in the social media domain and on every social media channel as well.
You can compare the results of your organic post with any similar paid post in case you have one. Track KPIs for every post on all social media channels.
Measure the performance of your stories, posts, and hashtags. Know the demographic of your target audience and personalize the posts if you want.
2) Reports
You can add various charts and unique matrices and KPIs from various social media accounts and compare posts of different social media platforms on these KPIs and matrices.
You will be able to create customized reports as above which will be then updated automatically daily.
You are free to add a logo, customize the title, and give a brief description to the reports, to have a better understanding of the same or to make your teammates understand it better.
3) Get answers to all the important questions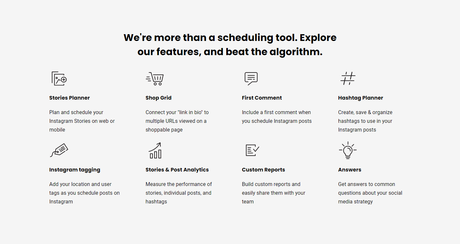 The Buffer analyzer studies your posts and data and tells you what more is requires in your post when to modify it and the number of times you should post on a particular social media platform by predicting your follower's activity and your previous post data.
The analyzer also lets you know the type of post to be posted on any social media channel depending on the user activity.
Madgicx
1) Madgicx google chrome extension
This extension of chrome helps you in two ways.
It helps optimize your ad copy by telling you the performance insights of every ad copy you make and publish. It just takes 3 minutes for the Madgicx google chrome extension to calculate the essential KPIs and data regarding the same and generating a downloadable report.
It helps you get insights about your competitor ad copy, in the same way how it analyses your ad copy.
2) Shopify integration
Helps you create a complete marketing funnel strategy
Gives you a piece of holistic information on your Facebook ads
Helps you to automate your Facebook advertisements
3) Madgicx is also available as an android app, which comes very handy at times when you cannot access your desktop or you require a piece of quick information on any particular ad copy.
Buffer
Buffer has several integrations. Like Madgicx, the buffer also has an app which is available for both Android and iOS devices.
Apart from the app, there are many third-party apps buffer integrates with.
Here's the list:
And many others.
There are over 300 integrations you can have with Buffer.
Madgicx Vs Buffer | Pricing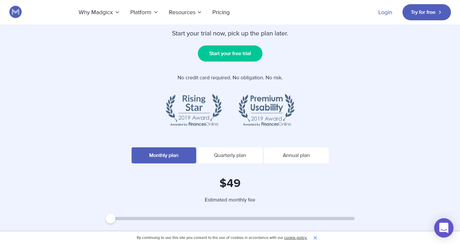 With Madgicx you get to try the platform first as there is a 7-day free trial available.
It has 3 plans and all with different price ranges.
Monthly plans
The monthly plan of Madgicx starts with $49 and gives you access to all Madgicx features for 1 ad account and you can spend $1000 with this account. The top-notch monthly plan will cost you $11000 and will give access to 50 ad accounts and a limit of $3 million. There are various prices in between these two plans as well.
Quarterly plans
The quarterly plan of Madgicx starts with $44/month and gives you access to all Madgicx features for 1 ad account and you can spend $1000 with this account. The top-notch monthly plan will cost you $9900/month and will give access to 50 ad accounts and a limit of $3 million. There are various prices in between these two plans as well.
Annual Plans
The annual plan of Madgicx starts with $39/month and gives you access to all Madgicx features for 1 ad account and you can spend $1000 with this account. The top-notch monthly plan will cost you $8800/month and will give access to 50 ad accounts and a limit of $3 million. There are various prices in between these two plans as well.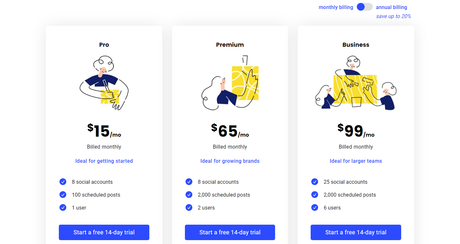 With Buffer, you get to try the platform first as there is a -day free trial available.
It has 2 branches of plan:
The publish plan- This plan will let you create posts, schedule them, and give you access to all the features of buffer except for analytics.
The analysis plan- This plan only gives you insights about your posts and suggestions on how to increase the traffic organically but does not give you the ability to create and schedule a post.
Both the plans are available monthly as well as yearly.
The monthly price of the publish plan ranges from $15 to $99, depending on the number of accounts, posts to be scheduled and the number of users and the yearly plan ranges from $12/month to $85/month.
The monthly price of the analysis plan ranges from $35 to $50, depending on the number of accounts, storage space, and several other factors, and the yearly plan ranges from $28/month to $40/month.
FAQs
Conclusion: Madgicx vs Buffer Comparison 2020
Madgicx and Buffer both are social media tools that help you increase your account traffic. One helps you do it by optimizing your ads and the other helps you do it by optimizing your posts. But the ultimate aim of both these tools is to increase your social media account engagement leading to an increase in your sales.
If asked which one out of the two you must choose, there is no specific tool one can choose from the choice given here. It depends on what way you want to increase your traffic. If you want to posts ads and have a lot of money for the same there is no better tool than Madgicx. If you want to grow your traffic organically, the buffer is the best tool out there.