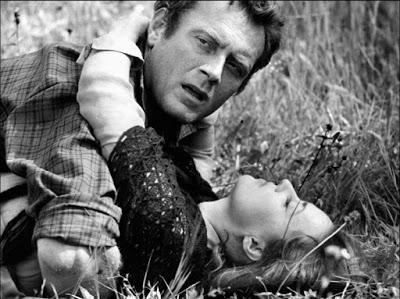 MADEMOISELLE NOT TO BE MISSED AT SAN FRANCISCO'S 4TH FRENCH FILM NOIR FESTIVAL
In Francois Truffaut's The Bride Wore Black (1968), Jeanne Moreau portrayed a woman driven to kill by the reckless accidental shooting of her new husband. In that film, one of Truffaut's Hitchcockian exercises, her character relentlessly pursues revenge, methodically seeking out and taking out the men responsible for her groom's death. Two years earlier, in Tony Richardson's Mademoiselle (1966), Moreau took on a similar angel-of-death sort of role, but in this film the character is more sinister, her motives less clear and far more ominous.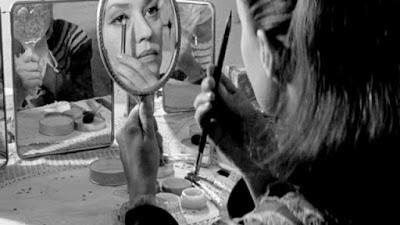 Jeanne Moreau as "Mademoiselle"
San Francisco's French film noir festival, The French Had a Name for It 4, at the Roxie Theater from Friday November 3 through Monday November 6, closes with an homage to the incomparable Moreau, who passed away on July 31 at age 89.The program for the final night of noir begins with The Strange Mr. Steve (1957), featuring Moreau as a gangster's moll. The last film on the last night of the program is Mademoiselle.
In Mademoiselle, Moreau plays a repressed school teacher in a provincial French village who oversees a classroom during working hours and sneaks about in her high heels after school, wreaking havoc on the town, setting fires, triggering floods, poisoning livestock. She secretly lusts after a handsome Italian lumberjack who works locally and whose son she mercilessly bullies at school. But Moreau's character is a respected figure in the community, and an innocent man becomes the prime suspect for her crimes. Only one person, the lumberjack's son, knows the truth of mademoiselle's dark nature.
Based on a story by Jean Genet later adapted by Marguerite Duras and others for the screen, Richardson made of Mademoiselle a blindingly visual film. Dialogue is spare, there is no music on the soundtrack, only the sounds of man and nature. The eye is dazzled by David Watkin's (Out of Africa, Moonstruck) black and white photography of forest, field, stream, lake, and shore. And Moreau is devastating as the lethal mademoiselle.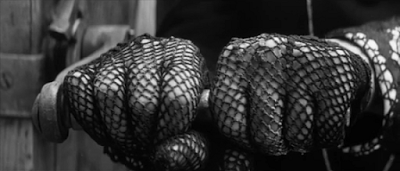 Although Mademoiselle was nominated for the Palme d'Or at Cannes and was nominated for BAFTAs for B&W cinematography and costume design (for which it won), it was widely panned by critics during its initial release. Tony Richardson, who'd won Oscars for Best Picture and Best Director for Tom Jones(1963), was also derided. I'm guessing that over-interpretation of the film's possible psychological and psychosexual themes was to blame for that.
This underrated work from Moreau, Richardson and Watkin is a striking film, mysterious, disturbing, beautiful, and as much an art film as it is of a sub-genre of French noir.
For more information on program details and tickets for The French Had a Name for It 4,

click here

.