Firstly, I must apologize for the lack of posting. I just completed the worst week of the year…finals week. But I have great news…I'm back and hopefully better than ever.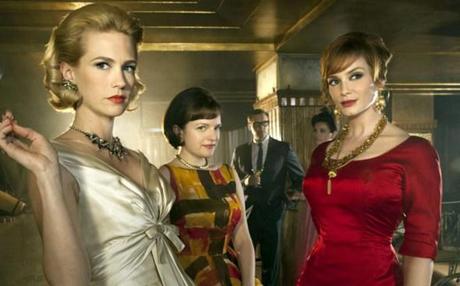 Photo Courtesy: deconstructthegirl.com
Like most of America, I'm a part of the "Mad Men" phenomena and last evening was the long-awaited season five premiere. In preparation for this glorious day I have been rewatching past episodes and reliving the 1960s with Don, Betty, Roger, etc.
While the main focus of the show is on Don Draper and the men of Sterling, Cooper, Draper, Price…I'd like to highlight my three favorite female characters.
This one is for the ladies!
Peggy Olson
Starting out as a secretary and clawing her way to become the first female copywriter at the firm, Peggy is now Don's second in command. This lady has certainly earned an Independent Woman badge.
Peggy is played by Elizabeth Moss who is actually is a Scientologist in real life…mind blow…but that's besides the point.
When you first meet Peggy, she comes off as a churchgoing straightedge kinda gal, but as I get to know her more and more…I'm finding out that Peggy is cooler than I am. Watch the clip below and you'll agree.
Betty Draper
Ahh yes…the original Mrs. Draper. Betty is a classy, strong woman who doesn't take shit from anyone…including her kids. For example:
Sally (Betty's daughter): You're mean.
Betty: You betcha!
Hopefully January Jones' parenting skills are a little bit better. I'm not too sure about that though, January's reputation is synonymous with bitch.
My fav Betty moment involves pigeons, a cigarette and a shotgun. It doesn't get any better than this.
Joan Holloway
Last but certainly not least…Joan Holloway is the type of woman I want to be when I grow up. She's got class, sass and woos every man she comes into contact with. Joan can also play the accordion. Holla at me if you know where I can get accordion lessons!
Joan is played by the fabulous Christina Hendricks and I wouldn't mind waking up tomorrow as Joan or Christina…yes I'm serious.
If you are currently looking for a roommate…Joan offers some sweet, sweet tips on how to land a perfect housemate…watch below!
That's all for this evening…Tune in Sundays at 10 p.m. on AMC for brand new "Mad Men" episodes.