The 28-year-old is without a club since leaving the Birmingham at the end of the season. After a lengthy spell on the sidelines, he chose to leave after being offered a new, but much depreciated, contract. He fully believes he can still showcase his talents at the top-level and obviously Premier League teams, Wolves, Sunderland & Everton were keen to cast an eye over his fitness.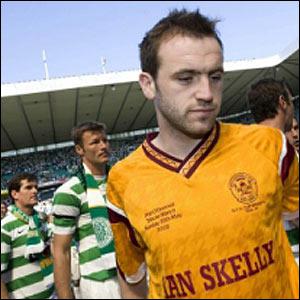 McFadden at Celtic Park for Phil O'Donnell's tribute match
McFadden has not played competitively for a year and two months so regaining match sharpness is going to be a key in his rehabilitation. Training with the Bhoys will surely help regain his confidence and even if it takes till the turn of the year to get him fully in shape , then I think he could be a key addition for the run in for the title.
It's clear to me that there is a problem between Kris Commons and the management team, the player was on the fringes of matches early on this season before his series of ill-health and injury – his reliability was called into question at Tynecastle on his return. Another reason for an attacking midfielder to push Commons for his place given the scarcity of these within the squad at present.
The fact McFadden is a widely reported Hoops fan is another positive to his potential signature – there are few in the team who truly understand the history and dynamic of the club. Even fewer who have been in the stands growing up, knowing what it felt like during the pain of the late 80′s and early 90′s when Faddy was brought up in deepest darkest Springburn.
On the International scene, McFadden rarely puts in a less than intense and dedicated performance in the Dark Blue of Scotland – within his fifteen strikes there were two notable goals against Holland and a spectacular effort in France. You would like to think his inspired and committed turn outs would be nothing less than what he would give in the Hoops.
Neil Lennons will surely make reference to his attempts to bring James in today at Celtic's AGM and hopefully the response from the shareholders and honchos will be positive and welcoming. We don't want another Petkov, de Ornelas, Hitzelsperger or De la Pena situation occuring.
55.803375
-4.191936
Advertisement
Eco World Content From Across The Internet.

Featured on EcoPressed
A cheat sheet of peer-to-peer car sharing players