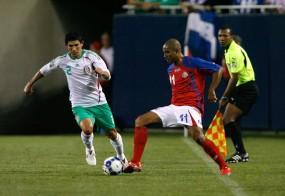 The week's Mad About Futbol Show sees us resume with the US Opponents Series where we will look at upcoming US national team games from an opponent's perspective. On this occasion we are joined by former Costa Rican international currently with the Ft. Lauderdale Strikers, Andy Herron as we talks about Costa Rica prior to the crucial World Cup Qualifier against the US in Denver.
We also talk about CONCACAF World Cup qualifiers with guest host Tom Marshall of the Mexican Soccer Show as we also preview the upcoming Honduras- Mexico match and Jamaica- Panama.
Finally we go to CONMEBOL and talk about what is going on in this crucial group of matches in South America that could see some teams further cement themselves atop the table or look to keep their World Cup hopes alive.
You can follow Andy Herron on Twitter (@Herron26) and Tom Marshall (@MexWorldCup).  You can also follow the show on its official Twitter page as well as on Facebook.