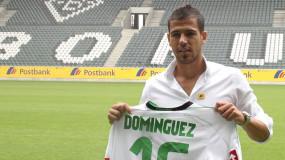 Gladbach defender Álvaro Domínguez
On this edition of the Mad About Fútbol Show, Mike and Juan are joined by videojournalist extraordinaire Piero Menor as they had on none other than Borussia Mönchengladbach and Atlético Madrid defender Álvaro Domínguez. During the interview they discuss his brief with the Die Folen as well as his ties with the Colchoneros.
Álvaro also talks about the adaptation process; giving his teammates at Gladbach lots of credit for helping him adapt to the life and play in Germany.
That, plus the Olympic experience and lessons learned as well as the desire he has to be part of the Spanish national team in the near future.
You can follow Álvaro Domínguez (@adominguez15) and Piero (@pieroynopuedo) on Twitter as well as Mike (Deportes_Lopez) and Juan (JuanG_Arango)