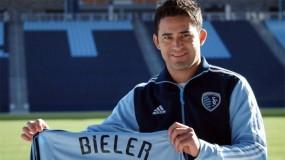 In this edition of Mad About Futbol we speak to Sporting KC goalscorer Claudio Bieler as he talks about all things so far this season. In this interview he talks about how things evolved and he is now playing in MLS. He also believes that MLS has the potential to play and compete well enough in the Copa Libertadores.
We also spoke about his adaptation and how he sees things in his native Argentina as well as his chances to be called up for the Ecuadorian national team.
That, plus George lacking in pimpness, and he fights back.
You can follow Claudio on Twitter (@TacaBielerSKC) as well as Radio Lollipop (@RadioLollipop) and Fado Miami (@FadoMiami)