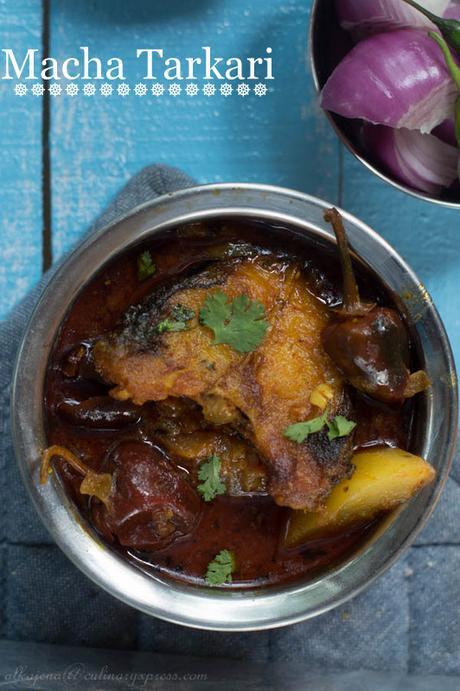 Odisha, previously known as Orissa, is one state that is traditionally famous for it's mouth watering delicacies of rice, lentils, desserts and sea food.
Odia cuisine is known for its simplicity and delicate treatment of various ingredients that goes into it. Odisha has a vast coast line along the Bay of Bengal and also has many rivers flowing within the State. Owing to this proximity, access to  riverine fish and its inclusion has become an inevitable part of Odia cuisine and majority of the people from Odisha are non-vegetarians and fish forms an integral part of their traditional cuisine.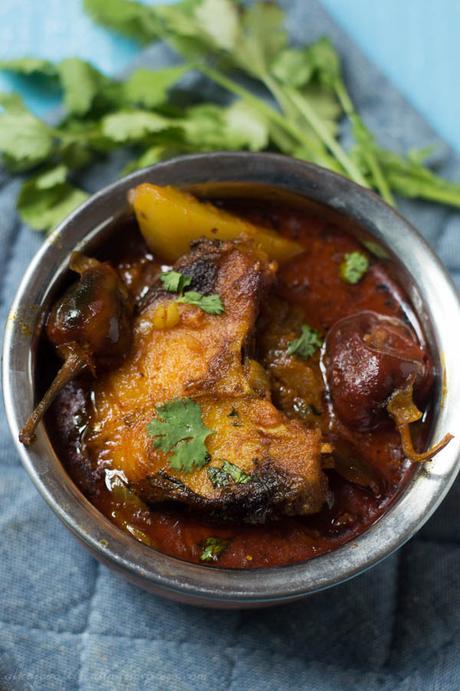 Fresh water fish such as Rohu has a natural sweetness to it than the fishes from sea and that is what that makes all the difference to this Odia fish delicacy called Macha Tarkari/ Macha Jhola 
 which is sure to leave a lasting impression on your taste buds for a while.
 When I crave for some fish, this few ingredient Macha Tarkari / Macha Aloo Jhola( Oriya/Odia style fish curry with potato ) is the one I always prepare for my lunch. "Maachha" in Odia means Fish; "Aloo" means potato and "Jhola" refers to a thin consistency gravy quite typical to an Odia style fish curry).  If you are looking for a light, simple and different  fish curry, then this oriya/odia fish curry recipe is the perfect solution to your meal plan.This recipe is very close to my heart as it is still the same way I have been making as I was when I learnt it first. Though I love to experiment with food, but  rohu fish curry recipe reminds me of home and the little things that my mother does for me as a child make it so much worthwhile to try it as it is.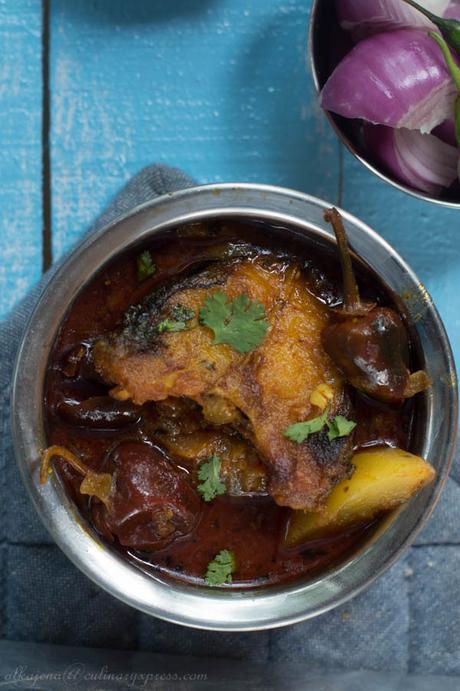 Unlike the fiery spiced curries associated with Indian food, the Oriya/Odia food is usually subtle and delicately spiced using Panch-Phutana, a mix of five spices- Cumin, Mustard, Fennel, Fenugreek and Nigella (Kalonji) seeds.

Mustard oil and mustard seeds are ingredients, which makes Oriya/odia food stand apart from other cuisines. Mustard oil has a typical pungent smell and it is usually heated to its smoking point to decrease its pungency.
Mustard Oil is mostly used for frying fish and making fish curries since it imparts a very distinct taste to the subject at hand.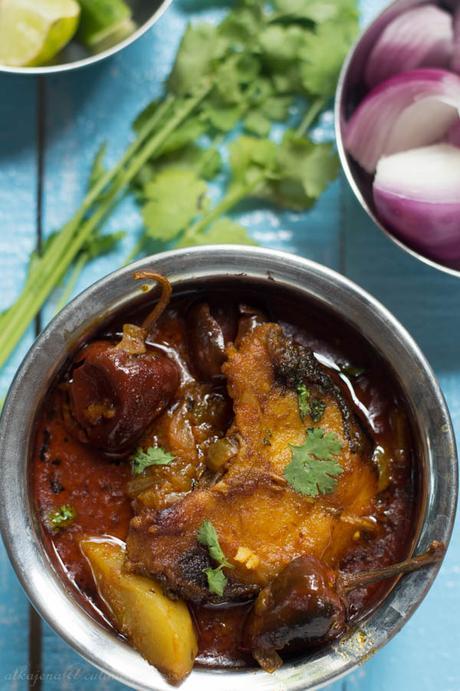 Cuisine: Odia
Prep time: 15 minutes
Cooking time: 20 minutes
Serves - 4
Ingredients
500 grams Rohu Fish

2 medium  Potatoes
For the masala
1 medium  Onion

1 small Tomato

1 tsp Ginger - Garlic paste

1/4 tsp

panch phutan

2 dry red chillies

1/2 tsp Roasted Cumin Powder

1 tsp Roasted Corriander Powder  

1/4 tsp Garam Masala  

1 tsp Turmeric powder

1/2 tsp Red Chilli Powder

1 bay leaf

1inch cinnamon stick

2 green cardamoms

Salt to taste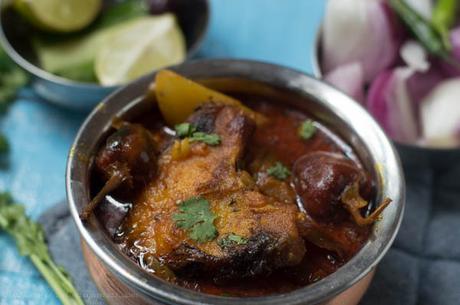 Let us Learn how to make oriya/odia fish curry recipe:
Wash the fish and apply  turmeric and salt to the fish. Marinate and keep aside for 15 minutes.
Chop the onions and tomatoes finely.
Peel and cut the potatoes into medium side wedges and apply turmeric and salt to it.
Pour some mustard oil and heat it to smoking point. Slowly add the fish pieces one by one and shallow fry them in batches. Take out the fishes and keep them on a kitchen towel .
Add the potatoes and shallow fry them in the same oil and keep aside.
Add bay leaf, cinnamon, green cardamom to the oil and when it starts to release it's aroma, put a pinch of panch phutan .
Next add the onion and fry till it turns a little brown, add ginger garlic paste to the oil. 

Stir and fry the masala till the masala is cooked and there is no raw smell.
Add chopped tomato, potatoes, turmeric, cumin powder,

coriander

 powder, chili powder and salt. Cook for few more minutes till the masala starts to leave oil at the sides.
Add a cup of warm water ,cover and let the curry simmer on medium heat till potatoes get soft. Add fish to it and cook for 2 to 3 minutes on slow heat . Remove from heat and add the garam masala powder and chopped coriander leaves on top to garnish.
Serve hot with plain rice.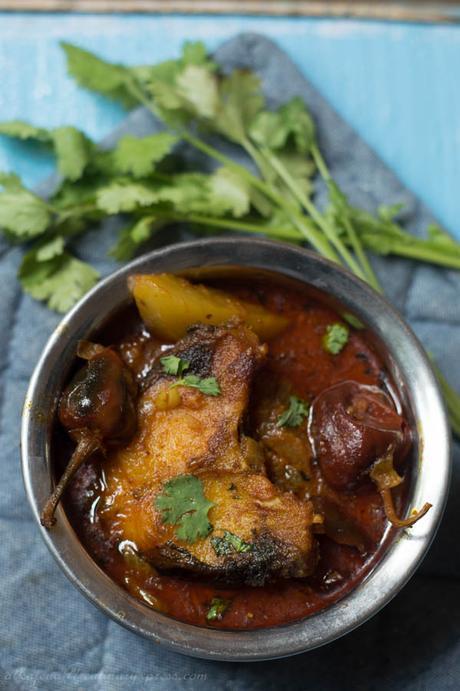 For more fish recipes you can try: 
Masor Tenga (Tangy Fish Curry)
PATRANI MACHCHI
DAHI MACHA- Fish Cooked In Rich Yoghurt And Mustard Paste