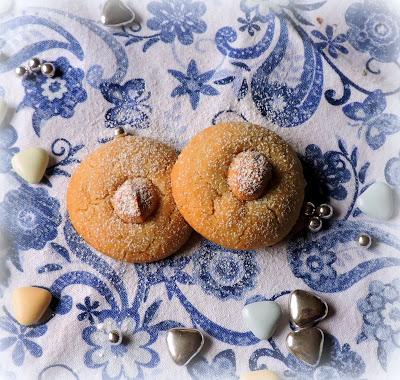 When the month of December rolls around my kitchen and my mind go into Christmas Baking Gear!  I love Christmas Baking and there is no nicer gift you can give to a family member, friend or neighbor than something which you have baked just for them!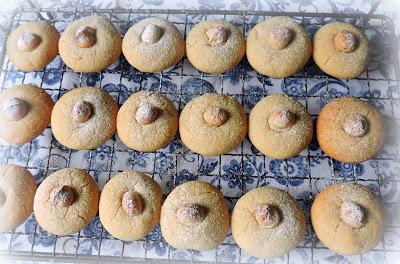 One thing I like to bake for Christmas are shortbread biscuits/cookies.  In all truth they are probably my favorite of all the Christmas cookies.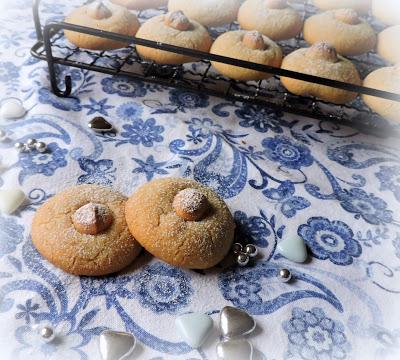 I also adore Macadamia Nuts.  I know they can be a bit pricey, but hey, it's Christmas!  I found this recipe for Macadamia Shortbread Cookies in a Christmas book of mine, entitled Christmas Cheer  from Leisure Arts.  (I have had it for a very long time!)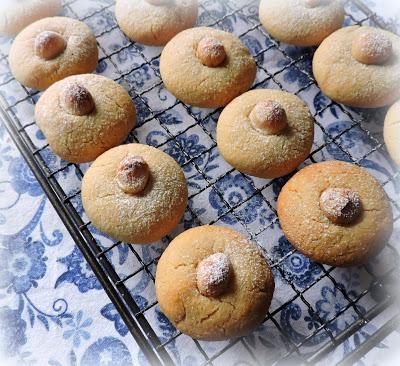 Shortbread cookies?  Macadamia Nuts???  You CAN'T lose!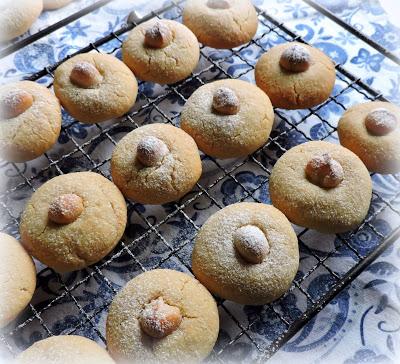 I know that Macadamia nuts can be a bit pricey, but what the heck it's Christmas!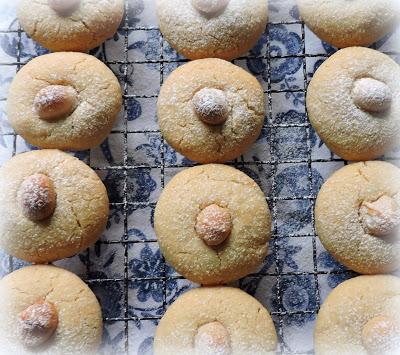 I think shortbread cookies are about the simplest Christmas Cookie you can make, so long as you are not having to roll them out.  I have always made
Whipped Shortbread Cookies
every year, using a recipe I got many Christmas's ago from my friend Leona.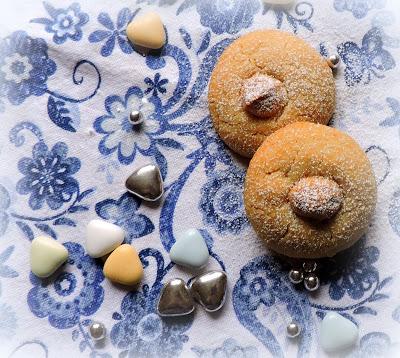 They are so easy to make, as easy as beating together your ingredients and dropping them onto baking sheets and baking.  Simple and delicious.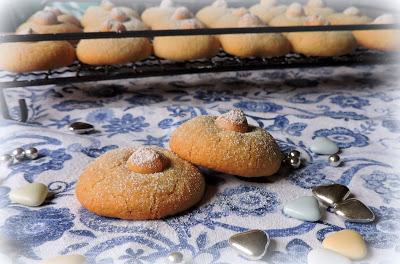 These are also very simple.  You just beat together butter and brown sugar, with some vanilla and then stir in a mixture of flour and finely ground macadamia nuts.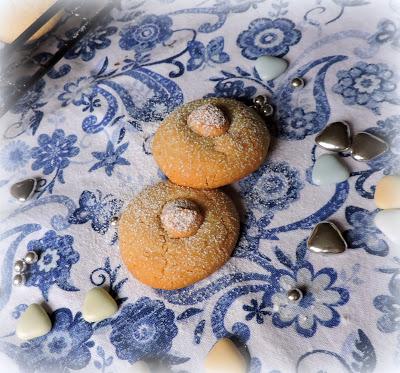 You then roll the dough into balls and place them onto your baking sheets . . .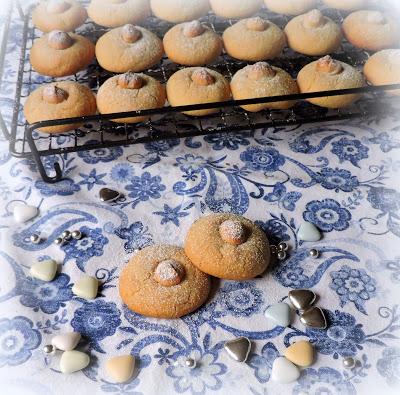 pressing a whole Macadamia nut into the top of each ball of dough  . . .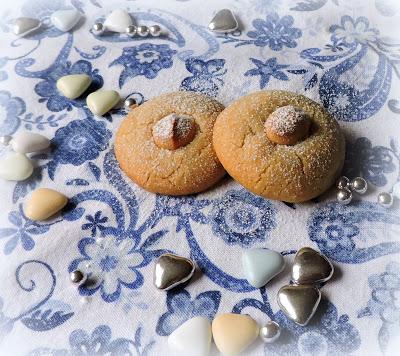 They bake for about fifteen minutes   . . . spreading out a tiny bit as they do and getting gilded golden brown at the edges.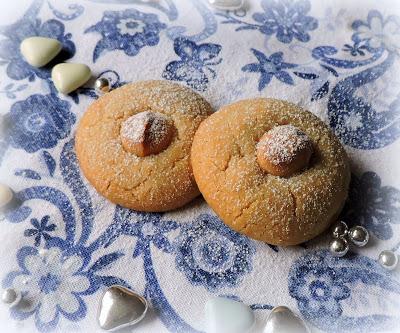 The nut decoration on top turns golden brown and all toasty.  I love toasted  nuts and I love shortbread cookies.  These are winners all round.  Short and buttery and oh so addictive!
Yield: 5 dozen
Author: Marie Rayner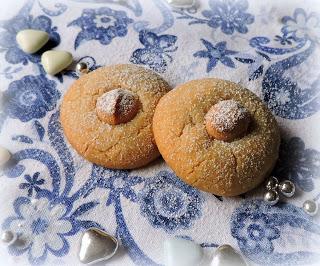 Macadamia Shortbread Cookies
prep time: 10 mins
cook time: 15 mins
total time: 25 mins
If you love Macadamia nuts and shortbread cookies, you will adore these Macadamia Short breads.  A beautiful addition to your holiday cookie trays.
ingredients:
280g plain flour (2 cups all purpose)395g whole macadamia nuts, divided (14 ounces)1/4 tsp salt240g butter, softened (1 cup)100g soft light brown sugar (1/2 cup packed brown sugar)1 tsp vanilla extract
instructions:
Preheat the oven to 180*C/350*F/ gas mark 4.  Line several baking sheets with baking paper.  Set aside.
Measure the flour, 170g  of the nuts (1 cup) and salt into a blender or food processor.  Blitz until finely ground. Set aside.
Cream
 the butter, sugar and vanilla together until light and fluffy. Stir in
the flour mixture to combine.  Shape into 1 inch balls and place 2
inches apart on the prepared baking sheets.  Pressone of the remaining nuts into the top of each cookie.
Bake for 12 to 15 minutes or until the edges are golden brown.  Cool completely on a wire rack.  Store in an airtight container.Created using
The Recipes Generator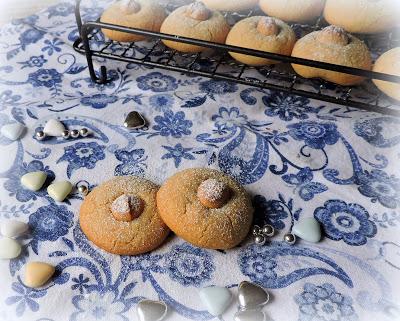 The hardest part of making these is grinding the nuts.  You don't want the ground nuts to be granular.  You want them as fine as flour, which is really quite easy to do if you have a good blender, food processor or coffee/spice grinder.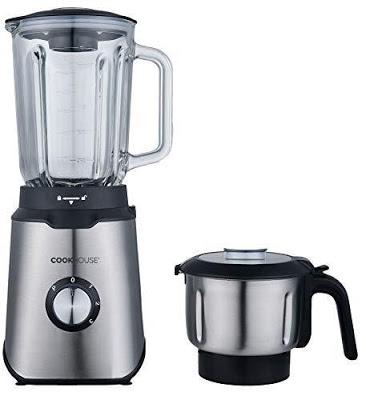 This is what I used.  My CookHouse 800W Multi-Blender, which also has a bonus Coffee/spice/nut grinder attachment.  With three speeds and a pulse option it did a great job of grinding my nuts.  I used the Coffee/Spice grinding attachment to do this.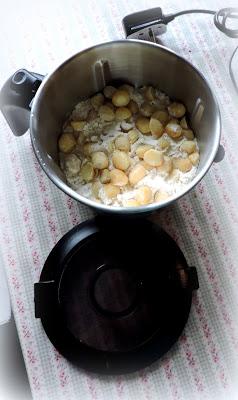 This is what they looked like when I popped them into the grinder along with the flour and salt . . .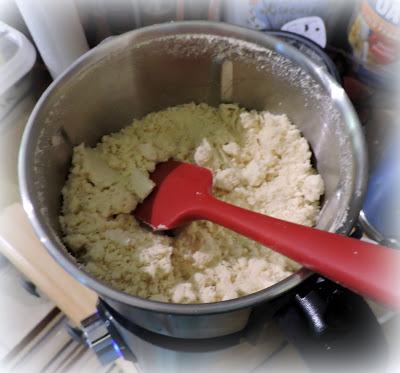 And this is what they looked like when they were done.  It took about 20 pulses.  Macadamia nuts are a lot harder than they look!  But as you can see they were as powdery as the flour was.  I am really in love with this machine and it has pride of place in my kitchen.
✔ 800W HIGH POWERED BLENDING - Not your average blender, this powerful machine can handle any task, from smoothies & protein shakes to juices, mixes, soups and even meat
 ✔ BONUS COFFEE/SPICE GRINDER & FOOD CHOPPER - it comes with a chopper attachment that lets you coarsely chop nuts, spices, meat, frozen foods, and ice for all your recipes
 ✔ EASY TO CLEAN - The jar and blades are removable for easy and safe cleaning - the stainless steel base is easy to wipe and stays looking beautiful in your kitchen.
✔ 3 SPEEDS & PULSE FUNCTION - this blender has 3 different speed options plus a pulse setting let you perfect any recipe, no matter how thick or hard the ingredients.
 ✔ SAFETY LOCK SYSTEM & OVERHEAT PROTECTION - this blender has been designed to be safe and long lasting - the blender won't start unless locked securely in place, and no overheating or burnout will occur, guaranteed!
I used the blender part the other day to make a simple and quick Hollandaise sauce which I served with some Salmon.  Blender Hollandaise is such a simple version of this classic sauce and is pretty much fail-proof and hard to mess up.  The blender attachment is easy to use and cleans like a dream.  Both options clean easily.  I love this machine!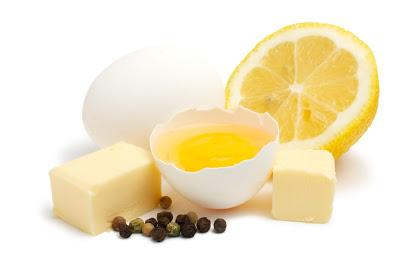 To make the Hollandaise you just put egg yolks, seasoning and lemon juice into the blender and run it for a few seconds and then you start drizzling in melted butter whilst keeping the motor running. It comes together like magic . . .  thick, silky and rich.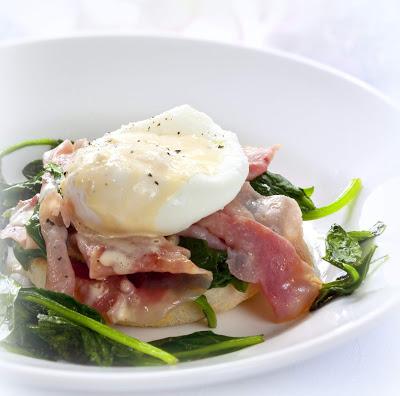 Perfect for serving with Eggs Benedict . . .  this is simply half an English Muffin, toasted with some sauteed spinach on top, some bacon and a perfectly poached egg . . .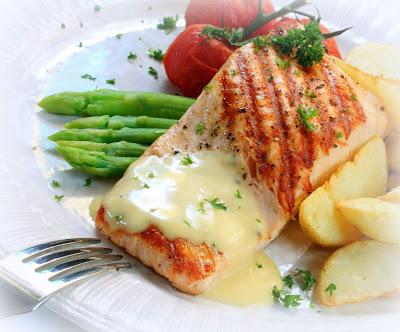 Friday night we enjoyed this easy Hollandaise sauce with some grilled Salmon that I cooked on our grill along with some oven chips, asparagus and grilled tomatoes . . . it only looked complicated, but was a really delicious and simple supper to throw together.  When you have high quality equipment to use, cooking becomes so much simpler.
Yield: Makes about 1 cup
Author: Marie Rayner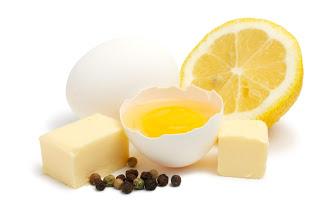 Blender Hollandaise Sauce
Mmmm... deliciously buttery hollandaise sauce, made in just a few minutes, with all the ease of pushing a few buttons. Turns out perfect every time.
ingredients:
2 large free range organic egg yolks (Save the whites to make some meringues at a later date. They freeze very well)
2 1/2 tsp fresh lemon juice
2 1/2 tsp white wine vinegar
125g butter (1/2 cup)
sea salt
freshly ground black pepper
instructions:
Heat
  the vinegar and the lemon juice in a small measuring cup in the 
microwave for about 30 seconds or so, just until the mixture starts to 
bubble and simmer. In the meantime, place the egg yolks into your 
blender and season with a smidgen of salt and a few grinds of black 
pepper. Blend for one minute. Turning the blender on, add the lemon 
juice/vinegar mixture to the egg yolks in a thin stream, very slowly. 
(You can do this through the hole left in the lid after you remove the 
little plastic cap) Turn the blender off and melt the butter in the same
  measuring cup you used to heat the vinegar and lemon juice in until it
  is slightly foaming. Turn the blender back on and very slowly add the
 hot butter in a thin stream to the beaten egg yolks, once again through
  the little hole in the top of the lid. The slower you add it, the 
better. Turn the blender off and scrape down the sides with a rubber 
spatula, then put the lid on and blend again for a few seconds. Set 
aside.Created using
The Recipes Generator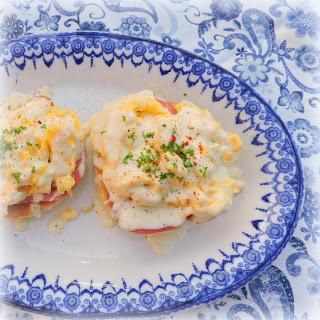 This simple Blender Hollandaise is also a must when making my
Scrambled Eggs Benedict
, which are probably even more delicious than the traditional option.  I love these!
To see more photos and options for the CookHouse Blender check out the
Amazon page
for it. You can also see my review of this great machine there as well.  I find that as I am getting older I am becoming a bit more discerning about what equipment I choose to have in my kitchen.  I don't want objects taking up space that I am not going to use.  I want them to be highly functional, attractive and things that I know I am going to use all the time.  This machine falls within all of the parameters of my guidelines for equipment and appliances that belong in
my
kitchen.  Bon appetit!