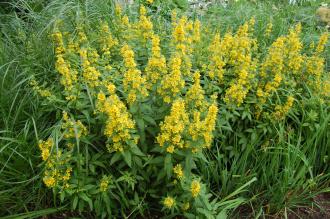 Lysimachia punctata (02/07/2016, Kew Gardens, London)
Position: Full sun to partial shade
Flowering period: Mid to late summer
Soil: Moist, well drained
Eventual Height: 90cm
Eventual Spread: 90m
Hardiness: 4a, 4b, 5a, 5b, 6a, 6b, 7a, 7b, 8a, 8b
Family: Myrsinaceae
Lysimachia punctata is a deciduous herbaceous perennial with an upright and spreading habit. Its light green leaves are ovate to lanceolate with entire margins, up to 10cm long and 4cm broad. Its leaves turn yellow/ gold before they fall in autumn. Its yellow flowers are bowl shaped, up to 25mm across and appear in the upper leaf axils. Its roots form underground stolons which aids its spread.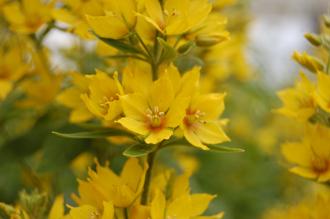 Lysimachia punctata Flower (02/07/2016, Kew Gardens, London)
Lysimachia punctata, commonly known as Yellow Loosestrife, Dotted Loosestrife or Garden Loosestrife, is native to central Europe and Turkey. In its native habitat it grows at the margins of damp woodlands and rivers.
The etymological root of the binomial name Lysimachia is derived from the Greek lusimaxos meaning 'ending strife' and is named after the Thracian king Lysimachus. Punctata is derived from the Latin punctatus meaning 'punctuated'.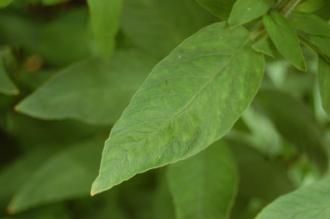 Lysimachia punctata Leaf (02/07/2016, Kew Gardens, London)
The landscape architect may find Lysimachia punctata useful as a robust plant for use in a mixed herbaceous planting scheme.
Ecologically,  Lysimachia punctata flowers are attractive to pollinating insects.
Lysimachia punctata prefers moist, fertile, humus rich, well-drained soils. It tolerates most pH of soil. It will tolerate wet soils.
Lysimachia punctata requires little maintenance. Large clumps may be divided in spring or autumn.


Landscape Architecture