If you're new here, you may want to subscribe to my RSS feed. Thanks for visiting!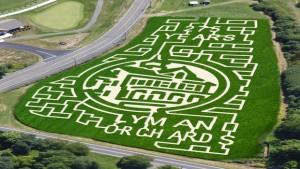 Have you ever been to Lyman Orchard in Middlefield CT? It's our go to apple picking place for some beautiful views and tasty apples. We've actually already gone once this year. It's tons us fun for the whole family and I know my kids always ask if we can go there. If you're in CT or are planning a trip here, then I highly recommend you check out Lyman Orchards. They aren't just good for apple picking, we go during the summer for berries and peaches. You can even do a sunflower maze during the summer months. In the fall they have apples and pumpkins too. And then there's the ever popular corn maze.
You also do not want to miss the Apple Barrel when you go to Lyman. A nice little country store that has all sorts of locally grown fruits and veggies and the cupcakes are to die for. Check out all there is to offer at Lyman's.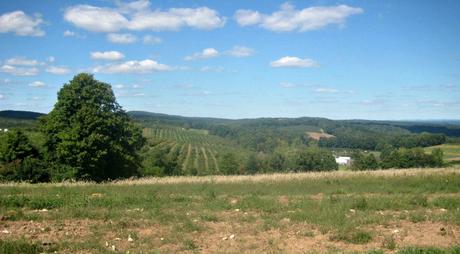 Lyman Orchard with a view
Get lost in the Corn Maze this year and help the Lyman Family celebrate 275 years of farming the land here in Middlefield. It's a fun-filled adventure nearly three centuries years in the making. Challenge yourself to our special 275th anniversary corn maze featuring of the historic Lyman Orchards' Homestead.
* 4 acres of towering corn
* 2 miles of pathways
* Challenging design
* Fun trivia questions
* Corn Cops help guide the way
$1 of every admission is donated to the American Cancer Society. In 16 Maze seasons, you've helped us donate $507,127 to the ACS!
The Corn Maze is open Weekdays 3-6pm, Weekends and holidays 10am-6pm. Last entry at 5:30pm. Pick Your Own is open 9am-5pm daily and the Apple Barrel market is open 9am-7pm daily.
Lyman Orchards Corn Maze September 3rd – November 6th! Connecticut's Maze of Historic Proportions!