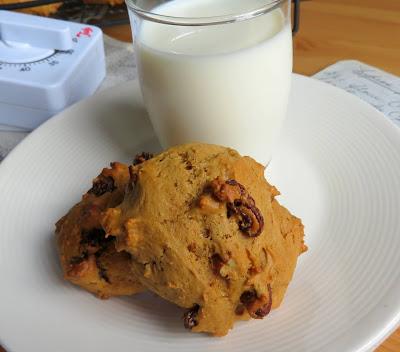 Growing up we were always aware of my mother's cousins in the states Lydia McNayr. I think she was probably my mother's second cousin, first cousin to my maternal Grandmother. She and her husband Austin had been very good to my mother's family during the great depression. They (like a lot of Maritimers) had moved down to the New England States of America to find work and had been able to prosper there.  She and her husband used to ship home boxes of clothing and other things to my mother's family which they were most appreciative of.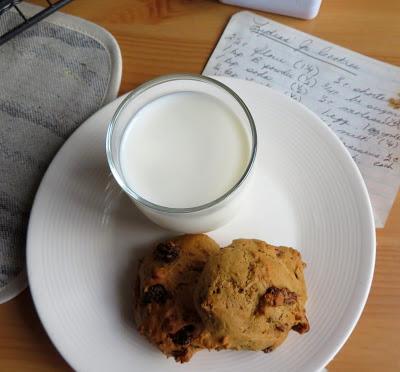 Once mom got married and had a family Lydia continued to send gifts to us children every year.  They were highly unsual things. One year it was glow in the dark pictures of the Lords Prayer.  This picture watched over me during my sleep the whole of my childhood.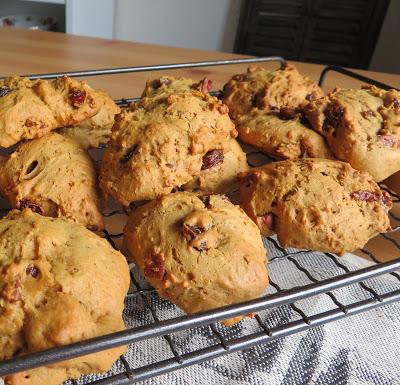 Another time it was crepe paper butterflies made with clothespins and pipecleaners.  They decorated the curtains in my sister and my bedroom for a long time. There was also pin cushions that looked like chairs, made from tin cans, all cut and twisted and painted to look incredibly ornate. These simple gifts meant the world to us to say the least.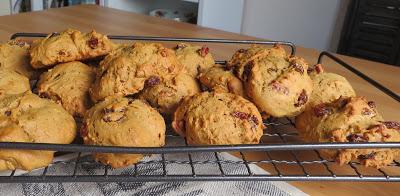 We never got to meet her or her husband but we always felt that we knew them, partly from the gifts that she would send and also through the stories my mother would share of her.  I wish I had written some of them down. There is an old, old photograph of she and her husband visiting way back when. Its black and white and not very clear.  Its being held hostage in my photobucket account.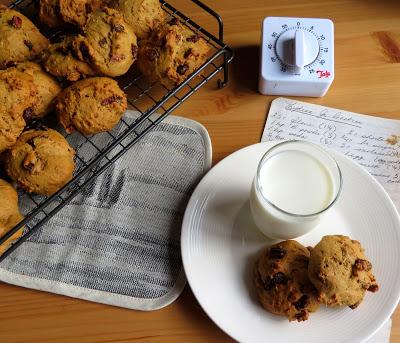 This is cousin Lydia's cookie recipe. It goes back many years.  The original recipe was shared to my grandmother and then to my mother and was handwritten on the back of an envelope.  No instructions, just ingredients.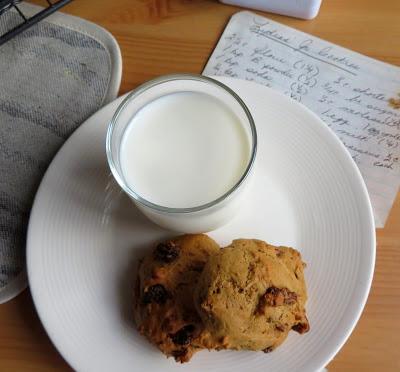 Mom never baked homemade cookies very often, but when she did sometimes it was these.  They are wholesome and old fashioned  . . .  almost like little cakes.  Not greasy and filled with the homey flavours of warm baking spices  . . .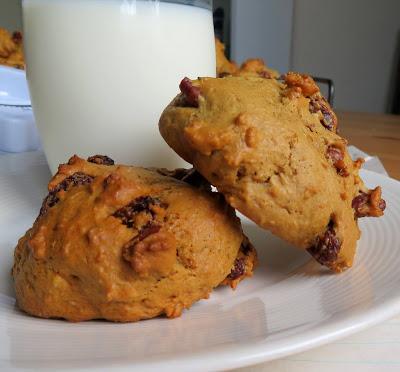 Cinnamon, ginger  . . .  nutmeg  . . .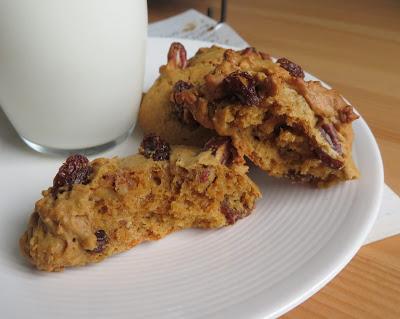 They are also flavoured with molasses and brown sugar and studded with lots of raisins and toasted nuts.  I had not made them in a very long time.  The original recipe made a LOT of cookies.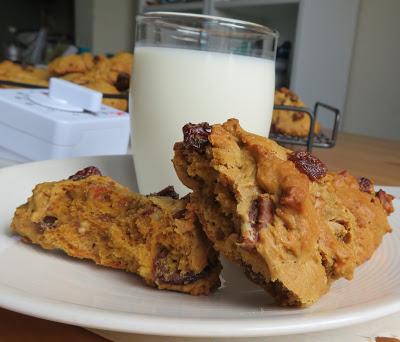 Today I small-batched the recipe and made just two dozen and even that is a lot for us.  But what a wonderful taste of my childhood!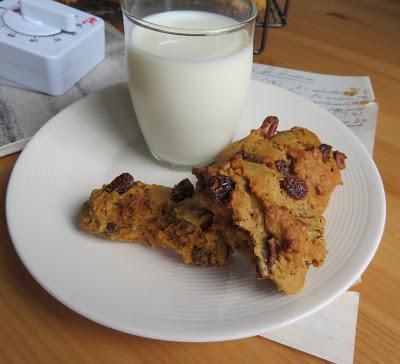 These are the kind of cookies you would enjoy with a nice cold glass of milk, or if you are a tea drinking person, a hot cuppa!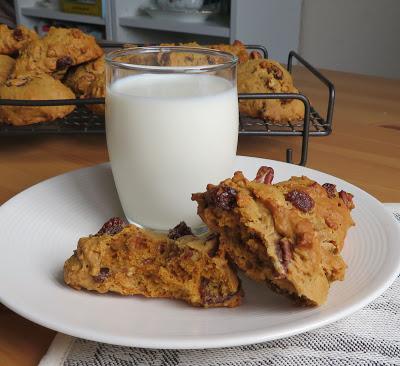 Like Lydia, I too flew far away from my Nova Scotia roots. Every so often I do like to enjoy one of these old fashioned family recipes. Eating one of these cookies is like having a warm hug from the past  . . .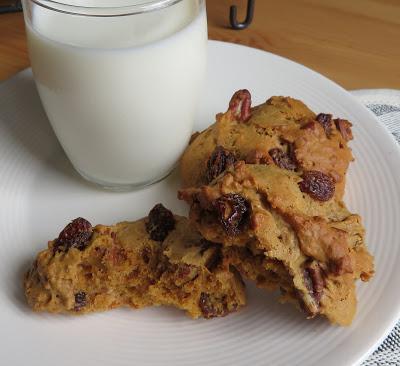 They are old fashioned  . . . the country cousin of the toll house I expect . . .  made from simple ingredients that most cooks might have had in their larders in the old days.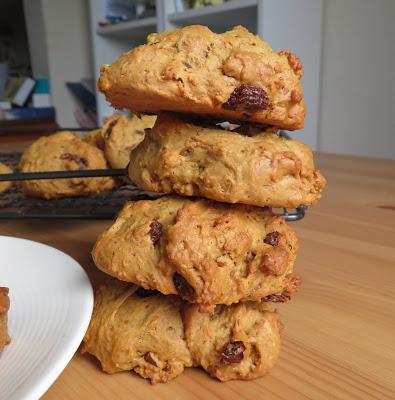 The original recipe called for the use of shortening.  Today I used butter instead of shortening as we are trying to stick to more natural fats when we can.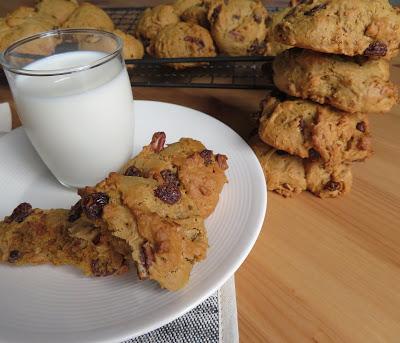 The house smells so homey and beautiful when you bake these cake-like cookie treats!  Today, these were a most enjoyable taste from the past.
Lydia's Junior Cookies (small batch)
Print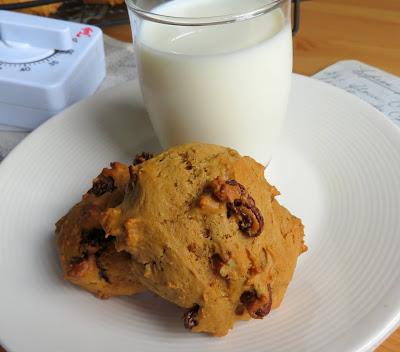 Yield:
24
Author:
Marie Rayner
prep time: 10 M
cook time: 10 M
total time: 20 M
These delicious old fashioned cookie are filled with lovely warm baking spice flavours and lots of raisins and nuts.  Sweetened with down home molasses and brown sugar. You just know these are comfort food cookies.
Ingredients:
275g plain flour (1 1/4 cups)
1/2 tsp baking powder
1/2 tsp baking soda
1/4 tsp salt
1/4 tsp cinnamon
1/4 tsp nutmeg
1/3 tsp ginger
60g butter, softened (1/4 cup)
75g soft light brown sugar (1/3 cup, packed)
60ml molasses (1/4 cup)
1 large free range egg yolk
60ml milk (1/4 cup)
75g raisins (1/2 cup)
60g chopped toasted walnuts (1/2 cup)
Instructions:
Preheat the oven to 180*C/ 350*F/ gas mark 4.  Line a couple of baking sheets with baking paper.  Set aside.
Sift together the flour, baking spices, salt, baking powder and baking soda.
Cream the butter together with the sugar until light and fluffy.  Beat in the egg yolk and the molasses.  Beat in the milk and then stir in the flour mixture to give you a nice stiff batter.
Drop by heaped TBS onto the baking sheets, leaving two inches between each cookie.
Bake for 10 minutes, until set and just beginning to brown.
Scoop off onto a wire rack to cool completely.
Store in an airtight container.
Did you make this recipe?
Tag @marierayner5530 on instagram and hashtag it #EnglishKitchenCreated using
The Recipes Generator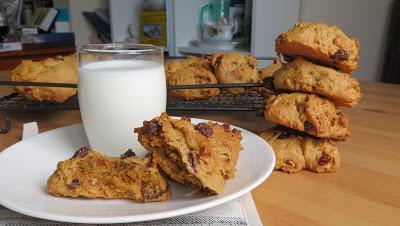 I think you will enjoy these cookies if you decide to bake them.  They  are old fashioned and comforting. If you would like the full size recipe just message me and I will oblidge!  I wonder what Lydia would think of her recipe being baked on the other side of the ocean all these years later?  I wonder  . . . . or even that some thirty odd years after her death, a little girl who was comforted all of her childhood by a glow in the dark Jesus would still be enjoying them and thinking of her while she did.

Follow my blog with Bloglovin