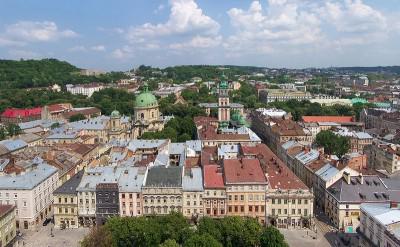 Lviv's old town.
One of the nominees for best foreign-language film at this year's Academy Awards was the movie "In Darkness" set in the western Ukrainian city of Lviv during World War II. The film is a fictionalized account of how a group of Jews survived in the sewers of Lviv during the Nazi's World War II occupation.
Lviv is a remarkable city, both for its Hapsburg Empire-era architecture and for its location on the fault line between East and West. In the 20th Century alone, the city found itself located in the Austro-Hungarian Empire, interwar Poland, a Nazi-occupation zone, the Soviet Union, and finally, independent Ukraine. In his book The Clash of the Civilizations, historian Samuel Huntington divides the world into vast geographic spheres based on culture, history and religion.
Lviv is precisely the kind of city where such tensions have played out over the centuries, between languages, faiths and mindsets. In Lviv, identity is paramount. To this day, within Ukraine, Lviv prides itself as a bastion of all things Ukrainian in the face of threats – actual or imagined – from the country's substantial Russian-speaking population.
Given its history and place in the Ukrainian imagination, Lviv was a strong candidate to host a four-day CIPE seminar last month for business association leaders. The city's entrepreneurs have a reputation for cultivating business ties with counterparts in the European Union, whose border liest 70 kilometers from Lviv. The city's elected officials understand the need for government to nurture rather than prey upon entrepreneurs. CIPE hoped that the 32 seminar participants, all but a handful from other regions, would imbibe some of Lviv's best practices.
The organizers of the seminar, CIPE's Ukraine country director Nataliya Balandina and program officer Dmytro Naydin, were not disappointed. "We wanted to demonstrate how in Lviv, business really works with authorities, how they really have good discussions and have really good dialog for developing strategy for the region," said Balandina. "Lviv is the first region to create an active coalition of SMEs that works so closely with the regional government."
CIPE's experience in Lviv illustrates a broader point – the importance of taking into account and embracing regional differences when running national programs. Business association leaders from the bustling capital of Kyiv work in much different circumstances than their counterparts from eastern coal-mining districts or those in the Crimea, the country's leading tourist destination. Of course, sometimes these differences are overstated. Recent polling of political preferences shows some erosion of regionally based parties influence. In parliamentary elections set for October, Ukrainian voters will provide a concrete indication of what sway regional differences continue to hold.