Drum roll, please. I'm pleased and excited to introduce you to my newly redesigned blog site. There are so many wonderful improvements to tell you about that I just don't know where to start. Before I do, however, I have to say a big THANK YOU to my web designer guru, Madeline Foster of SEO-Social Media.  She and I worked tirelessly for weeks to come to this final moment. She's been a great asset to me professionally and I couldn't have done this without her.
The change in the layout of Simone Design Blog accompanies a change in content. The blog will no longer be focused solely on home design; it will now be more of a lifestyle blog, also featuring posts on food, entertaining, crafts, fashion, and travel. To diversify the topics and writing styles of the posts, I'm welcoming others to contribute interesting posts to the blog. I already have two contributors lined up who will be blogging on home crafts and travel.  Anyway, without further ado, let me present my first blog post for the new Simone Design Blog.
Over the weekend, I discovered a high-end furniture store, Nest301, that has collections from countries such as Italy, France and even the United States. Everywhere I looked I saw something that I could easily imagine in my home. The collections and designs were breathtaking and it caters to homeowners who prefer a modern, trendy décor. The furniture and accessories are definitely statement pieces and they need a home with a good amount of square footage.
This stunning white semi-circle leather sofa, for example, would be perfect in my basement. I just love that pink chandelier and chrome coffee table!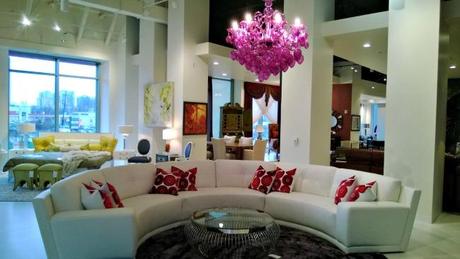 For the homeowner who loves trendy, modern furniture, this lacquered dining room table and chairs is for you.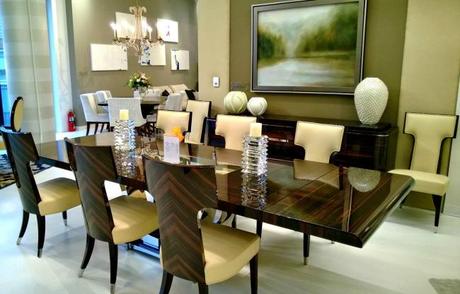 And, here's the accompanying living room set. The leopard print rug definitely adds to the wow factor!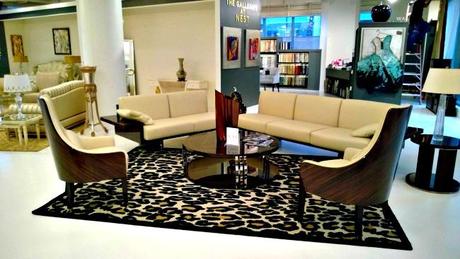 The designer Fendi was featured. The luxuriously draped slipcovers on the armchairs are made from the softest leather. Of course, you need a rug with the Fendi logo as the finishing accessory to the collection.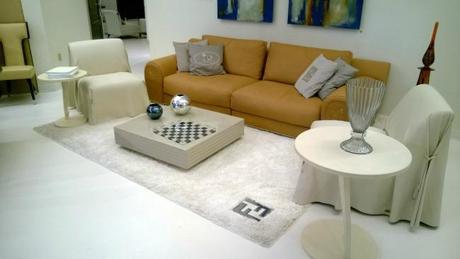 They had pieces that were a little more understated but still elegant. Isn't that mosaic mirror just fabulous? It's a definite statement piece.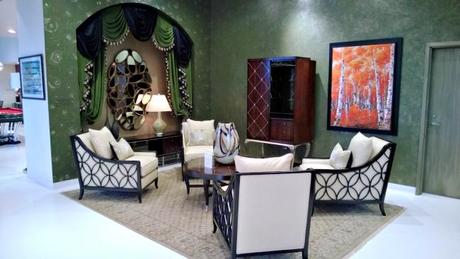 The picture below takes a closer picture look at the mirror shown above. It's definitely the statement piece in this living room. The accompanying bureau, coffee and console add another dimension of texture and visual appeal to the space.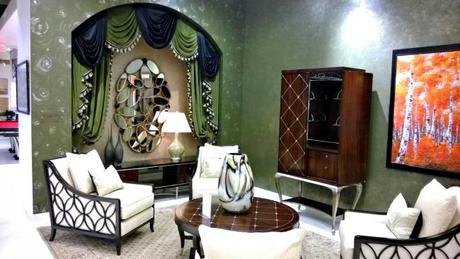 I fell in love with this dining room, with its pink chaise lounge, chandelier and curtains. Even the chairs have a pink floral pattern on them! I think Audrey Hepburn would've approved.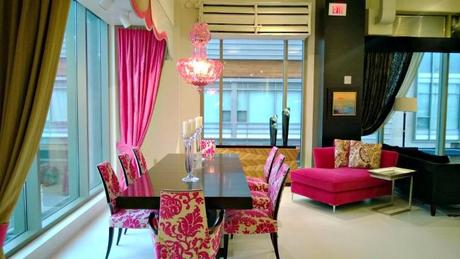 For a flair of drama, these black tufted leather framed sofas are ideal.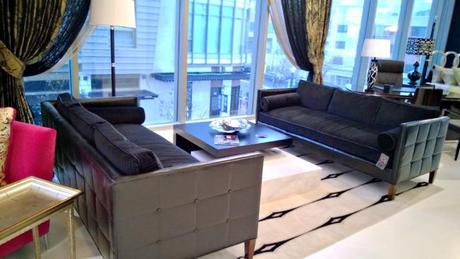 The store had equally fabulous accessory pieces, like this console table and mirror.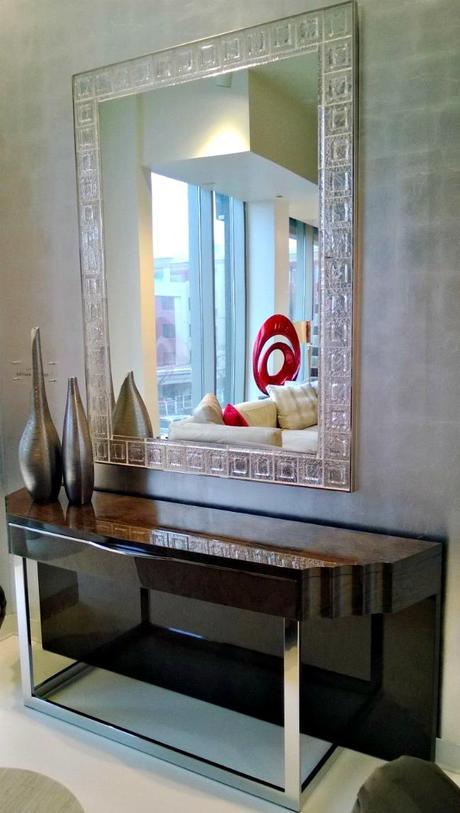 This combination was my favorite. There's a little bit of everything here. Beautiful!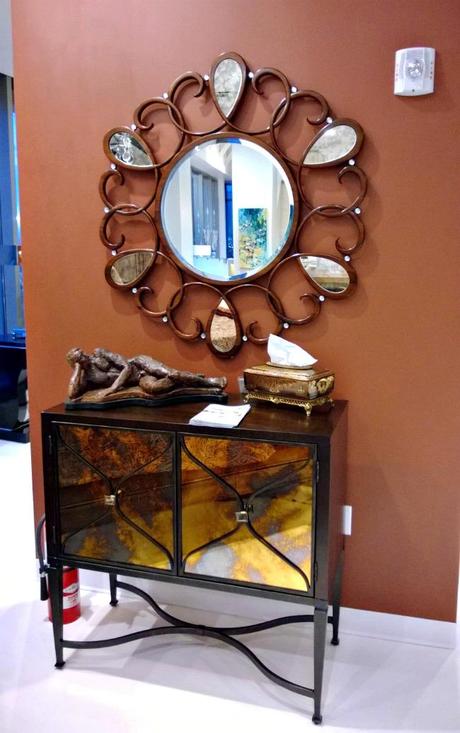 The chandeliers were really gorgeous: colorful and very glamorous!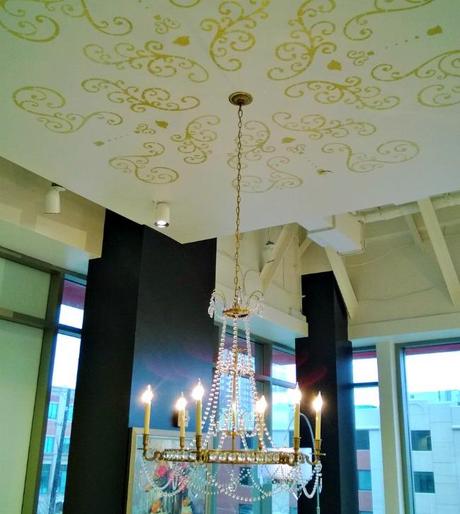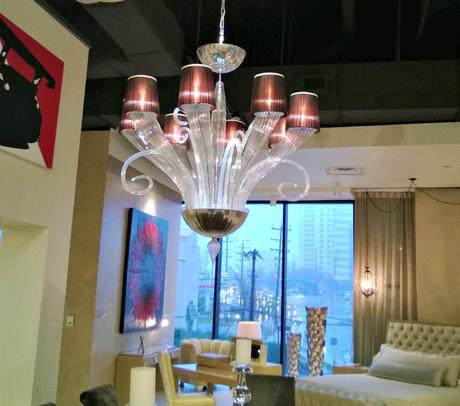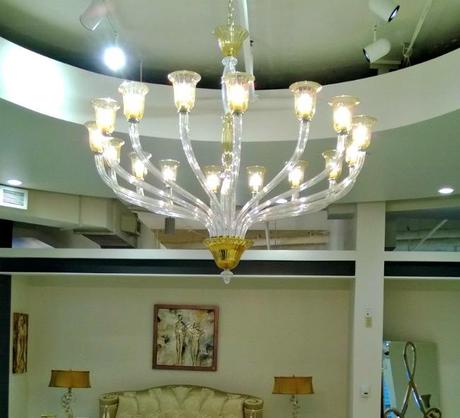 It's so much fun when you find a store that has such beautiful designs. It gets you to daydream about what your home can look like with the use of luxurious fabrics and decorative items.
I hope you enjoyed the layout of the new blog redesign. I'd love to hear your thoughts on it.
Simone