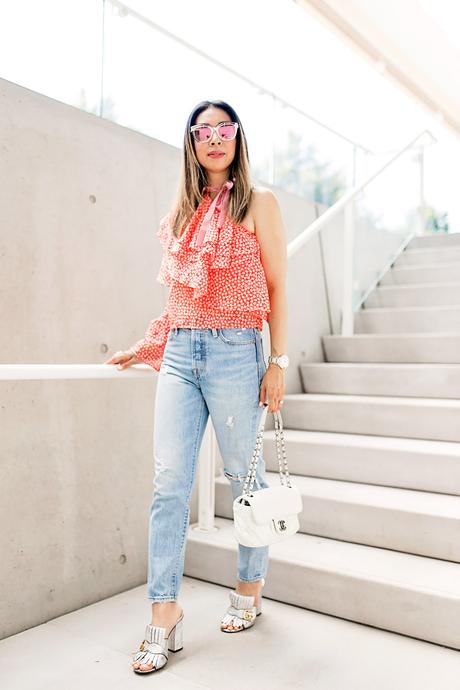 Happy Monday Y'all! It's another edition of Luxe for Less! This time, I'm wearing a one shoulder ruffle top that is inspired by the Rosie Assoulin Corkscrew Top! When I first saw the top, I was in love... but not with the price. I decided to try this designer dupe to see if I would invest in the real deal.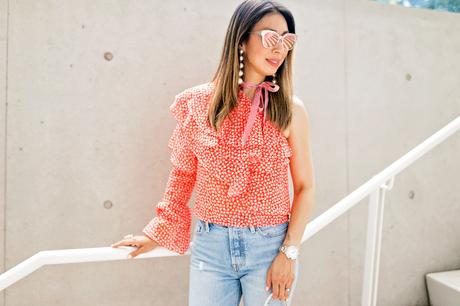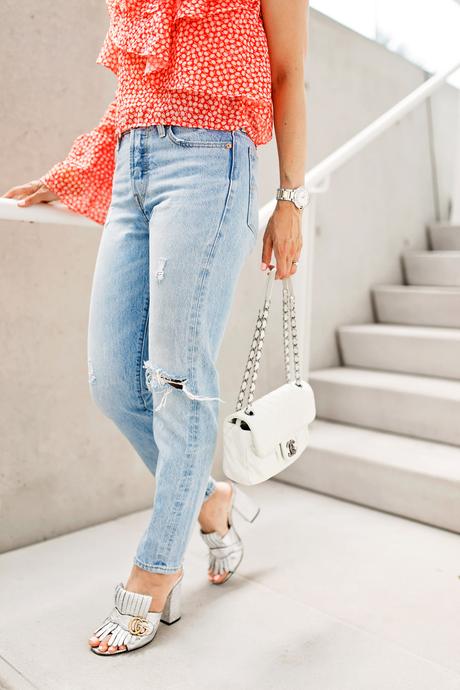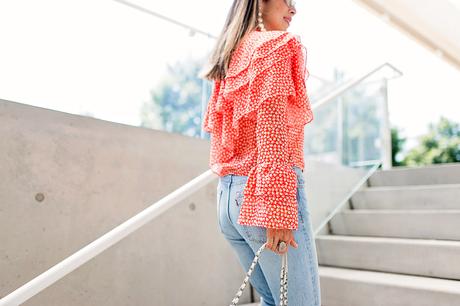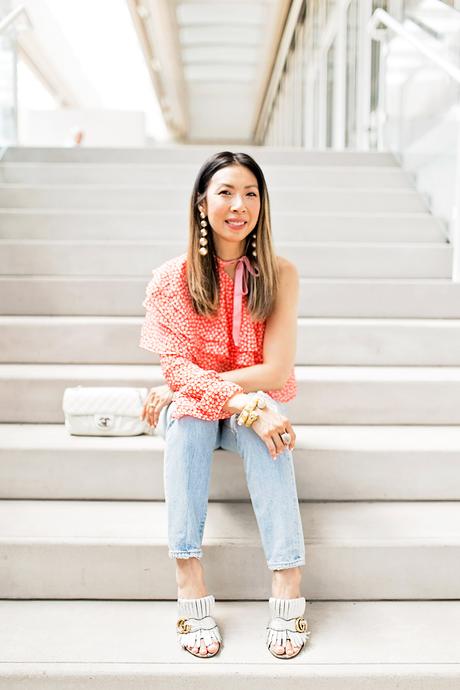 // Photography by Angie Garcia //
Sometimes, I like to purchase a similar item before actually splurging on the designer pieces to see if I would really wear it and how much I'd use it. Case in point, I purchased a pair of gold Jeffrey Campbell mules that were similar to the gold Gucci webby mules. I've worn them so much that they are literally falling apart. Although the Gucci webby sandals are no longer available, I did purchase these pair of gold Michael Kors crossover mules because 1) they're on sale and 2) I know that I'll wear them a ton.
To play Devil's Advocate, there is the saying, "The poor man alway buys twice." However, my designer dupe is $23 versus $850 so even I "purchase twice", the $23 would be negligible in the whole scheme of things.
It's such a fun statement top and very on trend right now!! It was perfect with high-waisted jeans and my silver mules for a Girl's Night Out with Heather in Dallas last month. It would also be super chic with a long white maxi skirt or wide leg pants.
THE STYLE Rx: Make a dramatic entrance with this one shoulder ruffle top! Dress it up with wide leg pants or dress it down with jeans as I did.
Isn't it funny that I happened to be wearing red, white, and blue just in time for 4th of July?! I really LOVE it and happy with the designer dupe! One of the main differences is this top is made of polyester, and the Rosie Assoulin corkscrew top is constructed of cotton. Additionally, this top has elastic across the top which can cause some interesting bulges (just being honest)!
FIT DETAILS: I'm wearing size XS in the top, and it fits well. I wish the bodice was a little longer so that I could tuck a little more into my jeans, but I'm not going to complain for $23! Levi's jeans are 100% cotton without stretch, and I'm wearing size 26, TTS. Also, please be aware that shipping may take longer than expected (see my review here).
Hope y'all had a wonderful weekend! My mom headed back to Houston after helping me all week. Mr. S got back into town, and the kids were so happy. Baby MJ wanted him to hold her all day! It was the sweetest! I'm working a mid-shift today and off for the 4th of July tomorrow. We don't actually have any holiday plans. What are y'all up to this week?
BTW, don't forget that the $1000 Nordstrom giveaway is still going on! Scroll dow below to enter!


I decided to team up with some of my favorite bloggers and bring you a Nordstrom Giveaway. One lucky reader will win a $1,000 gift card to Nordstrom. To enter, please use the widget below.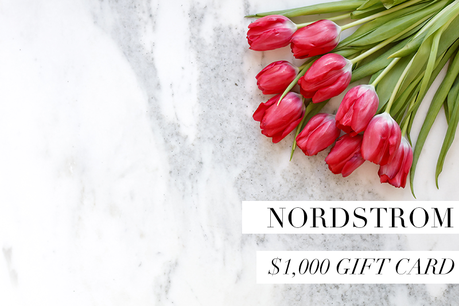 Money Can Buy Lipstick | Something Dashing | A Sparkle Factor | Glitter & Spice | DTK Austin
By Brittani Lauren | Style Weekender | Life Lutzurious | I'm Fixin' To Blog | So Heather
January Hart | Adored by Alex | Sunflowers & Stilettos | Nines to 5 | Blush & Blooms
RDs Obsessions | Mrs Casual | Style of Sam | Chasing Cinderella Blog | Sunsets & Stilettos
A Lily Love Affair | The Trendy Tomboy | Darling Dearest Blog | The Beauty Beau | Rose Gold Lining
Red Soles & Red Wine | The Closet Crush | Cup of Charisma | Dressing Dallas | Vandi Fair
Marblelously Petite | Zoe with Love | Tonya Michelle 26 | Jules & Grey | Hundred Blog
Miss Estephanie | xoxo Bella | La Passion Voutee | Living Life Pretty | Pretty Yellow Things


Use the widget below to enter the giveaway. The more "tasks" you complete, the more entries you will receive. The winner will be announced (on the widget) within 2 weeks of the giveaway ending. The giveaway is open to the U.S. and Canada.
a Rafflecopter giveaway