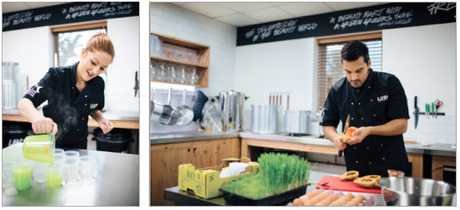 This Springtime, Lush Fresh Handmade Cosmetics are launching the Lush Kitchen to produce exclusive, pre-release and customer favorite products. A brand new concept, small batches of limited edition products will be made daily and available to purchase exclusively online. Products will then be sent out on the day they are made, fresh from the Kitchen!
You will also be able to view real-time updates from behind the scenes activity in the Lush Kitchen, with special events and expert Q&A's streamed live through the new Lush.co.uk website.

For the first time, fans of Lush will be able to see the inner workings of the factory and just how the Lush Compounders (aka, cosmetic chefs) hand make Lush's products, using the best quality and ethically sourced ingredients at their freshest and most effective. Everything about Lush is about what's inside – from the fresh ingredients and beautiful essential oils used in their products, to the way they make you feel on the inside. By showcasing and exploring the magic in the transformation from source to product, customers will have access to the Lush experts in their craft and see the real, transparent and engaging way the products are made.
Follow the @lushkitchen to find out what we're cooking up!