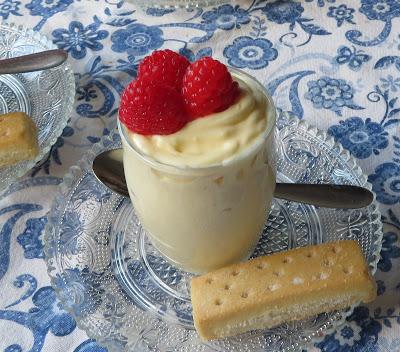 You are going to fall in love with this beautifully lush and creamy Lemon Mousse Recipe I am sharing with you today. Not only is it very easy and quick to make, using only three ingredients, but it is incredibly delicious!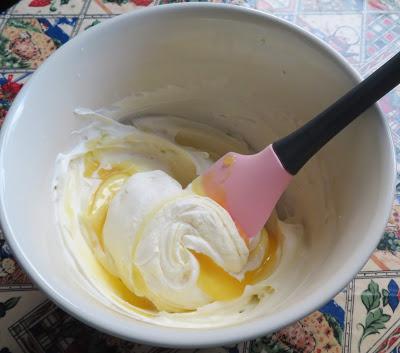 It is literally as simple as folding prepared lemon curd into softly whipped cream . . .  that's it! How much easier could you get than that!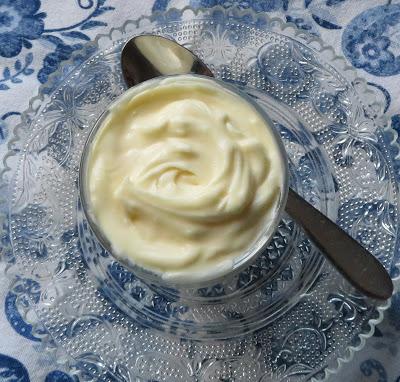 Not much easier and that's the truth.  The only danger lies in whipping the cream too stiff prior to folding in the lemon curd.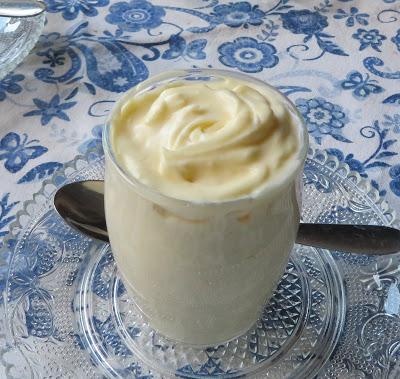 So do be very careful
NOT
to do that. Doing so would give you a granular result, and what you are looking for is something which is rich, light and creamy!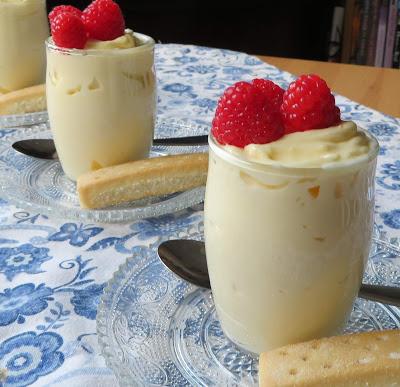 You can of course use homemade
Lemon Curd 
my recipe is really very good and very easy to follow . . .  but failing that, using a quality store brand is the next best thing.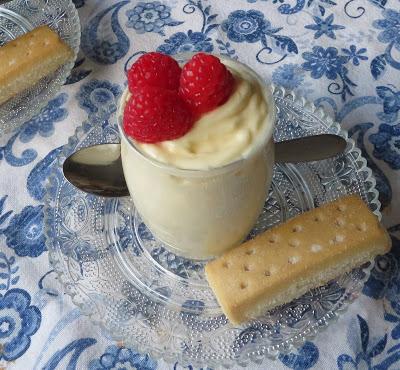 I call this my five minute dessert, because it literally takes five minutes or less to put it together.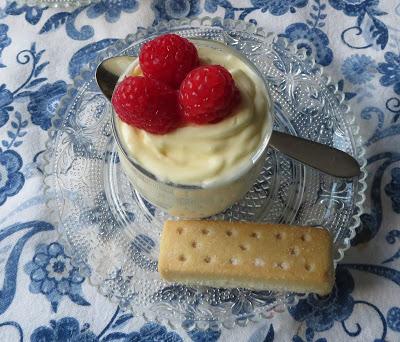 I like to top it with fresh berries. Raspberries are VERY good, but you could use any berry you like. I have left them whole here, but you could also crush them with a bit of sugar and raspberry liqueur which is also very nice  . . . just spoon it on top to cover.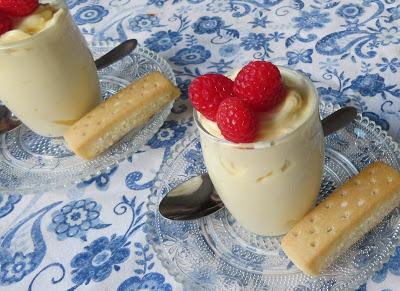 Whole or crushed, both are very nice  . . .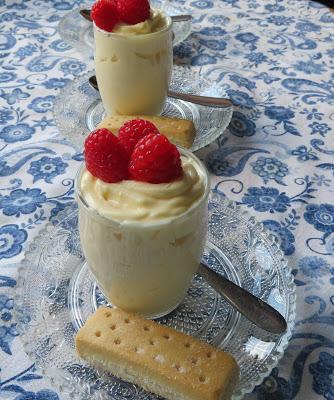 A simple cookie on the side goes very well  . . . tuilles, or as I have done here Shortbread Biscuit fingers, homemade or purchased . . . its really all up to you.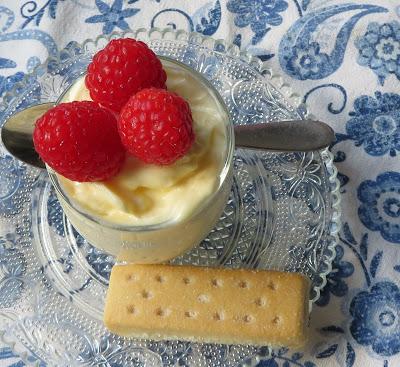 Together they make a beautiful presentation!  Your family will ooooh and aaaah when they see it!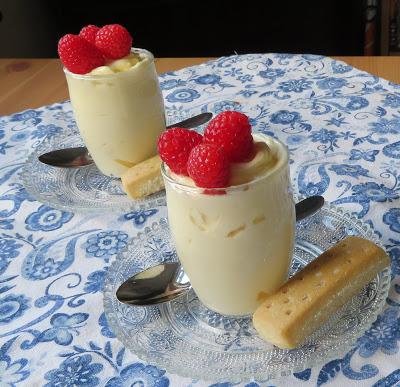 It is perfectly luscious and light . . .  it makes an excellent dessert after a heavy dinner  . . .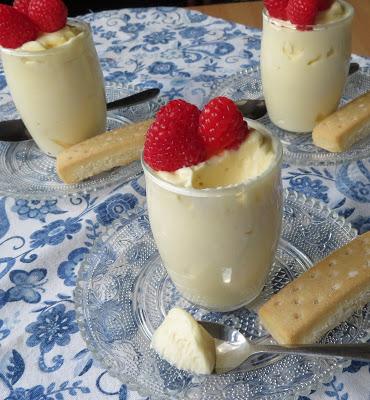 You can see here how very light it is, but at the same time it is very rich, so only a small glass is more than enough of a serving. Trust me on this.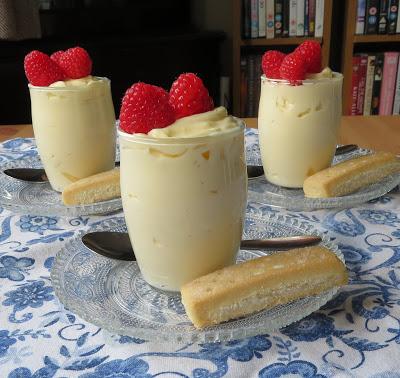 The lemon flavours in this are absolutely perfect  . . .  not too sweet . . .  just a bit tart  . . .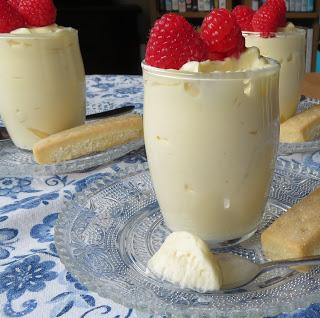 Altogether, just  . . . lovely  . . .
Yield:
4
Author:
Marie Rayner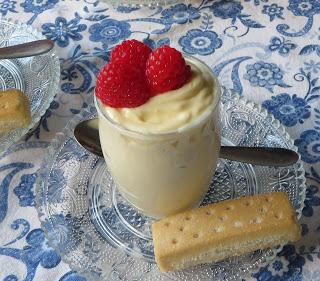 Lush & Creamy Lemon Mousse
Lush, creamy and delicious.  This takes literally minutes to put together.  Sure to become a favorite. We enjoy it with fresh berries and shortbread biscuits.
ingredients:
For the mousse:
240ml double cream (1 cup, heavy or whipping cream)
45g caster sugar (1/4 cup, fine sugar)
220g lemon curd (1 cup)
To serve:
fresh berries and shortbread biscuits
instructions:
How to cook Lush & Creamy Lemon Mousse
Using a chilled bowl and very cold beaters, using an electric whisk, whisk the cream for about a minute. Continue to whisk, adding the sugar slowly on high speed just  until soft peaks form. Don't over beat as it will thicken when you fold in the lemon curd. Fold in the lemon curd, a quarter at a time, until well blended.  Spoon into individual serving dishes and place in the refrigerator to chill until serving time.  Garnish each serving with some fresh berries and a shortbread biscuit to serve if desired.
Created using
The Recipes Generator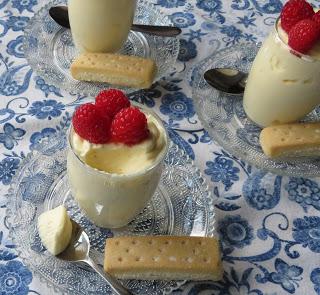 Have you ever tried lemon and chocolate together?  If not you are missing something really special.  A drizzle of rich chocolate sauce is also very good with this . . .  just sayin' 
Tastes You Can Look Forward to in the Week to Come:
(Subject to change according to whim.)
Monday
-
Pasta with Rich Chicken Broth, Butter and Parmesan
Tuesday
-
Fillet of Sole with Fresh Bread Crumbs
Wednesday
-
Blackberry & Apple Jam
Thursday
-
Hearty Tomato & Bean Soup
Friday
-
Cheesy Garlic Bread
Saturday
-
Extra Crunchy Peanut Butter Cookies
Sunday
- 
Apple Mystery Dessert 
Lots of tastiness to look forward to!