I seem to have finally got my gardening mojo back – well almost – thanks to some visits to very inspiring gardens.  I don't think I am alone in struggling to be interested in the  garden this year especially with the damp and cold summer we have had here in the UK.  Today I decided to get a grip of the garden.  No mean feat considering how much everything, weeds included, has grown with all the rain and also my total lack of engagement (by which I mean work) over recent months.  Having started on the cottage garden border the rain drove me into the greenhouse, which was probably a good thing as this too was overgrown.  It's only a tiny greenhouse so is quick to adopt jungle like tendencies left to its own devices.
The first job was to tame the Crystal Lemon Cucumber which seems to be making a bid for world domination with five stems covered in flowers cavorting amongst the other plants.  I reduced the plant down to three stems and tied them in to the side of the greenhouse in a bid to regain some control.  Lifting the stems up off the staging I was thrilled to discover two fruits.  I have no idea what they will taste like when they are ripe or indeed how big they are meant to grow or how I know they are ripe but they are very fascinating.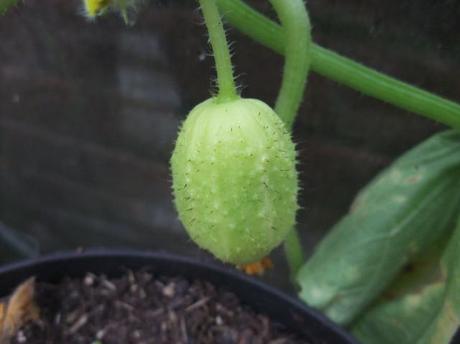 Having reduced the cucumber plant it made it easier to see what the aubergine was up to.  This is a rescued plant from the plant garden center of which I have had little expectations (a general approach I have to gardening) but I do like the combination of the foliage and purple flowers.  However, lo and behold there are at least two fruits on the plant.  Having been told by commentators on this blog that I won't get any aubergines this year as it's too cool I am now hoping that I get at least one of these to ripen fully!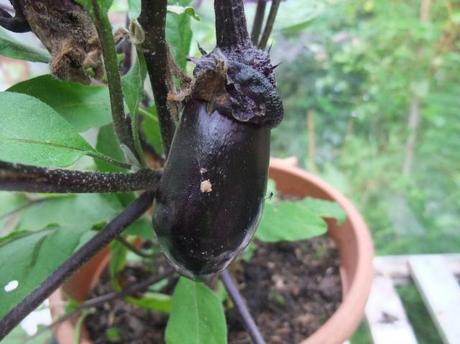 The final unexpected delight amongst the neglected and weedy seed trays was the passion-flower you can see in the top picture.  It really is beautiful and the scent is divine.  I must pot it up and give it a better support but its Ok for now.
I am pleased to report that thanks to the rain the greenhouse has been completely overhauled.  All the seedlings have been potted up and moved on and the tomatoes have been tied in and excess foliage removed.  All in all a good afternoons work and at least a start although there is part of me that thinks the garden seems to do better without me.