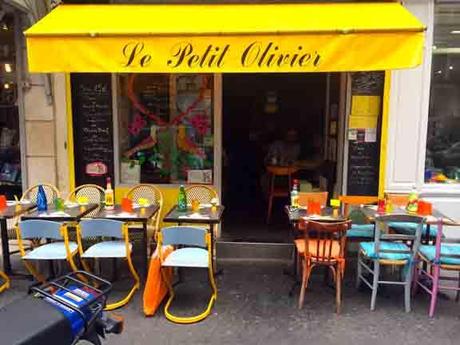 Lynn has written this edition of Lunch with Lynn/Under 20 Eats
It isn't winter yet but it is Paris and I was glad I wore my black wooly cape over my summer clothes as Richard and I made our way along rue du Cherche-Midi, frisky autumn winds at our heels. We were looking for the perfect under 20 euro Lunch with Lynn restaurant, stopping here and there, checking menu formulas, usually between 15 and 20 euros, and not even considering Le Bien-Décidé, Gerard Depardieu's restaurant and cave at the far end of the street, which he no doubt visits on return trips from Russia where he now lives, finding the taxes there less onerous than in France (or non-existent?).  Someone mentioned recently he drinks 14 bottles of wine a day (in memory of the homeland, perhaps), but I don't believe that.
Richard was getting ready for his photo show with Meredith Mullins which opens in today, September 25,  at 102, rue du Cherche-Midi -- ta da—the reason we're in the neighborhood. Suddenly, voilà, we find a charmer: Le Petit Olivier, owned by L. Dewynter, the card says, a tiny bistrot with musique classique and Perrier and whiskey bottles on the tables hand painted and filled with water.  Okay.  Through the dimly lit open doorway there's a walk space with four tables on each side, all filled with French people, no doubt on lunch break.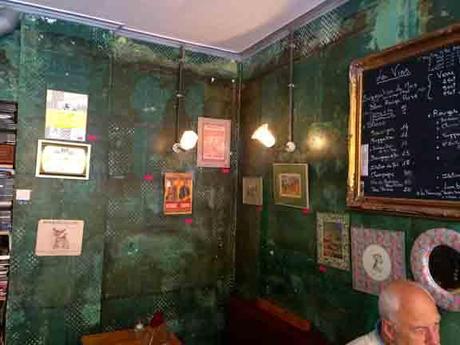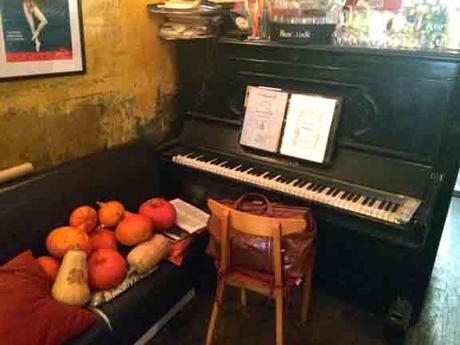 We sit outside at a sidewalk table under the heat lamp. I decide on the 15 euro formula, a chevre chaud (warm goat cheese) salad for starters, and a canard confit, duck cured with salt and roasted in its own fat. The chevre chaud has a fine little dressing, but it is the canard that is just wonderful, tender and meaty and not overwhelmed by salt like a confit can sometimes be. And the roasted potatoes, although a bit too much duck fat in the cooking, are also light on salt.  The French have really understood that salt can be hazardous to your health, not even any salt and pepper sets to be seen on the tables.  
Richard chose à la carte a lentil salad and then a cassoulet, a white bean casserole cooked with sausage and often duck, as Richard's is. Both my confit and his cassoulet are specialties of Gascony in the southwest of France, an area known for its hardy cuisine.  Richard loved his cassoulet but almost couldn't finish it, a first since our time together visiting restaurants –now that's a compliment.
My formula gave me the right to a dessert besides my starter and main dish. Surprisingly, the desserts were all in a cold case at the back of the restaurant where the piano stood and which, the owner said, was played by anyone who wanted to sit down at it. Musique classique, perhaps. There were at least eight different kinds of desserts in little ceramic dessert cups, plus an apple crumble on the table beside the case. To my delight, I could choose any one I wanted, a first for me in Paris. I chose a chocolate pot de crème (for the vitamin B, of course).  The Frenchman next to me had a lemon curd-like pudding and said it was very fine.
All in all, Le Petit Olivier was a lovely discovery, very French and a long, long way from Russia.


Le Petit Olivier
82, rue du Cherche-Midi, 75006
Metro : Saint-Placide/ Vaneau
06 17 18 02 83
Open everyday
Formule 10e/15/20 e

Just a reminder to please attend our photo vernissage/opening tonight and if you can't make it, please stop by the gallery on another day.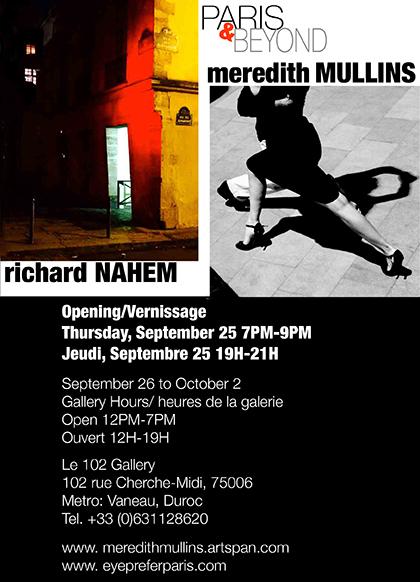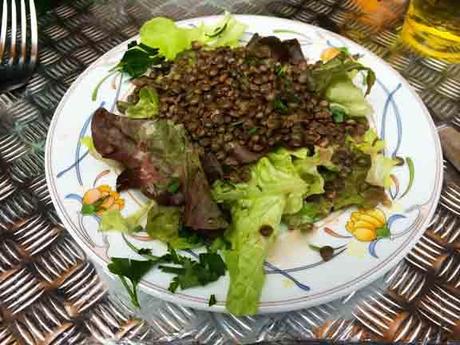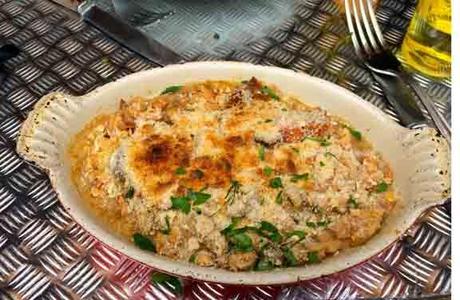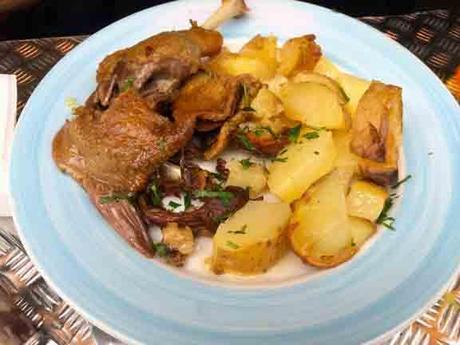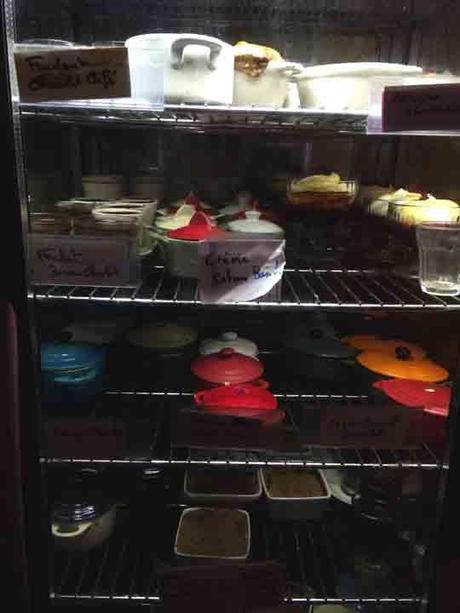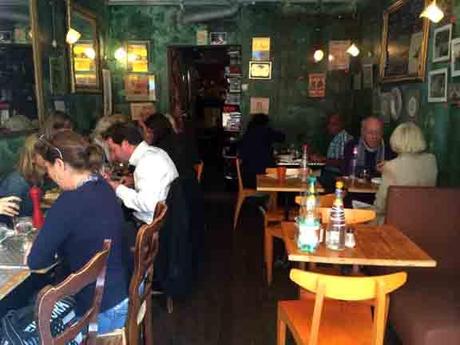 My Paris Apartment for Rent
I am renting my fabulous Paris apartment in the heart of the Marais near St. Paul metro, from November 30 to December 16, a total of 17 nights. It's a spacious one-bedroom 750 sq. ft. loft style apartment with 12 ft. ceilings, decorated in chic Mid-Century Modern furniture and sleeps two people in a Queen size bed. Amenities include washer/dryer, 16" flat screen TV, dishwasher, internet connection/Wifi and free long distance calls to the U.S.  The apartment is located on the second floor with a large elevator.
The price is 2800 euros/165 per night for 17 nights, 1500 euros for 7 nights, and anything in between 7 & 15 nights, 175 euros per night. Minimum rental 7 nights or 1500 euros. Photos upon request.
Please email me at r.nahem@gmail.com if you are interested.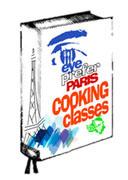 New! Eye Prefer Paris Cooking Classes
I am happy to announce the launch of Eye Prefer Paris Cooking Classes. Come take an ethnic culinary journey with me and chef and caterer Charlotte Puckette, co-author of the bestseller The Ethnic Paris Cookbook (with Olivia Kiang-Snaije). First we will shop at a Paris green-market for the freshest ingredients and then return to Charlotte's professional kitchen near the Eiffel Tower to cook a three-course lunch. After, we will indulge in the delicious feast we prepared along with hand-selected wines.
Cost: 185 euros per person (about $240)
Time: 9:30AM- 2PM (approximately 4 1/2 hours)
Location: We will meet by a metro station close to the market
Class days: Tuesday,Wednesday, Thursday,Friday, Saturday, and Sunday
Minimum of 2 students, maximum 6 students.
Click here to sign up for the next class or for more info.
 

I am pleased as punch to announce the launch of Eye Prefer Paris Tours, which are 3-hour walking tours I will personally be leading. The Eye Prefer Paris Tour includes many of the places I have written about such as small museums & galleries, restaurants, cafes & food markets, secret addresses, fashion & home boutiques, parks, and much more.
Tours cost 210 euros for up to 3 people, and 70 euros for each additional person. I look forward to meeting you on my tours and it will be my pleasure and delight to show you my insiders Paris.
 Check it out at www.eyepreferparistours.com 
Click here to watch a video of our famous Marais tour