So me and the missus have been driving around East Florida for the holidays and today we stopped into an organic cafe called 'The Jungle' for lunch in the middle of a no name town called Melbourne cos' herself is a part time vegan when she's not tossin' a cow on a barbie.  It was hard not to notice the family at the table next to us, what with each of them having hair color a different shade of the rainbow and more body piercings than 'The Sex Pistols'.  The missus says to me in a low whisper - "Do they not know H

alloween

 is over?!"
We paid little attention to them after that and it was only when they were leaving that I caught a glimpse of the head of the group and I thought he looked familiar.  That looks like Jonathan Ross, I said.  - Who? - said the missus. Nah can't be I said. Why would he (a UK celeb) be hanging out with a bunch of pierced neon hair drop outs in Florida? Out of curiosity

 I decided to google "Jonathan Ross Family" and guess what I found..(taken a few years before the body 'art' I reckon)...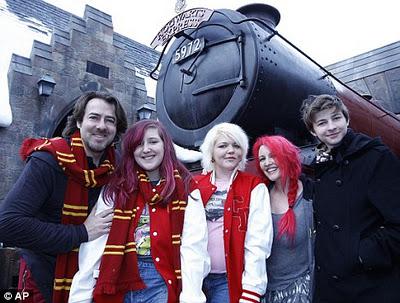 ..
Tags: ..
Lunch with Johnathon Ross family dyed hair pink orange
..
If you like what you've read, why not subscribe to updates click here
Paddy in the Big Apple