I went to check out Luna Specialty Coffee one day, after weeks of religiously following the cafe-restaurant's posts on social media. Their spectacle of creative twists on brews and Filipino meals was enough to lure me. That, and, well, I'm always in search of a good coffee shop in the Taguig area.
Luna is tucked in a quiet corner of Bonifacio Global City - the NAC Tower, to be exact, on 32nd Street. It's owned by Taguig rep. and director Lino Cayetano and his business partners. Luna was born out of love for the coffee brewing process, which Lino picked up on after his sister, Senator Pia Cayetano, opened her own pastry/coffee shop, Slice.
Much like Slice, Luna serves "real meals" (versus Starbucks' grab-a-quick-bite-to-go-with-your-coffee format): Omelettes, Rice Dishes (Chicken Tocino, Angus Pares, Smoked Bangus, Sweet Ham, etc), Salads (Kare-Kare Tofu, Kalabasa), and Pan de Sal Dishes (Longganisa, Bangus, Tapa & Egg, Adobo).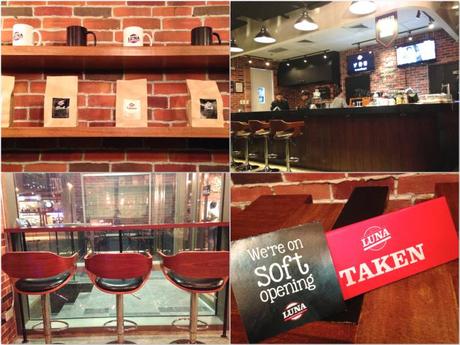 Luna's seating capacity is limited, the type that can be occupied by a single party at any one time. As it's still on soft opening, however, it hasn't been chanced upon by many, so securing a spot may not be a problem. For everything else, they have bar stools, the view from which giving you prime access to their coffee brewing process.
Interiors are generally easy on the eyes - a cool mix of leather, wood, and red bricks, bringing a modern, cosmopolitan approach to the very Pinoy foundation of the cafe.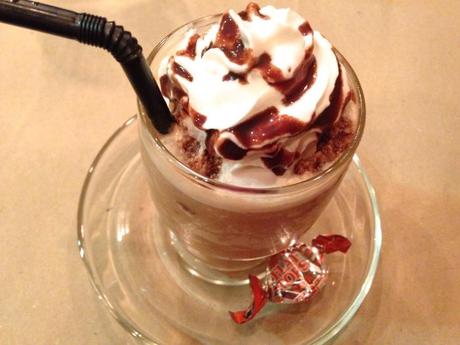 As we waited for our meals, I got myself a Flat Tops Candyccino (Php140) which is essentially Flat Tops in coffee form. They also have a White Rabbit variant.
Candyccinos are described on the menu as follows: "Ice-blended, coffee, milk, and candy from our favorite sari-sari store." Sari-sari stores are outdoor kiosks/ mini groceries that sell a bit of everything.
So this Flat Tops Candyccino disappointed me for the most part. I would compare it to an underdeveloped story line, the type that reels you in but leaves you wanting more (not because it was good, but because you are in search of something extra). Flavor-wise, this was average, like it was something I could've put together on my own (and that's never a good thing). Consistency was a bit of an issue - the drink didn't flow smoothly as expected, and the caffeine came in intermittent bursts. The flat tops concept, while promising, wasn't on full force, like they really just sprinkled bits of the chocolate onto the mix. I was also baffled by the serving size of this thing. Think Starbucks short cup!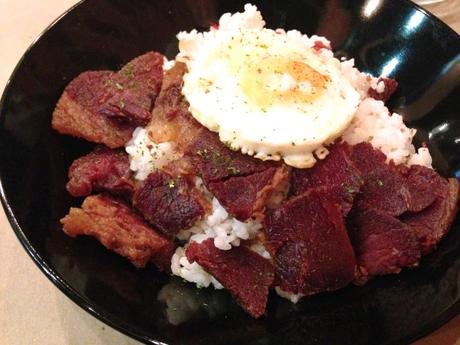 I had their Corned Beef Tapa (Php290), served on crispy pork rice. I would give Luna plus points for the big serving and presentation, but those aside, I did not like this dish at all. Mine was heavy on the salt (a 9 out of 10 kind of heavy). The chunks of beef were equally frustrating to chew that I found finishing this to be a chore. (But I had to, considering this meal cost me Php290 haha.)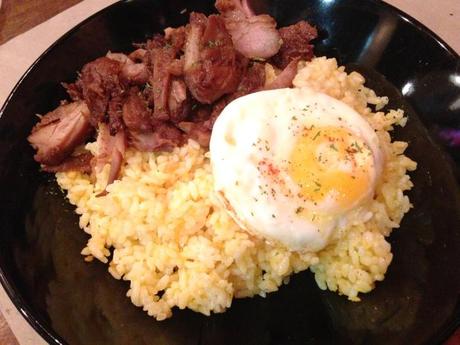 I thought their Chicken Tocino (Php240) was slightly better (i.e. more bearable) than the Corned Beef Tapa. Luna's is a bit on the sweet side, with just a tinge of saltiness to balance out the flavor. Then again I don't think you'd be missing a lot if you skipped this dish.
Anyway, despite the terrible dining experience, I think I'd be willing to give Luna another shot if only for their dessert and coffee selection. (I'm definitely staying away from the "real meals"!) I also appreciate the fact that Lino Cayetano made an effort to interact with guests, even offering us complimentary glasses of red wine (really, really good red wine :D) at the time of our visit haha.
Check out their menu: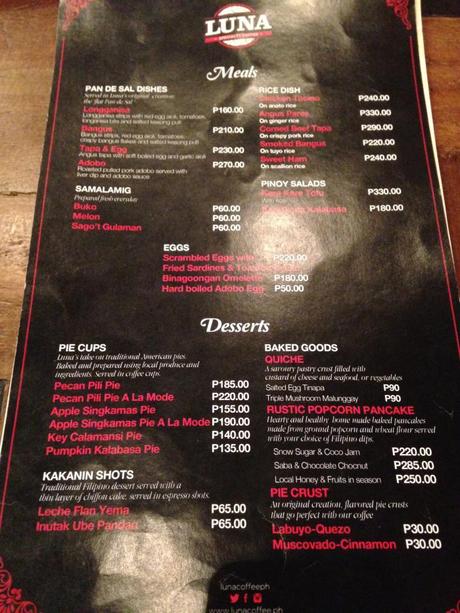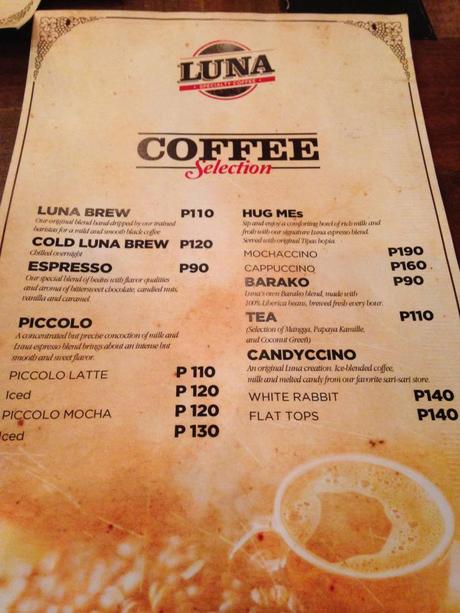 Taste - 2/5 | Ambience - 4/5 |Variety - 4/5 | Service - 4/5 | Pricing - 3/5 | Would Go Back? - Maybe
Luna Specialty Coffee | GF NAC Tower, 32nd Street, Bonifacio Global City, Taguig