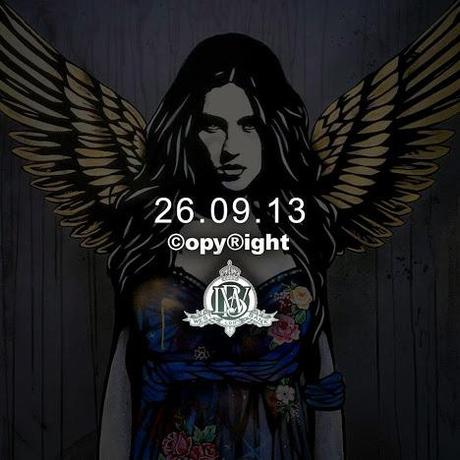 Following an appearance on Season 8 of 'The Apprentice', artist Copyright has spent the better part of 2013 fulfilling a backlog of commissions. This show at London Westbank Gallery marks his first new body of work since his 2011 solo at Pure Evil Gallery.
Through an exhibition of 40 pieces of "old-new" and "new-new' work, Copyright will explore the idea of moving forward by looking back, "it's like learning from your own history…". The collection will also allow a rare glimpse behind the curtain, displaying framed stencils and surprise installations…
Copyright's style is rooted in mythological histories, an era of storytelling where women were understood as creatures to be both loved and feared. With sirens leading sailors astray and Medusa turning men to stone, Copyright's "bittersweet fairytales" instead focus vulnerability as opposed to power. The presence of urban subcultures are also present in the tattooed arms of his women, bringing the subject right back into the modern world. Using tattoos as symbolic iconography, Copyright offers a secondary and more subjective narrative for the viewer to explore. It also cleverly infuses a living cultural history with an ancient mythology.
Copyright's highly stylised work has proven popular with both national and international collectors, celebrities and Premier League football players. Over the last decade Copyright has exhibited worldwide including sell out solo shows in London and Tokyo. In 2010, his 'Precious Damage' London show saw 50 works sell out in 3 hours! Other works include a painting commissioned for the cover of Reload Magazine to accompany a feature on his art as well as having published pieces in Harpers Bazaar, Teen Vogue and Modart.
Private View will be 6-10pm on Thursday 26th September 2013
Please Note: Private View is strictly by invitation only.
RSVP is ESSENTIAL Please send names to [email protected]
Show open to public thereafter until Thursday 3rd October 2013
London West Bank Gallery - 133-137 Westbourne Grove -  London W11 2RS