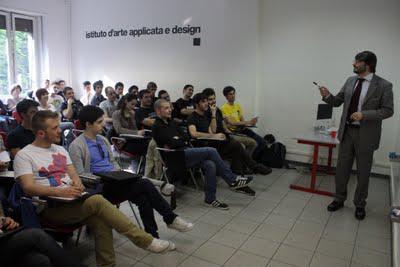 Luciano Bove at IAAD Design school Torino, Italy
 Dear friends,
I had the chance to spend 2 days with students of
IAAD Italian Design
school in
Torino.
In fact there is
IAAD OPEN DAY
and
during these 2 days I gave 2
lectures
on
Portfolio Design management
and talk in general about the
car designer
role as profession. It was an opportunity to reaffirm what I often write on this blog,  students were motivated to ask me lots of questions to become part of my
lecture
. I tryed to make them active listeners instead of passive ones. I think the experiment worked quite well because all of them followed me for about 2 and a half hours with no interruptions (that was a challange!) and seemed really satisfied at the end.
Go visit the school to have more infos about yesterday's
OPEN DAY at IAAD Design school.