Luce Unplugged is an acoustic concert series in the museum's Luce Foundation Center for American Art. The series brings in local talent to perform after an accompanying talk on an artwork chosen by the performing group. The series's first performance was by Star FK Radium in November 2010. The Star FK Radium trio, Alissa, Bill, and Matt, are returning to the Luce Center for August's installment of Luce Unplugged on Sunday, August 21. The talk is at 1:30 p.m. and the performance starts at 2 p.m.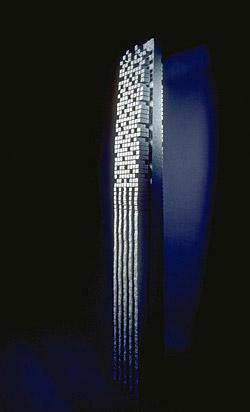 Jesús Moroles's Georgia Stele
Eye Level: You list classical chamber music, 60s rock, grunge, punk, and drumline as influences on your Facebook page. How do you combine such different styles of music?
Matt: Just because we are individually influenced by a wide range of music does not mean that we necessarily incorporate them all in to our songs. I tend to to think of "influences" as music that I enjoy and that I have learned from.
Eye Level: I saw that you have been working on a new album. How has your music changed or grown over the past year?
Alissa: I think our music has progressed more fully towards its unique expression as the fusion of our three voices. Some people call our musical style "chamber rock," originally we wanted to call it "musicbox," thinking about a small hand-cranked musicbox that winds and produces three intertwined voices (violin / guitar / drums). I think we're getting closer to finding that unique sound that we three think of as "musicbox."
Eye Level: What is your most memorable performance and why?
Bill: It is different for all band members, mine was playing a heavy rock bar outside Detroit, Michigan in early 2009. The four other rock bands, all dressed in black with large rings through their lips looked at us like "Who ARE you?". The club owner told us he had not checked out our music when he booked us and expressed concern. We opened with our most intense rock song, Speedbike, and by the time we were offstage, we were getting congratulations and shout outs from band front men as they took the stage later. The night literally took a 180.
Matt: We have done hundreds of performances at this point, and I remember and appreciate them all, but for several reasons our gig in Athens OH earlier this year stands out. We played it after taking a short break away from gigs, and I remember putting so much pent up energy in to the performance. Also anything at the Northwoods Coffee House in Atlanta MI was great.
Alissa: We have had so many amazing performances, it's like asking what is your favorite song, or your favorite band. Many were quite memorable too, but I'll never forget our first real "show," at the National Zoo, when I had literally just joined the band after not playing the violin for eight years. I played only one song with Matt and Bill that evening, "Life in Slow Motion," and it was the most terrifying thing I had ever done in my life. As soon as we were finished, I wanted first to immediately forget that it had ever happened, in front of a huge group of people, nonetheless! And second, I wanted to do it again and again as soon as possible until I reached the point where could do it and feel proud of what I had contributed musically. Every once in a while I think back to that gig and realize how incredibly far I, and we, have come.
Eye Level: You were the first group to do a Luce Unplugged performance. What did you think of the idea when I approached you last summer to play? How is performing in the Luce Center different from playing in other venues?
Alissa: Loved the idea immediately. We have always enjoyed and sought out gigs and venues that work visually as well as spatially for us. The Luce Center, while feeling like a large space, is also a very intimate space musically. It was challenging at times to hear each other, as typically we play amplified, but it was great afterwards to hear the feedback from the audience, who had been able to meander through the art as our music traveled throughout the space.
Matt: To me, playing in the Luce Center, requires less set up and is a little more relaxing that our typical gig.
Eye Level: With so much to choose from in the Luce Center, what made you pick Jesús Moroles's Georgia Stele for the accompanying art talk?
Bill: I am a skyscraper buff. The piece reminds me a lot of the power and awe that is inspired by a 50 or 100 story office building.