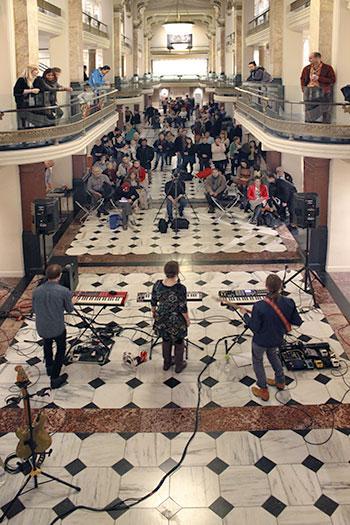 The Walking Sticks performs at a previous Luce Unplugged Showcase
Mark your calendars, another Luce Unplugged Community Showcase is upon us! Next Friday, May 16th, the Luce Foundation Center will once again host a night of art and live music from 6:00 to 8:00 p.m. The event is presented with the Washington City Paper, and will also feature free samples from DC-based distillery Green Hat Gin. A specialty gin cocktail, plus other libations and treats, will be available for purchase at the cash bar.
The lineup for the showcase consists of local groups Redline Graffiti and DTMD (Dunc & Toine), selected with the help of Washington City Paper Managing Editor Jonathan L. Fischer. We checked in with one half of the hip-hop duo DTMD, Antoine, to prepare for the show.
Eye Level: The Luce Unplugged concert series began over three years ago, and in that time, it seems that more and more museums and historic places have started offering live music performances. In your opinion, what is it about these concerts in alternative spaces that attracts audiences and performers alike?
Antoine: I think it's important to have art presented as just that —art. When you bring some of the more contemporary acts into a setting where they would have to blend in with classic art, it challenges you as an artist to do something that would be able to broadly appeal to people outside of your niche. That is a welcome challenge for myself. Also, audiences want to see how artists will alter their usual performances to fit the context. I think it's a fun and unique experience for both sides.
EL: Tell us about another time you were challenged to perform outside of your element?
A: One time we performed at a random bar in Columbia. We almost got into a fight with other acts who didn't know that we were invited and paid to perform. Hilarious in hindsight, but I'm definitely glad my brethren came out to support. Could've turned into a funny bar fight story.
EL: On a lighter note, where else do you love to perform or see local music here in D.C.?
A: My absolute favorite venue is the Gibson Guitar Lounge, both as a performer and a spectator. Probably the most intimate and cool space in D.C. Of course, you gotta say 9:30 and U Street Music Hall. I've had a lot of great times at the Black Cat as well. Velvet Lounge was the first place I ever performed at —solo and with Dunc.
EL: Switching gears a bit, we love when visitors discover the artwork in the Luce Center during Luce Unplugged concerts. Have you discovered any art lately?
A: I'm huge into graphic novels. I recently picked up Ed Piksor's "Hip-Hop Family Tree" series, and I think it's amazing that hip-hop is finally getting the artistic respect it has long deserved. I recently saw Nas with an orchestra at the Kennedy Center and saw J Dilla's catalog transformed with a 64 piece orchestra with Miguel Atwood-Ferguson. I love when hip-hop can be presented and appreciated outside of its original context. Which is another reason I'm looking forward to this show at the Luce Center.
EL: You've mentioned that you are already familiar with Redline Graffiti, the other local group to be featured at next week's showcase. Both DTMD and Redline Graffiti have put out new music recently. What do you think we can expect next Friday?
A: I am very familiar with Redline Graffiti. I've heard them on numerous occasions and have admired them from afar for a while. It'll be an honor to play alongside them. As far as what to expect from Dunc & Toine? Well, we're assembling a band for this show. It's always fun to perform with that live element, as well as give off a performance that we feel is worthy of the museum.
EL: Bonus question: For our neighbors over at Verizon Center: Would you rather be court side at a Washington Wizards playoff game or front row at a Lady Gaga concert?
A: Court side at a Wiz game. Easy. Not even close. One of my best friends growing up was the oldest son of Harvey Grant. I saw a lot of Bullets games at USAir Arena as a child. I'm definitely glad they're getting some national attention and bandwagon crowds.
Interested in more Luce activities like this? Check out our calendar of upcoming events.