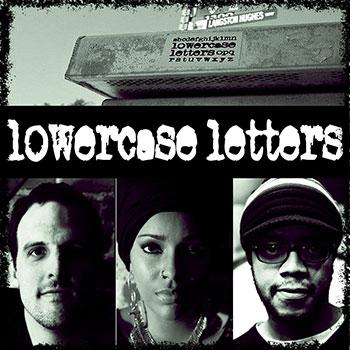 lowercase letters
Save the date for The Winter Luce Unplugged Community Showcase coming up next Friday, February 6th from 6-8 p.m. Since Valentine's Day is just around the corner, invite a date or take a chance and come meet that someone special. Once again, we've teamed up with the Washington City Paper (WCP) to bring you an evening of music and drinks in American Art's Luce Foundation Center. Two local acts will perform: Art Sorority for Girls and lowercase letters. Port City Brewing Company will provide free beer tastings, and there will be a cash bar as well. Like the best things in life, the show is free.
Art Sorority for Girls is a rotating folk-meets-punk-meets-indie collective that supports the vocals and witty lyrics of helmsman Daoud Tyler-Ameen. The group's latest LP, Older Boys, was praised by WCP for its "homespun essence" and likened to a "well-produced... Tiny Desk Concert." So we're excited to see them play in the intimate setting of Luce. lowercase letters are Luce Unplugged alums who make sultry R&B tunes (check out their recent LP). We talked to lowercase letters AKA Alphie, Clinton and JB, who gave us a taste of what we can expect from their set.
Eye Level: You played at one of the early Luce Unpluggeds back in April, 2012. What's changed for you since then? What's the same?
Alphie: We got Clinton! We also finished our album and released it, drove from DC to Austin for SXSW and recorded each fantastic moment, wrote more music and continued to hone our crafts.
JB: Yep, going from 2 to 3 members is the change to point to. Everything else is the same—we're just trying to make cool music and get people to hear it.
EL: What else are you working on?
Clinton: Now that the album is out we're working to tighten up new songs, some of which we want to release on an EP sooner, rather than later. We don't want to pull them out before they're fully baked, but we'll play at least one of the new joints at the show.
EL: Do you have any local musical influences?
JB: I was pretty big into some of the post-punk stuff in the mid-late '90s but you probably couldn't tell from lowercase letters stuff. I went to tons of Fugazi and Dismemberment Plan shows (got to play with D-Plan a bunch in my old band Gift to the Greedy). And Shudder to Think's Pony Express Record might be the most beautifully crazy album I've ever heard. Oh yea, and my boy Drew has let me get a sneak preview listen of the new Beauty Pill record, and it's fantastic.
Clinton: They come in all shapes, sizes, and forms. I grew up in D.C. so most of them are local: the city itself and its indigenous music, the innocent teasing at school for being in "band," the island music playing in our home, the teachers and other students. For me, the most important influences (good and bad) took hold when I was younger and less sure of myself. Years later I'm still here playing music, so the positive ones must have beat out the negative ones.
EL: Do you have any pre-show rituals?
JB: We'll often be ambitious in trying new things at shows, so a quick huddle to make sure we know "who does what at that new part" is a nice way to get all on the same page without messing it up onstage.
Alphie: And beer.
EL: [Internet radio station] Hometown Sounds has some awesome covers you did. What's the recipe for a good cover?
Alphie: Mmmmmm. First, love the song. Second, strip it all the way down to the melody and/or chords. Third, build it again (optional). We also did a studio recording of a Beach House cover, check it out.
EL: If you could be remembered by one lyric...
Alphie: Oh, man. ok. "And, yo, the city's restless. Count your blessings if you're into those."