Just last week Baby Bry Bry and the Apologists kicked off Luce Unplugged at its new, Thursday (early) evening time. Hard to believe, but it's already time for our April Luce Unplugged. One week from today Gully Waters, an up-and-coming D.C. trio, will take the marble-tiled stage of the Luce Foundation Center to play their contemporary take on R&B and soul music (preview their sound on Bandcamp).
Come at 5:30 p.m. next Thursday, April 9th to grab a drink from the bar (cash only!), explore the artworks of the Luce Center, and hear an art talk on a work chosen by the band; catch Gully Waters' set at 6 p.m. The show ends at 7 p.m., so you'll have plenty of time to go out to dinner after the set. For specifics about the event please see the new Luce Unplugged calendar page.
In anticipation of the show, we talked to Gully Waters, AKA Yaya Bey, Ajene Harley, and Nate Jarvis about making and performing music in D.C.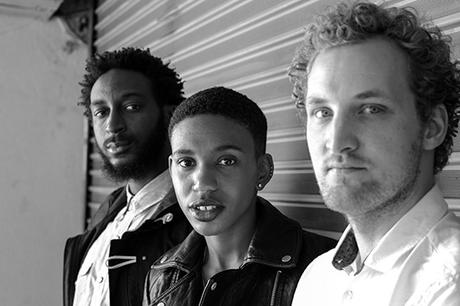 Gully Waters, photo by Alanna Fields
Eye Level: You have a pretty unique sound. What goes into that mix? Do you find genres more useful or limiting in describing your sound?
Ajene: Honestly, all of us go into our music. Genres aren't limiting because we use them, more or less, as familiar benchmarks to describe what to expect when listening to our work. But, as with most "unique sounding" music, it's a blending of these standards that congeal to create the final product, which is itself constantly changing and growing just as the people who are creating it.
EL: How did you guys meet? What do each of you bring to Gully Waters?
Nate: Yaya and I met through Facebook when she was looking for musicians to play with and they formed a group called The Meek. A year later Ajene joined the group and wrote some songs together and we called ourselves Gully Waters.
Yaya: I sing and write the songs.
Ajene: I play guitar, and share compositional, and arrangement duties.
Nate: I play bass, record synth/drum samples and help write some of the music.
EL: What's the most ridiculous way you've heard your sound described?
Nate: We were described as "PBR&B" which is kind of ridiculous, but I like it.
EL: You guys are pretty new, formed in late 2013, but have already received a lot of attention. What's it like coming up in D.C.'s music scene? What types of venues have you played?
Nate: Coming up in the D.C. music scene has been a really positive experience so far. We're still pretty new so it's been great that venues will give us a chance to play shows. We've got a lot of good feedback from local bands and promoters and we're excited to see what happens next.
We've played so many types of venues from intimate house shows to Rock & Roll Hotel. Some of our favorite places in D.C. to play are Bloombars, D.C.9, Velvet Lounge and the first annual Sanaa Festival.
EL: What's your favorite D.C. venue?
Ajene: I really enjoy Union Arts/Mousai, not so much as a performance venue, but rather a welcoming creative space. This is not to discount it as a venue in the least, as it is host to some of the best DIY shows and under the radar talent on the east coast.
Nate: Rock & Roll Hotel.
Yaya: Velvet lounge.
EL: What's the last song you had stuck in your head?
Nate: Salt-N-Pepa "Shoop."
Ajene: "Alright" by Kendrick Lamar (still is stuck).
Yaya: "Alright" by Kendrick Lamar.