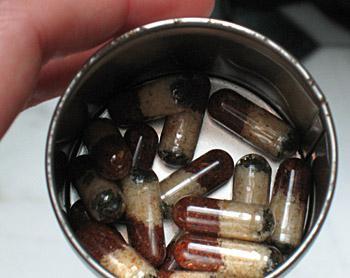 Artist Carmen Wong's pizza in a pill, part of her artwork Tactile Dinner Car
Pizza in a pill! Trust me, I tried one and it tasted like pizza. Artist Carmen Wong is the latest artist to grace the Luce Foundation Center's Art + Coffee series. She talked about her current work, Tactile Dinner Car (PDF), an immersive interdisciplinary art and food experience based on the Futurists, a group of artists who rejected the past and glorified modernity and machines.
Though Futurism developed mainly in Italy and Russia at the turn of the twentieth century, it influenced many American artists like Joseph Stella, whose work can be found on the second floor of the museum, and Hugo Robus, whose Train in Motion is in case 33b in the Luce Center.
Wong told visitors that her current project featured food from, and inspired by, F.T. Marinetti's The Futurist Cookbook, including the pizza capsules that lucky participants were able to sample. During the discussion, she highlighted the irony of presenting performance art, which she believes "dies" after each presentation (or is partially ingested in the case of Tactile Dinner Car) in a museum that preserves artwork for the future. She told visitors how she worked with different chefs to create an almost post-apocalyptic epicurean feast that involved all of the senses. Though the pizza capsule only involved taste, Wong and her team created different courses that included smell and sound—mostly provided by actors who guide the participants through their feast.
This program was part of an ongoing local artist talk series presented with Flashpoint Gallery. The next talk is on Sunday, October 16 with art critic and curator Danielle O'Steen. O'Steen will talk about how her latest project, which explores installation art and how artists (such as Luce Center artist Margaret Boozer) engage the viewer through their work, and how it relates to various artworks on display at the Luce Center.