What artworks in American Art's collection inspire you? As part of our Luce Local Art Series, local artists discuss their own work and how they connect to works in our Luce Foundation Center. This series is presented in collaboration with CulturalDC. All talks begin at 1:30 p.m. Our next artist talk is by Ben Tolman this Sunday, February 22.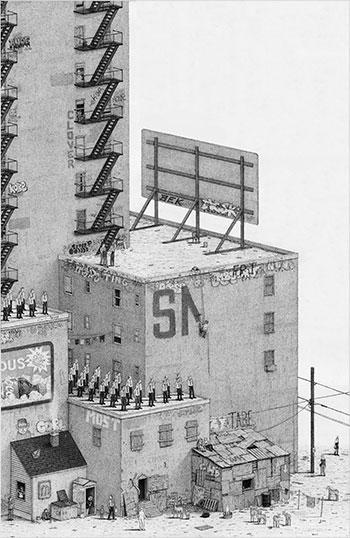 Ben Tolman's Most
Ben Tolman's pen and ink drawings reveal the darker side of human nature in intricate detail. From suburbs to city high rises, his works show a world that is interacting closely with its seedier side. At first glance, these scenes seem familiar, but as you zoom in, you see people acting secretly—like the man hiding under his desk in Building, a person turning away from a robbery, or people engaged in various sex acts. The nudity of many of the figures creates the sense that secrets are being exposed. In Most (above), though, two groups of men wearing neckties are also wearing masks, as though uncomfortable with the chance of being fully exposed. Tolman, who says he is "more hardworking than talented," spends long hours in his studio creating these worlds, as you can see in his time-lapse videos. What the videos don't show is that some of his works can take up to six months to complete.
Tolman earned his BFA from the Corcoran College of Art and Design and his MFA from American University. He has exhibited his work nationally and was a finalist in the National Portrait Gallery's Outwin Boochever Portrait Competition. If asked to explain his work and the symbols, he hesitates; this is a language that cannot be translated. He likes the mystery his work conveys saying, "Mystery is a lot more interesting than answers."
In his show at Flashpoint Gallery, Civilized, Tolman uses video, sculpture, and drawing to explore the relationships between people and their environments, specifically the ones they construct for themselves. His works examine human behavior and daily patterns through detailed depictions of commonplace rituals. Civilized opens at Flashpoint on Friday February 27, 2015 and runs through March 28, 2015. But you can get a preview into Ben's work, Sunday, February 22 at 1:30 p.m. at the Luce Center here at American Art.